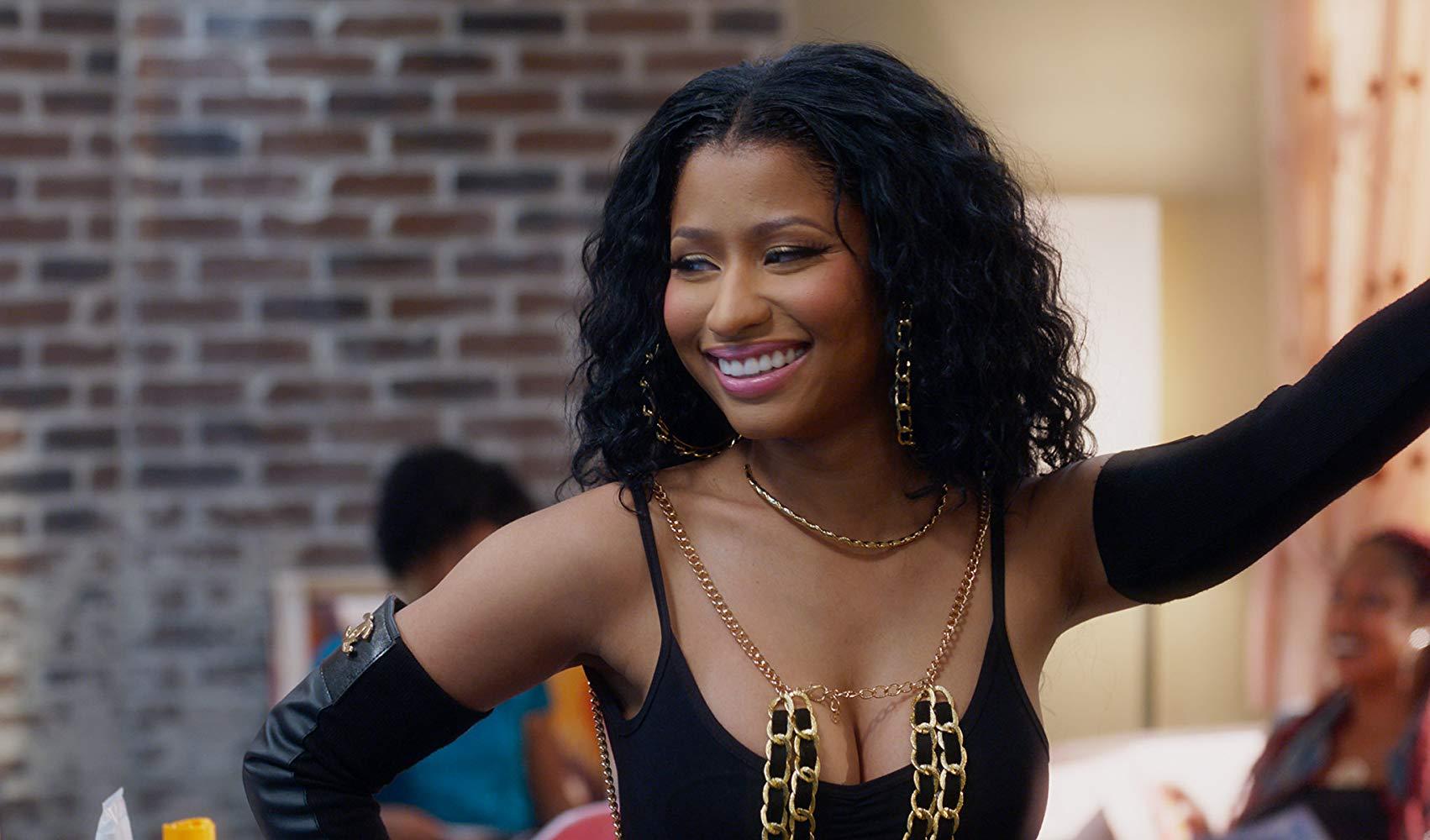 Nicki Minaj Slams Black Media, Prefers What "White ppl" Post
By Jamie Rollo

Nov. 6 2019, Updated 7:12 p.m. ET
Rapper and Queen Radio host Nicki Minaj is currently under social media fire after posting a highly questionable, hypocritical Tweet in which she pit the mainstream "white" media against "the Blacks." Many fans of color were saddened to see the singer support media outlets that she rightfully shamed in the past for stereotyping her.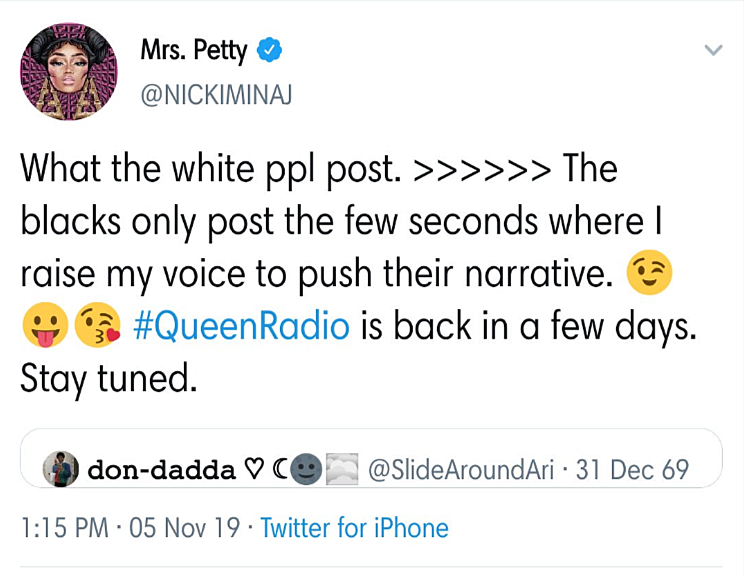 "What the white ppl post. >>>>>> The blacks only post the few seconds where I raise my voice to push their narrative," the now deleted Twitter post wrote. Fans were quick to question Minaj whose career they feel was created from the support of the Black community. One user pointed out, "This is coming from the same woman who used #BlackGirlTragic as a hashtag to defend her rap!st/murd£rer husband this woman was never for 'the blacks' only when it's beneficial."
Article continues below advertisement
For a quick backstory, in 1994 Minaj's current husband Kenneth Petty was convicted of rape in the 1st degree, sexual abuse in the 1st degree, unlawful imprisonment in the 2nd degree assault in the 2nd degree and criminal possession of a weapon in the 4th degree. Given this is pretty public news, Minaj goes to no ends to defend Petty whenever his past is resurfaced. She once exposed the full details of Wendy Williams's divorce because she had referred to Petty as a "sex offender."
Article continues below advertisement
Most fans agree, however, that her most recent Tweet was uncalled for and really has no truth to it. While all tabloids tend to drag Nicki down, there are tabloids that do lift her up with journalists of all ethnicities. However, the mainstream media, which is predominantly white, constantly stereotypes Nicki, highlights her more explosive moments and misinterprets her facial expressions.
In 2015, countless tabloids dragged Minaj for her "expressionless" reaction to Jennifer Lopez performing "Anaconda" at the 2015 American Music Awards. They created a non-existent feud between the two, clearly pitting Minaj as the bad guy. Following this award show media circus was the VMA's, when she was painted as the villain once again but this time with America's Caucasian sweetheart, Taylor Swift.
Minaj was saddened by the fact that "Anaconda" was not nominated for Video of the Year despite the record breaking project that it ended up being. Rather, Taylor Swift took home the award for the "Bad Blood" music video. Minaj Tweeted, "if your video celebrates women with very slim bodies, you will be nominated for vid of the year." Of course, this sparked a Twitter feud between the two artists, Nicki assuring Swift that she didn't aim the Tweet at her rather at the general public for disrespecting artists of color. The rapper also Tweeted, "I'm not always confident, just tired. Black women influence pop culture so much but are rarely rewarded for it."
Article continues below advertisement
This entire tiff was blown out of proportion with many white journalists stereotyping her as jealous, angry, and aggressive. For the Twitter image to their story, Entertainment Weekly handpicked an image of Minaj looking upset while Swift was smiling. Hollywood Life also used words like "furious" to describe her mood and referred to her Tweets as a "rant." Piers Morgan referred to her as a "stroppy little piece of work," while Ryan Seacrest's website praised Swift for being forgiving and supportive of Nicki, yet still painting Nicki to be the bitter one despite both artists expressing love and support to one another.
For this specific VMA feud, the list of horrible publicity for Minaj goes on and on. This type of blatant stereotyping continued on throughout the years as well. The artist still has yet to release an apology regarding the recent Tweet, but has been retweeting a few posts that agree with her initial sentiment. She replied, "wow wow wow" to a Tweet by a former TMZ employee who wrote, 'TRY BEING A WHITE GAY BARB IN THE TMZ NEWSROOM ARGUING WITH EVERYONE ABOUT YOUR SKILL, SUCCESS AND LEGACY DESPITE ALWAYS BEING TOLD IM WRONG… that's why I quit, I'm trying to find a platform that will let me use MY VOICE, and not edit it down to a 5 second clip for their jokes."