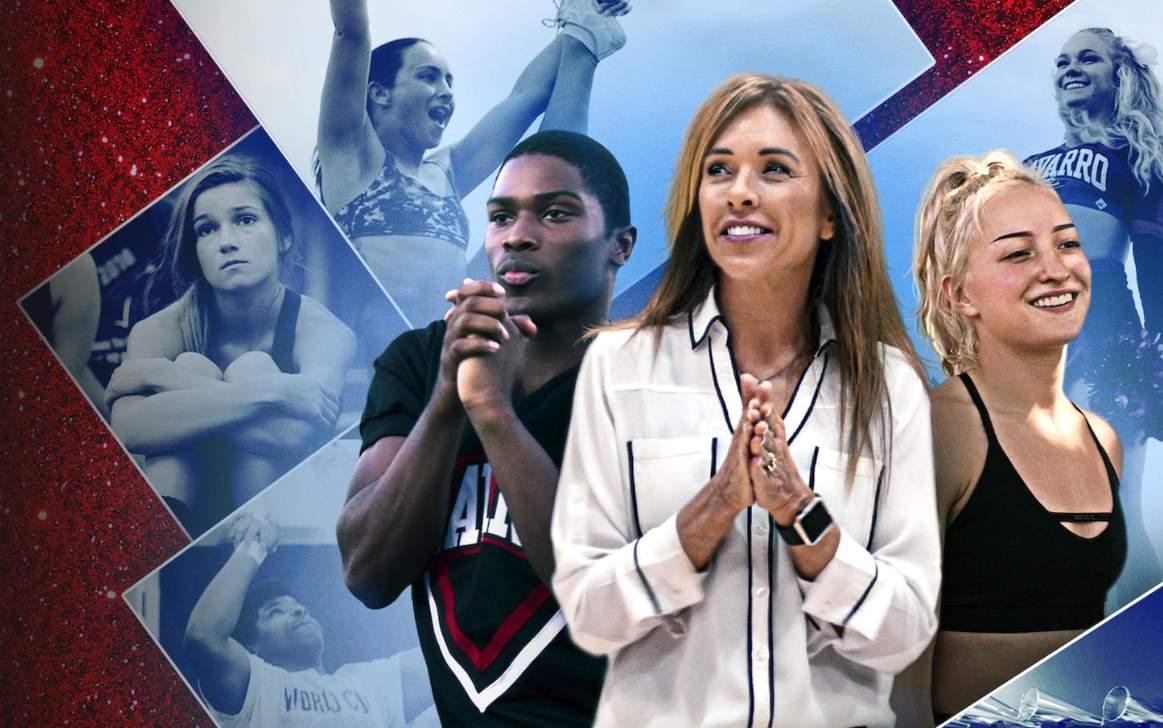 Why Netflix's 'Cheer' is a Must-Watch
By Jamie Rollo

Jan. 14 2020, Updated 4:58 p.m. ET
Netflix answered the prayers of cheerleaders everywhere by putting forth a realistic, emotional, and cinematically beautiful series that shows the sport of competitive cheerleading outside of society's Bring It On preconceptions with their newest docuseries, Cheer. Directed by Greg Whiteley (Last Chance U), this series looks deeply into the spirited yet grueling world of competitive cheerleading at a small, two-year college in Texas. Since its release, the Navarro College cheerleaders have shown that cheerleading is not what most perceive it to be, but that it is a physically and emotionally taxing sport.
I have been a competitive cheerleader for most of my life and can attest that after spending countless hours putting my body through pain and torture, it often angered me to hear my peers mock the sport I love – if they even considered it a sport. What people never realize is that a lot of time and energy goes into making stunts and tumbling look flawless and easy, perhaps too easy. And because cheerleading doesn't follow the format of typical sports such as soccer or lacrosse, it allows onlookers to act as though cheerleading is beneath them, despite the clear fact those type of athletes could never do what cheerleaders do.
Article continues below advertisement
Cheer follows the Navarro College cheerleading team, one of the top college teams in the nation, as they prepare for the National Cheer Association (NCA) College Championship in Daytona, Florida. Winning this championship means everything to these athletes who've worked extremely hard to make the then 13-time National Champion team. Making the team, however, is only the beginning. Head coach Monica Aldama is tasked with the difficult project of selecting the 20 best team members who will actually compete on the mat at Daytona. The athletes must prove their talent, reliability, and dedication if they wish to be considered.
The series follows the team at every practice, showing the tenacity these athletes have and blind risks they are willing to take. Within the first episode, viewers witness three concussions and athletes working through injuries that would put any football player on the sideline. They work through these injuries because being on the mat is something they've worked for their whole lives. Unlike typical sports, there is no pro-level to aim for after the college level. These athletes work hard simply for the love of the sport and the glory of being able to say they brought home an NCA Championship.
Article continues below advertisement
The true work begins once Aldama has selected the on mat team and they begin to work on their routine. A cheerleading routine, oddly enough, lasts a mere two minutes and 30 seconds. Months upon months are spent perfecting that routine in preparation for their only competition in Daytona. These two minute and 30 second routines, however, are jam packed with death-defying stunts, gymnastics ("tumbling"), jumps, and dancing. Though it may look easy to those watching it, performing a cheerleading routine expends an immense and unimaginable amount of energy. Because of this, a lot of endurance training is required to make sure the routine is safe and can be performed flawlessly.
Article continues below advertisement
As we watch the Navarro team train, we are let into the lives of the athletes on the team which further breaks down normal stereotypes surrounding cheerleaders. In most people's minds, a cheerleader is someone who is skinny, blonde, blue-eyed, and rich – the typical "girl next door" type. Over the years, however, that mold has been not only broken, but shattered completely. More and more males sign up for the sport each year, and the females on the team are far from the cheerleader stereotype of yesteryear. A lot of the athletes come from broken homes or have overcome some sort of adversity. But despite all of that, their pure talent, love, and dedication for cheerleading lead them to a better path. While there is no pro-level cheerleading or a career outside of coaching waiting for them, Aldama makes sure her athletes are well educated and prepared for the world once their cheering careers come to a close.
In my opinion, the main goal of sharing the Navarro College cheerleading team's story was to open the world's eyes to the actual sport of cheerleading. For so long, cheerleaders worked as hard, if not harder, than other athletes only to be seen as a supportive body and not the athletes they truly are. Competitive cheerleading is nothing new. It's been around for quite some time, but the skills and capabilities of these athletes have only grown. While there have been countless documentaries made to showcase cheerleaders' athleticism, none of them were placed on a platform as large as Netflix. Cheer, and its rising popularity, can show the world the whole truth behind the difficult sport of cheerleading.