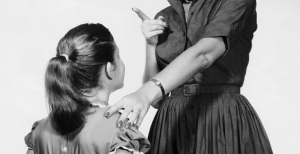 Mom's Right You Know
By Liyana

Oct. 19 2017, Published 2:04 p.m. ET
Photo by Good Housekeeping
Mom's right you know…
The older you get the more you realise how true the things your mom used to nag about are. So here's to our younger readers to listen to those things and practice what she said!
Dont pluck your brows! : Leave. Them. Alone. It's fine to pluck a few stray hairs here and there if it's really bothering you but never try to re-shape your brows. As cliche as this may sound they are what makes you YOU. And it's true, the way your brows naturally grow are supposed to complement your face shape and by altering it you are messing with how it's nature. Here a link on other things you should also never do to your brows by The Sun UK.
Sunscreen : I cannot emphasise on this enough. Despite what some politician may say about global warming and the greenhouse effect, it's real and harmful UV rays penetrating our atmosphere and directly harming our skin. Add this to your morning routine and reap all the benefits.
Stay away from the bleach : As fun as it is to have any desired hair color, it's not so fun for the health of your locks. Trust me, I've bleached my hair to oblivion and now am stuck with soaking my hair overnight in oil just to have it not resemble a broom.
Sleep early : Yes, you're allowed to have fun nights out but just don't make it a regular occurrence to the point where you see the moon more than you do the sun. Having a good night's sleep will help your body's immunity strengthen and allows you to be more productive throughout the day.
I'm sure the list goes on and on on what she has said to us but these are the most common (and important) ones that we've heard time and time again that we should seriously adopt into our daily routines.