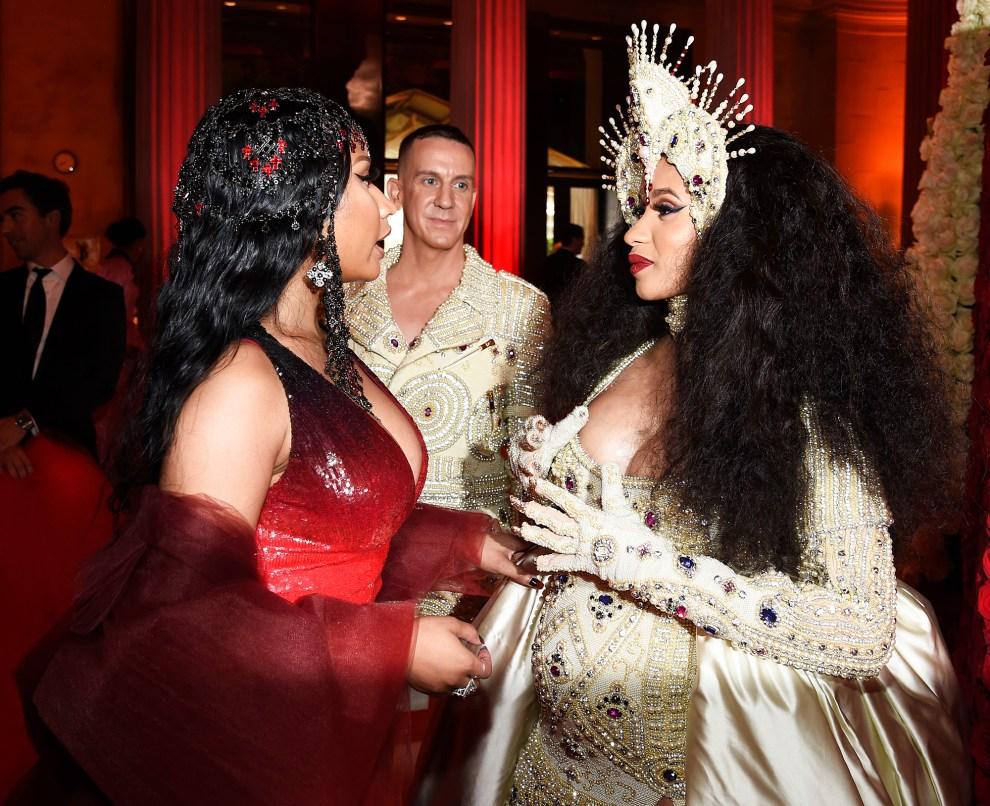 Moments You Might Have Missed from the Met Gala
By Kaylin Young

May 10 2018, Published 3:21 p.m. ET
By now, you've seen the gowns, accessories, and the Pope of Fashion (it's Rihanna if you didn't already know). But Bombshell's got you covered with a few details you may have missed when you were counting the headdresses on the red carpet.
Article continues below advertisement
2 Chainz Proposal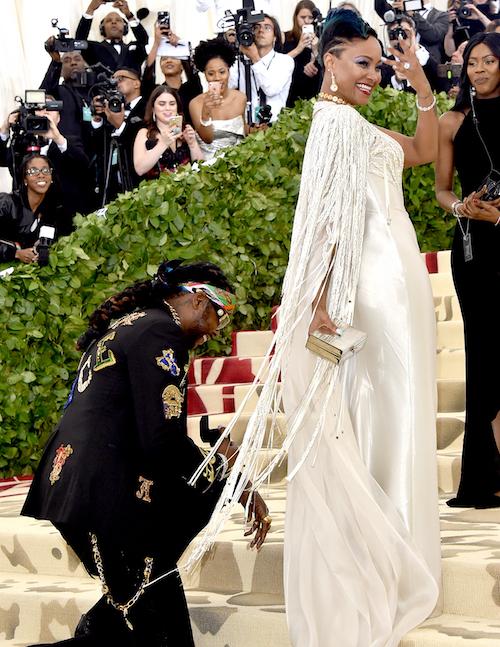 As the festivities were getting good, the "Issa Vibe" rapper took a knee on the steps of the Met to pop the question to girlfriend of 12 years, Kesha Ward. Her ivory gown was not only heavenly, but also the perfect gown to say "yes" in. This is not the first public proposal for the couple; they previously got engaged at the 2013 BET Awards but never made it official. Hopefully this time, it sticks for the parents of three.
Rihanna dubbed the Pope of Fashion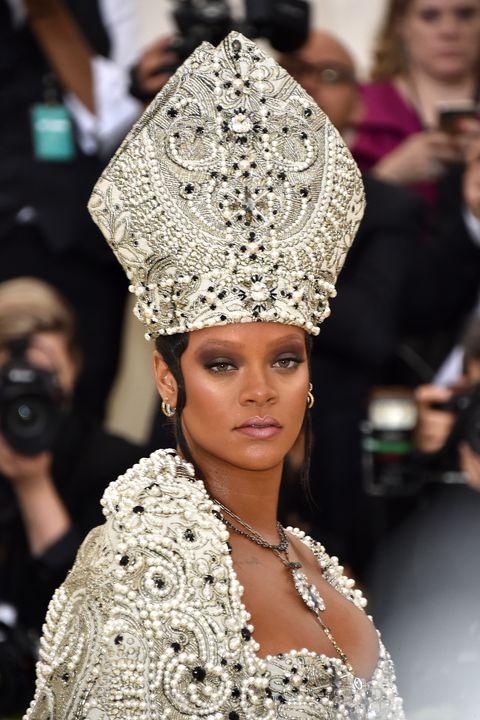 Obviously, everyone's eyes were on Rihanna. Not only is she a fashion icon and always expected to slay the Met carpet, but she was also co-chair of the night's event. Being a part of the illustrious exec board means she was not only on theme, but she also made history. Clad in a Maison Margiella Artisinal (by none other than John Galliano) pearl and crystal-embellished mini dress, robe and mitre, all the history was worn on her head. The mitre is a hat style worn specifically by the pope and male bishops in the Catholic church. Never before has a woman donned a mitre on a red carpet – until Riri. However, her head piece wasn't the only eye-catching moment. Did you peep her eyebrows? If not, that's on purpose. She flew in celebrity eyebrow expert, Damone Roberts, just to bleach and shape her brows to draw attention directly to the mitre.
Article continues below advertisement
Jaden Smith and his Unlikely Date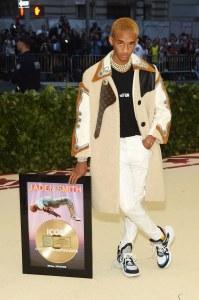 Most celebs brought their significant other or a cute clutch, but this is not Jaden Smith's style. Last year, he carried his own dreadlocks at the Met Ball, but this year he grabbed something a little heavier. Smith touted the gold record plaque for his single "Icon" down the carpet. He walked with it, posed with it, but thankfully handed it off to someone else before entering the museum.
Article continues below advertisement
Cardi B Announces she's Having a Girl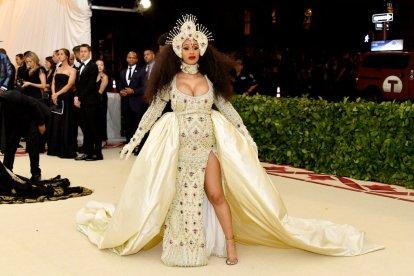 Cardi B had a lot to celebrate on Monday night! Not only was it her first Met Gala, but she got to share the event with the person closest to her – literally. During an interview with Entertainment Tonight, Cardi let it slip that her baby girl was nonstop moving throughout the night. The Invasion of Privacy rapper and her bump were adorned in custom Moschino as designer, Jeremy Scott escorted her throughout the night.
Article continues below advertisement
Lena Waithe – the Superhero of the Night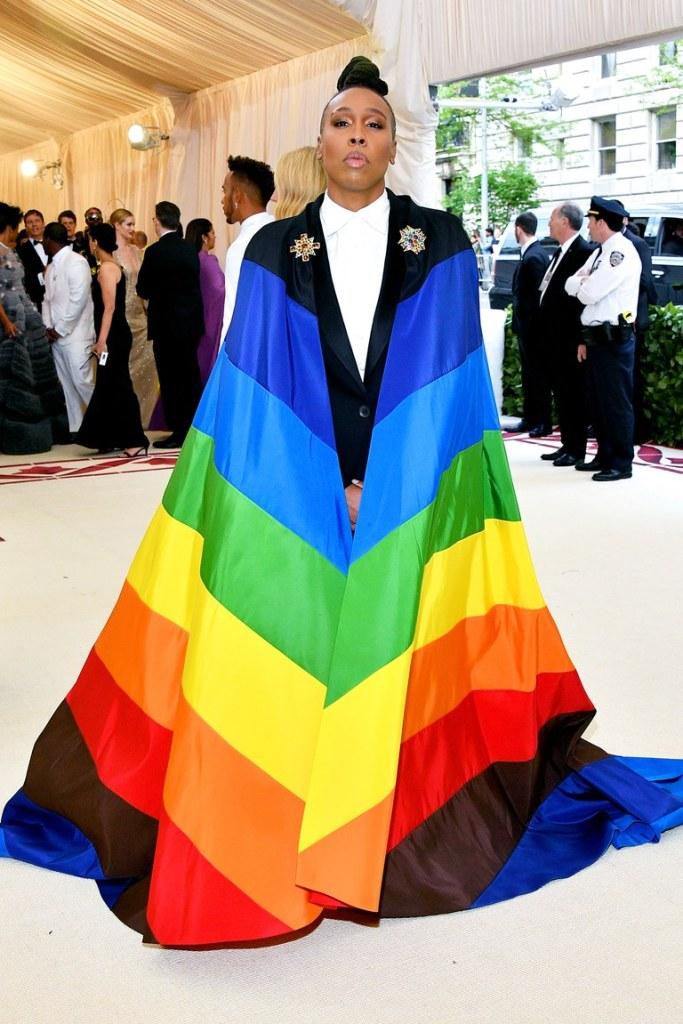 Producer, actress and overall black girl badass Lena Waithe wore her heart on her sleeve… well, really it was a colorful pride flag and it was down her back. The Carolina Herrera cape was certainly one of the most eye-catching looks of the night, but also had serious sentiment to the night's theme. The Catholic church has historically shamed, harmed and ostracized people of the LGBTQ+ community, but Waithe's attire was a clear stance against such entities that have previously stifled any expression of love.