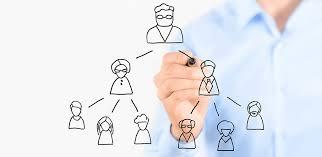 How To Not Get Scammed By An MLM
By Elysia J

Jan. 23 2020, Updated 6:55 p.m. ET
MLM stands for Multi-Level Marketing. It is a business model in which a company uses nonsalaried distributors to sell their merchandise. The company takes a portion of any sales made by the distributors. The distributors make their money from sales and from hiring new recruits. The newbie will buy inventory from the representative, and will become part of their "downline." This means that the distributor gets a portion of whatever the newbie sells. The newbie can then also recruit more sellers and so on and so on.
If you think this kind of sounds like a pyramid scheme, you have a good ear. MLMs and pyramid schemes have a lot in common. To the extent that companies that claim to be MLMs have in the past been declared illegal pyramid schemes in by the FTC.
For an MLM to be legal, it has to get more of its profits from the sale of merchandise than it does from the sale of inventory to its own distributors.
But don't let the legality fool you. Joining an MLM is a complete disaster for the overwhelming majority of people who do so. Most people don't make money. In fact the vast majority of people lose money. If you stay in one too long you can quickly find yourself in serious finical trouble.
Like most things in life, they tend to hurt women more than men. Being nonsalaried means no set hours. Which is really appealing to stay at home moms who want to make money while still spending time with the little ones.
So in an attempt to lesson the harm on MLM's, below are some warning signs to look out for before you get involved.
You're Expected To Pay For Inventory
This is probably the most important thing to consider. It is usually this exact thing that gets people into huge debt.
MLMs expect you to pay the company for the privilege of selling their products. When you sign up you have to buy a starter pack which can range from $50 to thousands of dollars. As you continue, you have to keep buying more product. Some companies have a requirement that you purchase new inventory on a set schedule. Some also don't let you choose what you get, or customize the amounts. If you're selling products that expire, you'll end up throwing them away. If you sell non-perishables you'll be drowning in product that no one wants.
Unless you own the business, you should never have to buy products in order to sell them.
Article continues below advertisement
The Branding is All #GirlBoss
This aspect is as insidious as it is annoying. As mentioned, women are more likely than men to be affected by these companies. And boy do they know it.
It's very common to MLM's to try to lure women in by linking the brand to female empowerment. #GirlBoss is a frequently added to social media posts from the company and its sellers. This usually isn't a coincidence because oftentimes the company will have guidelines for how to use social media.
The #GirlBoss technique is particularly cruel when you remember that single moms are the most common victims of these companies. Women who often report feelings of isolation and loss of identity, and who may miss the feelings of empowerment that comes from earning your own money.
The technique is annoying because it's massively condescending. It's vapid gestures toward feminism, usually in pink with lots of emojis.
Most companies know better than to be this tacky in their branding. Even if this wasn't the case, don't let your employer insult your intelligence with empty girl power platitudes.
Article continues below advertisement
Someone You Never Spoke To In High School Tried To Hire You
A portion of an MLM's money is made from recruitment. That means when you join one, the tendency is to approach every friend and family member. When you're through with that, acquaintances. When you're through with them, you get really desperate and move onto your Facebook friends.
Unless that girl you sat behind in home room is in recruitment now, the only reason she thought of you for this opportunity is that everyone she actually knows said no. Probably because they know she hasn't made a cent of profit since she started.
If a company wants to hire you it should be because you have valuable skills. Not because the person who approaches you gets a quick buck out of it.
It Sounds To Good To Be True
MLM's often make big promises. They say you can make thousands of dollars a month working on your phone. You can have "financial freedom" with flexible hours. If you sell enough product you get a car!
It basically never works out that way. Be very wary of grand or outlandish promises made by any company.
These are just some of the warning sings that you might be dealing with an MLM. But if you're still not sure, look it up. There a tonnes of people telling their MLM horror stories online. If you're not sure about a company, see what people are saying about them.