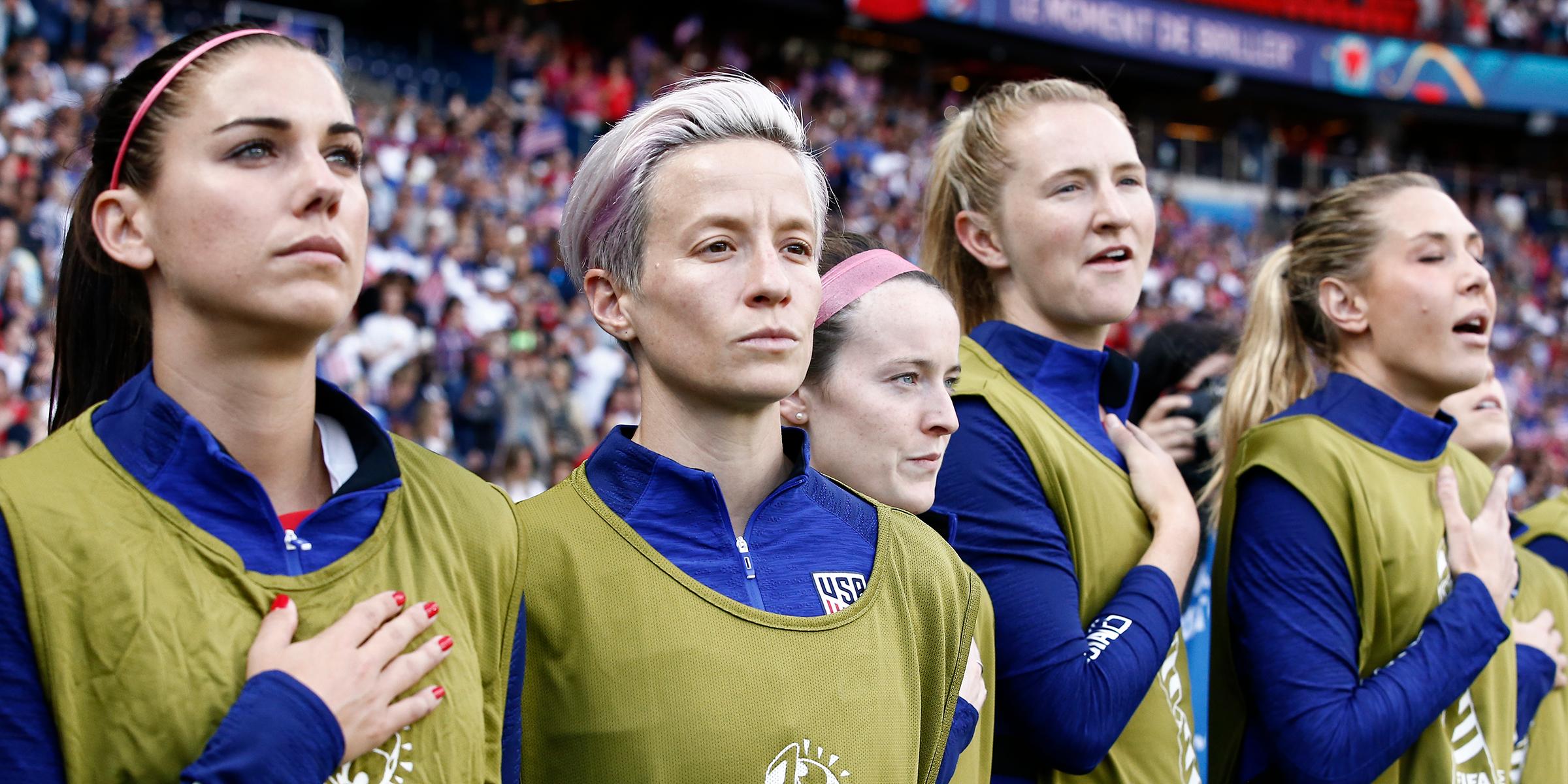 Megan Rapinoe's Courage and Victories Will Go Down In American History
By Johana L

Jul. 11 2019, Published 11:30 p.m. ET
The USA is a young country with a violent history consisting of years of unresolved traumas due to genocides and the enslavement of people. It covers a large portion of the many reasons why being a patriotic American and paying tribute to the flag is not something that many of us can do with ease. When people like Colin Kaepernick choose to kneel during the anthem, they face criticism far beyond what the initial statement symbolizes. When people like Megan Rapinoe support his stance, and choose to follow suit, well, people like her are also criticized.
Colin and Megan are ahead of their time.
We went from a land of colonizers to a country of patriotism so heavy that it committed mass genocides to further expand by stealing land. This patriotism never died down for many. To not be patriotic was to be an anarchist, or a communist.
So where are we now? Patriotism is slowly shifting from being proud to be an American to being an American proudly.
Colin is not dismantling patriotism, and neither is Megan. They're exhibiting the utmost American patriotism this country can't even understand how to handle.
Not standing for the flag, and refusing to put your hand to your heart during the anthem is actually the MOST American thing you can possibly do.
You practice your very first amendment rights while doing so.
This country was built on the backs of Black people who were enslaved.
If a Black man decides that he doesn't want to honor the flag, he deserves that right because his people didn't get to choose to fight, they were FORCED to fight.
Megan Rapinoe's decision to support the cause is a fight for peace for Black people in this country, a fight for our first amendment rights, and a fight FOR this country. Period.
It's proof that she has taken the time out to assess what goes on in this country and that's REAL love for the country.
When you want your kids to grow up to be proper human beings, do you not take the time out to correct their bad habits and mistakes?
You have to be able to correct your kids just as well as praise them.
Why? Because you love them.
Loving your country is not about who can be the most patriotic. It's about who can build a better mindset for the people the flag represents.