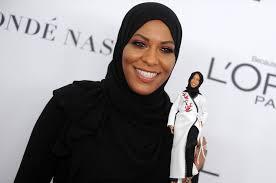 Mattel Releases First Hijab-Wearing Barbie
By Kaylin Young

Nov. 20 2017, Published 7:59 p.m. ET
Mattel released the first Hijab-wearing Barbie doll this week at Glamour's Women of the Year Summit. The doll was inspired by Olympic fencer, Ibtihaj Muhammad, who was the first member of the U.S. Olympic team to wear a hijab during her sporting event. This is another major win for Hasbro (Mattel's parent company) as they expand their representation of girls through one of the most popular toys in the world. However, some critics think the new Barbie's wardrobe promotes ideals of female repression and terrorism.
As if Muhammad's athletic career wasn't inspiration enough (competing in fencing events since a teenager in her religious garb), many would think creating a doll in her likeness would be a source for even greater adoration. This is another step toward greater inclusivity and global representation for other hijab-wearing girls who have never had the option of purchasing a toy that shared their beliefs. Although Muhammad was a part of the design process, she was presented the final product at last week's WOTY Summit as part of their Shero series, highlighting women heroes.
Muhammad spoke of how her Barbie-filled childhood was absent of a doll that looked like her. "I hope that little girls of color across the heartland will be inspired to embrace what makes them unique," Muhammad said of her new mini-me.
Since the unveiling, many outlets have praised Mattel and the fencing beauty. But where there is progress, there are also haters. Twitter has exploded this week with claims that the hijab-wearing Barbie promotes female slavery and terrorist ideals. Right-wing commentator, Ann Coulter, took to Twitter to express her opinion, saying "JIHAD BARBIE! ISIS KEN sold separately."
Article continues below advertisement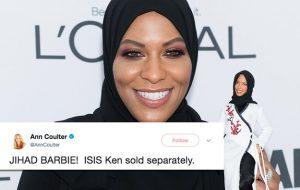 Unfortunately, several others agreed with Coulter's viewpoint and expressed their outrage and suggested to boycott Mattel for releasing the doll.
Although a boycott looks unlikely, Muhammad's Barbie will not be available for public purchase in 2018.