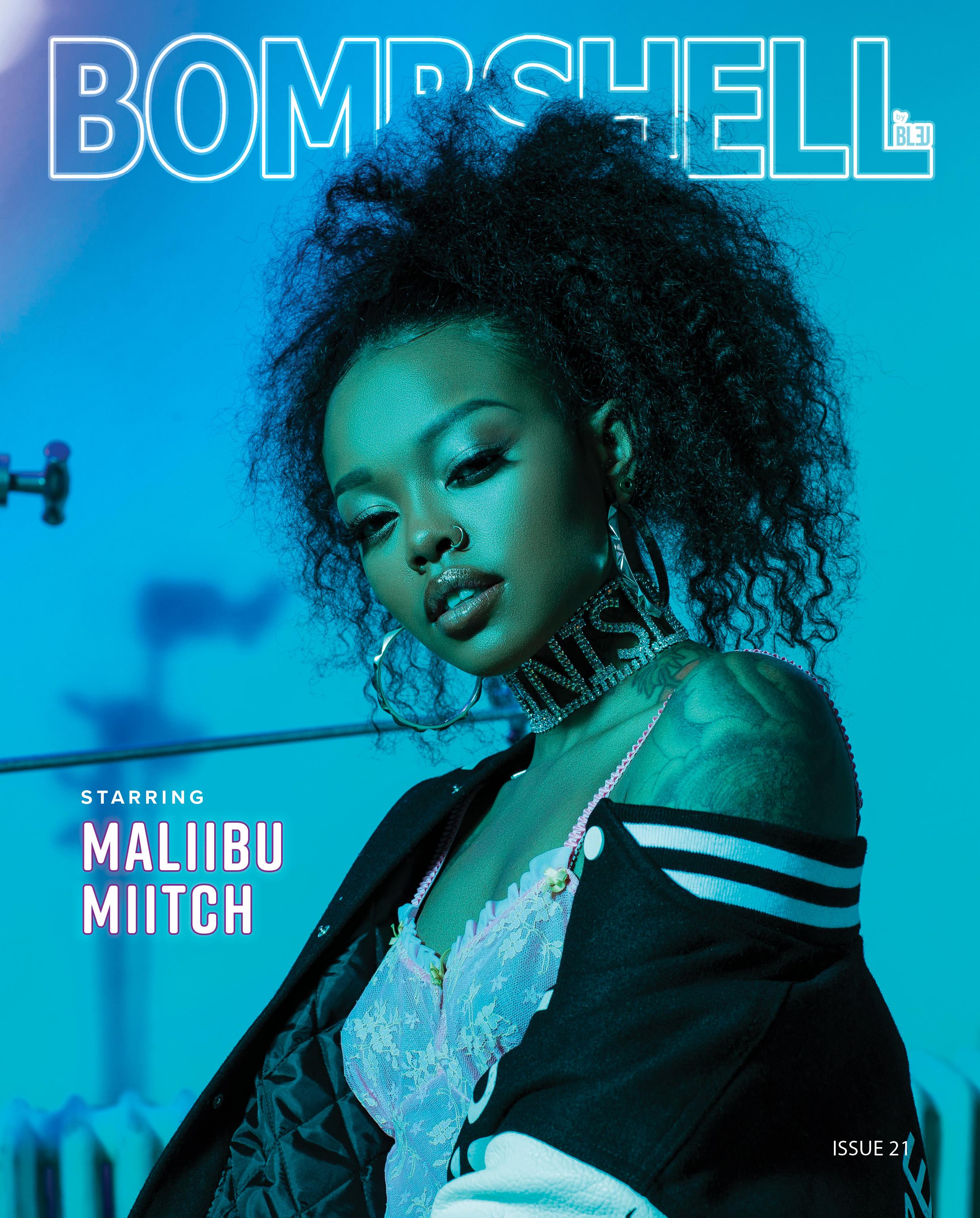 Maliibu Miitch: Her Time Is Now
By Ebony Allison

Dec. 4 2017, Updated 7:17 p.m. ET
Photography: Othello Banaci
"B*tch Ima Star, I aint regula"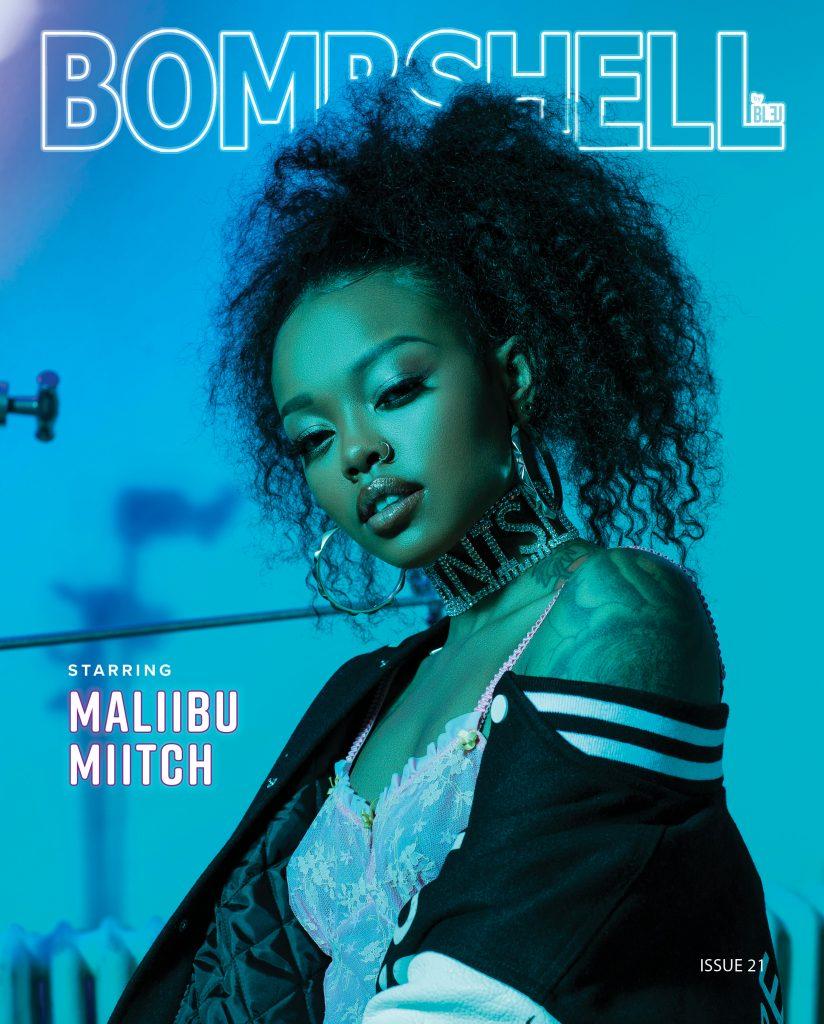 South Bronx native rapper, and self proclaimed 'Lit Mamii,' Maliibu Miitch, is taking the rap game by storm and shows no sign of slowing down. She's got us asking: Who's that girl?
The anticipation was palpable as I waited to catch up with rapper, Maliibu Miitch. As the phone rang I was expecting to hear her husky tone that is reminiscent of some of the greatest female MC's to ever come into the game such as, Lil' Kim, Remy Ma, and Eve. Instead, I was surprised by a sweet, soft-spoken, "Hi," laced with the unmistakable Bronx accent, on the other end of the line.
Article continues below advertisement
Growing up as a tough kid in the South Bronx, pint-sized Maliibu Miitch has an attitude and style that has given her a certain je ne sais quoi that fits the duality of her stage name. Her classic New York vibe and creativity, in both her songs and music videos, show that she is the epitome of authenticity. At the age of 26, Maliibu has had quite the career so far. Formally signed to Ruff Ryders and Island Deff Jam, she has taken her career solo, and has been steadily making moves to solidify her position as an artist ever since.
Most recently, Miitch created a series of tribute tracks that pay homage to some of the hardest female rappers that came before her. Some of the songs include remixes to Eve's 'Who's that Girl?' and 'Crush on You,' by Lil' Kim. Throughout the tribute , the listener and true rap fanatics, can hear how she effortlessly gives the iconic 90's New York City flow a modern edge. The release of her latest single, 'Gwapamole', has her supporters geeked for her mixtape, which is slated to drop before the end of the year!
Article continues below advertisement
Miitch is more than a pretty face that can spit bars with the best of them. She aspires to explore her creativity across many different avenues including acting, fashion, and even cosmetics. Be sure to keep an eye out because we're more than positive that she will be gracing the billboards in Time Square, representing and empowering female rappers everywhere.
Keep reading to find out how she feels it is possible for females in the industry to stay strong and united, the way her stage name came into being, and who sparked her interest in music.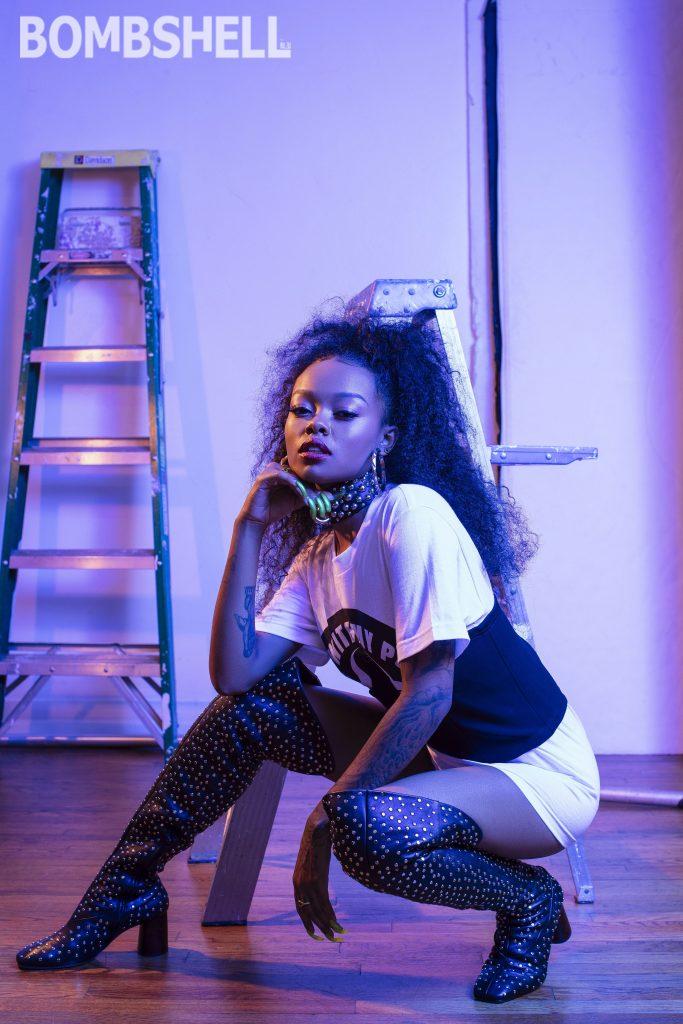 Article continues below advertisement
Who were you before Maliibu Miitch?
Oh my god. I was a troubled teenager (laughs). I used to fight a lot when I was younger, so that is basically what my activity was on the daily. I would just go with my girls and fight.
Oh, so you were a tough kid.
Yeah, I was a little rough around the edges.
Tell me about growing up in the Bronx.
Growing up in the Bronx, I always did a lot of things. In the Bronx it's cool to start up teams, or a group of girls, and stuff like that. In the Bronx, being younger and poppin' in the streets is different, and you get into fighting, and just a bunch of stupid stuff, you know? I was basically in the center of all of it.
So, how did you come up with your stage name?
'Miitch' came from Paid in Full. I would say seven to eight years ago I was watching it, and when I saw Mekhi Phifer I just loved everything about him in that movie. So I said that I was just going to call myself Mitch. Then a couple of weeks later I was smoking and I was just like, "What would go right with Mitch?" Then I was just like, "Oh Malibu!" It was completely left field. It didn't go together. It sounded ridiculous, but I was like, "I'm going to change my name to Maliibu Miitch," and I did. Everybody was f*cking with it, so I was like, okay. And Maliibu Miitch fits both of my personalities. I'm mad bubbly. I'm mad goofy. I'm mad funny. That's my Maliibu side. But some days I'm mad rough.
What was it like growing up with both a black and Asian background?
Article continues below advertisement
It's funny because when I was younger I didn't know I was Asian until my mother told me. My dad is Vietnamese and Filipino, but he's darker. He got the Vietnamese color. I didn't know my dad was Asian until my mom told me when I was in elementary school. I still didn't really understand it until I moved to North Carolina. I got in trouble with my mom, so she sent me down south to live with my dad, and that's when I realized. It was like—the south is just different. You're either black or you're white, but everyone was like, "Who is this little Asian girl," and that's when it kind of hit me. I was like, "Oh sh*t," but I guess in the Bronx it's just regular because everybody is mixed in the Bronx.
What was it that sparked your interest in music?
Well, it started with 50 Cent. That's still my favorite rapper since I was younger. I never used to listen to rap or anything like that before him. I started listening to rap because of him. I used to listen to 50 Cent when I was younger, because I used to have a crazy temper, it was relaxing for me. His music was always relaxing. It just chilled me out. That was about the only thing that chilled me out.
I was listening to your music and your speaking voice sounds different than when you rap. How would you describe your rap style and tone?
Article continues below advertisement
It's crazy because as long as I've been rapping I would use my natural voice. I will always say some real sh*t when I rap, but I don't think that anybody could really understand me. I felt like my accent was colliding, and I just felt like I had a little baby voice. I felt like guys wouldn't want to listen to it or relate to it. I just wanted to beef my voice up. I wanted guys to be able to f*ck with my voice. I wanted guys to actually hear me. They always heard me and liked me, but I wanted respect too. I used to hang out with guys and I wanted them to be able to f*ck with my music too, and having a small voice I don't think that it got through. I was like, "You know what? Let me switch it up and change it up for a little bit." And I did. Now I'm getting mad love from guys, females, and older people. I have people on my Instagram that are 40 or 50 commenting, "You sound like the rappers that I used to listen to." So, I just wanted respect from both sides.
Another thing I noticed is that you exude confidence. How are you able to reach that level of self-assuredness?
Article continues below advertisement
I would say when I was very young in elementary school I used to be very timid. I have two sisters and we're back-to-back in age. I used to always turn up with them and be all crazy with them, and then I would get to school and be so quiet. I would be mad chill and reserved. I always had my sisters around. They would be so outgoing, They played sports and everything. They were super smart. I had glasses (laughs), so when I was younger I just felt like the trash one. That's why I started being bad. That's why I started fighting. I always had confidence in myself, like, "Alright, you're the one that is mad cool. You're the one that everybody is just cool with. You're chill. You're funny." I kind of got my confidence from that. Then in high school I felt untouchable and that boosted my self-esteem. Now it transferred into my music. I used to be self-conscious about my music when I used to rap with my voice so small, but I think that was the only thing I had to get over, and I found a solution for that. Sometimes I feel self-conscious. Before a show I'll start freaking out, but I get rid of that by practicing. I'm doing something every single day. I have to wake up with myself every single day, so I'm not going to be self-conscious about myself because I have to deal with it, you know?
With shows and stuff like that, I don't do too many shows so I kind of psych myself out sometimes, but then I'll be like, "You're scared for no reason." It's just all over, but I don't psych myself out too much. I think that is where lack of confidence comes from: when you doubt yourself. I don't ever doubt myself.
As you get more of a following and gain more success, how are you able to stay grounded?
Article continues below advertisement
Coming from New York, like I said before, we used to make our own teams. When everybody was on Myspace, me and my friends were dumb poppin' on Myspace. Not for doing music or anything like that, but for literally just being stupid. We literally did the stupidest things, being stupid ignorant, and I've always been hood poppin'. It's kind of the same thing. I've always had a big following on Myspace, Facebook, and Twitter. I've always been like that. That's how my mother raised me: not to get beside myself. I never got beside myself. I have an attitude problem, but I don't ever get beside myself. I know that it could be here, but it can be taken away fast too because I was signed to Ruff Ryders and I had my song on the radio. I thought I was there, but it got taken away. I was signed to Island Deff Jam and it felt like I was on top of the world. I've come up on money and then been dirt broke. I've had to do stupid ass sh*t for money, so I don't ever let anything overpower myself. That's not in my nature.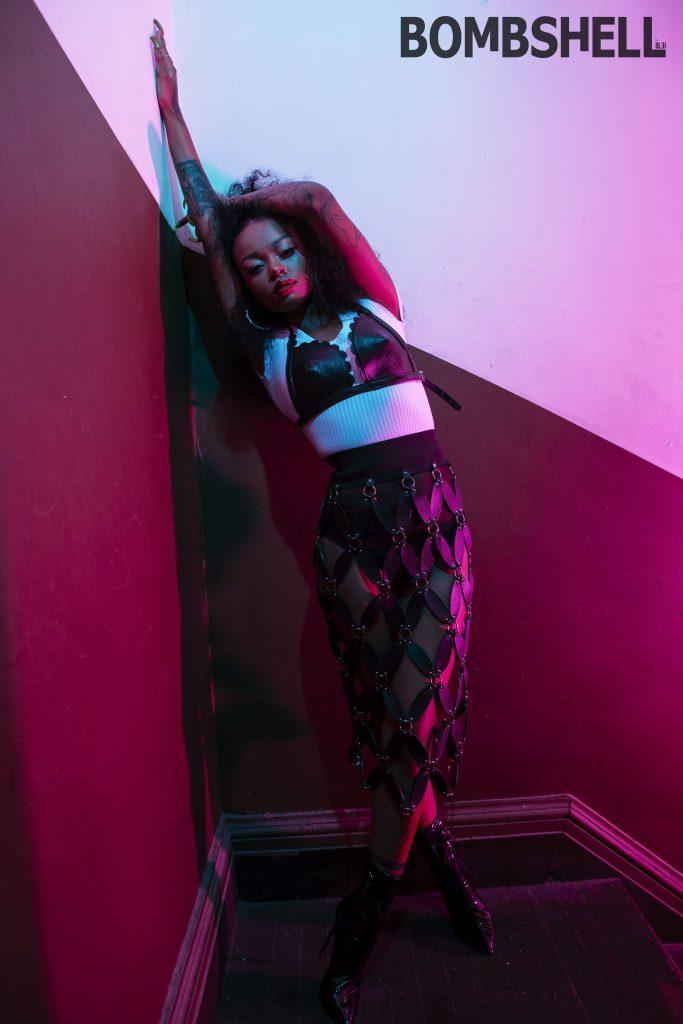 Article continues below advertisement
I thought it was so dope that you did a tribute to all female MC's. What made you want take on that type of project?
I wanted to do it because I feel like females rappers; we don't get talked about enough. The female rappers that came out before me, they don't get talked about like that ever, you know? I wanted to bring back a good feeling so people could go back. Even for the young generation too. Also, I wanted to pay homage because I wanted to do something that would impact, and I wanted to do something that would show love because you know how it is between female rappers. If you go in and you don't pay homage it can be taken as something else, and I didn't want to do that. I just wanted to show love. That's where it came from.
Are you all about females working together in this industry as opposed to battling?
Article continues below advertisement
It's crazy because I'm like, yes, female empowerment! I'm fully all with that, but I don't think everybody understands what it is like to be in the industry. It's a male dominated industry, first of all, and left and right these guys are trying to put us against each other. It's not us. It's the situation that only one female can get in. It can only be one female. It was Nicki Minaj for so long, and, not to be shady or anything, the women that were coming up after her, not to say they weren't good, were not up to that Nicki Minaj level. So, she was getting compared. When someone comes up that is good it's like you have to beef, you have to fight. I don't think it is females doing it to each other necessarily. I just think that when there is one female coming up and then another, of course it might happen. The beef might start because look at all these male rappers. They beef and they are all regular. When it's females it's crazy because there are only about two of us. That's what I felt they did with Nicki. I feel like everyone tried to attack her because she was the only one there instead of everyone getting in together, and getting their sh*t up. I would never hate on the next female and I would never try to tear the next female down, but I can see situations where someone would put that in someone's head to do that. If one person is winning and you feel like you can't get in the door I can see where that can come from. But there are mad n*ggas in the game and people don't talk about when they beef. They don't be like, "Male empowerment!" They don't do that. It's just a real beef.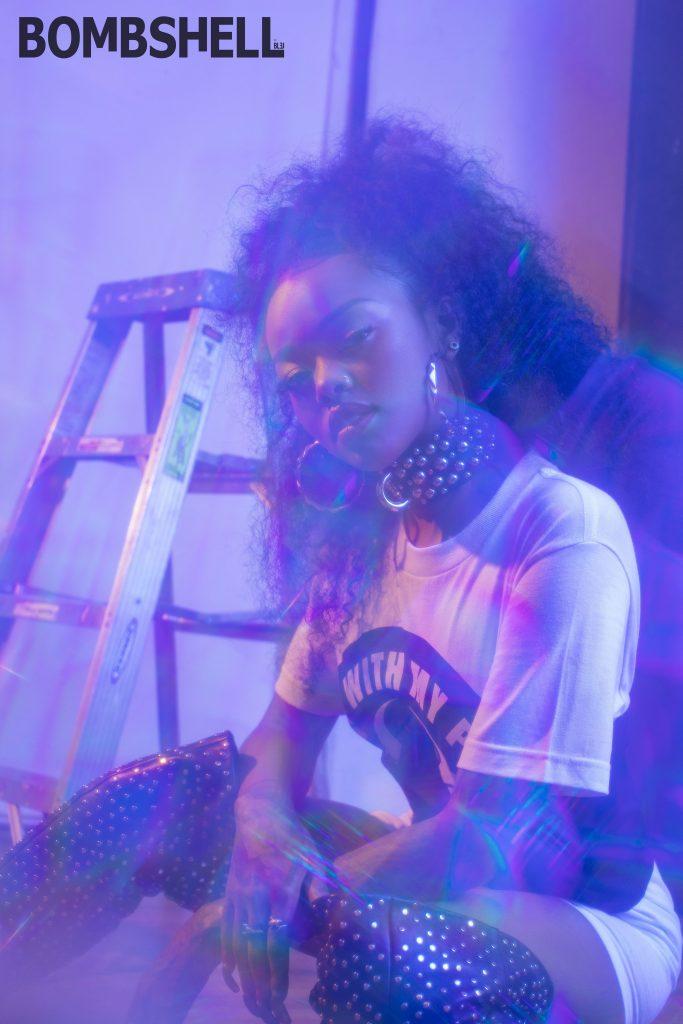 Article continues below advertisement
Yes! There is a double standard in the industry.
Exactly! I just hate that sh*t. I hate it a lot actually.
Well at least you got that tough side if you ever need to handle something like that.
(Laughs). No. I mind my own business. I would try my hardest. Trust me.
What can we expect to see and hear from you in the near future?
I want to put out a mix-tape with a few original songs so that people can get a little taste of me. After that I'll probably drop an album. I want to start doing a bunch of shows, but I have to get this project out before I can do that.
Is there a picture in your mind of what your ultimate goal as an artist is?
I hate to compare myself to people, but I want to have the same success that Nicki has. She's the biggest female rapper that ever was. Nobody has ever crossed over the way she did it. Nobody ever did it as close as she did it. I want to do that. I want to be like that. I want to be bigger than that. I want to crossover and still be able to be myself. I don't want to conform to what people think. You know how Cardi got Bodak Yellow? I don't think anybody knew it was going to be like that. I don't think anybody knew she was going to crossover with a hood-ass record like that. I want to be like that. I just want to take it to the heights of Nicki Minaj, but still stay myself. Not that she's not herself or anything like that. I just want to be myself because I've had so many people try to change me saying, "You're too ghetto, you're to this, you're too that." I want to be all of that and be a household name.
Article continues below advertisement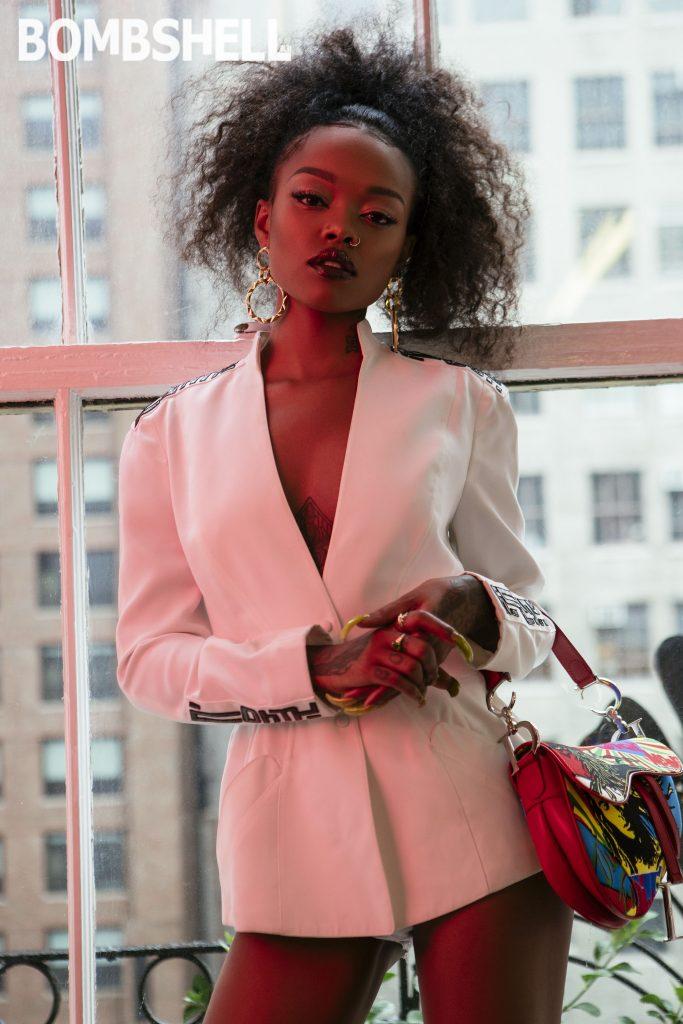 Photographer: Othello Banaci