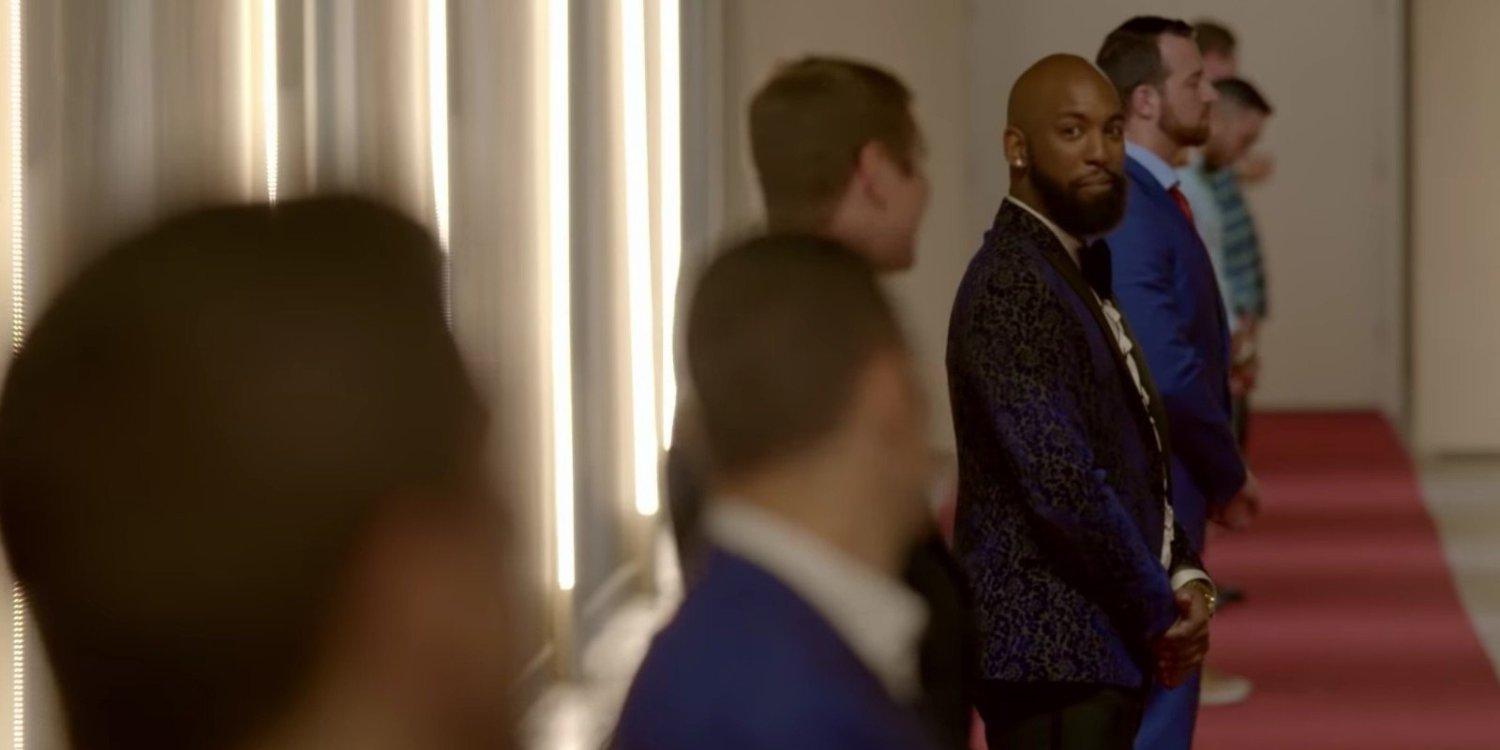 'Love Is Blind' Has A Biphobia Problem
By Elysia J

Feb. 21 2020, Updated 8:06 p.m. ET
Love Is Blind, is the latest Netflix hit. The premise is that men and women date each other without ever seeing one another. If they click the man proposes to the woman and they are allowed to see each other face to face. Then there's a trip to Mexico, then moving into an apartment together, and lots of alcohol; it's a mess. Mostly, a delightful trash TV mess. But there's one storyline that is the not fun kind of mess, and that's the story of Carlton and Diamond.
Like many dating shows the set up of Love Is Blind is pretty heteronormative. The producers set up the show so that only male-female couples could meet. So the contestants likely assume everyone involved is straight. However, Carlton explains in a confessional that in the past he has dated both men and women. He says that he is on the show because he wants a wife and to start a family.
Carlton hit it off with Diamond and proposed to her (after literally days this show is madness). All was well up until Mexico when Carlton revealed to Diamond that he had dated men in the past. This resulted in a huge showdown which ended in the couple calling off the engagement.
Opinions on how the pair handled the situation vary massively. But something that I think can't be disputed is that the show itself has huge problems.
Article continues below advertisement
The Framing Is Awful
Throughout the entire saga, bisexuality is framed as a sordid secret. Carlton's confessionals before Mexico are deeply uncomfortable to watch. He comes across as ashamed and apologetic of his past saying repeatedly that it would be "a lot to handle" for a potential partner. Carlton telling Diamond is built up to be a huge bombshell. Discussions that follow contain ignorant tropes about bisexuality that go unchallenged. The production does nothing to counteract the narrative that bisexuality is something to be ashamed of.
The message that bisexual people get from Love Is Blind is that their sexuality is abnormal. That not disclosing it immediately to a partner is deceptive, and that it's an incredibly difficult thing for people to process so you have to be very patient with them while they deal with the news.
Screw that. Bisexuality is not a horrible indiscretion that you have to apologize to your partners for. Bisexual people do not owe anyone time to decide if they are ok with a fundamental part of who they are. Having dated multiple genders in the past is not a lot for a partner to handle. Unless they're bi-phobic, that is.
Article continues below advertisement
The Only Reason to not Want to Date Bisexual People is Biphobia
That's not to say that that rejecting any bisexual person is bigotry. But not wanting to date someone for the specific reason that they have dated multiple genders is bi-phobic. That's pretty straightforward. Not wanting to date someone because of an unchangeable aspect of them is bigotry. No one is going to force you to date them anyway, but reality is reality.
People may try to come up with other justifications but that's just playing semantics. It's still bigotry. Think they're more likely to cheat? Bi-phobia. Think they can't settle down because they'll never be satisfied with one gender? Bi-phobia. Think they're not a "real man" because they've dated men? Bi-phobia with a little side of homophobia for good measure.
Individuals may be ignorant and uneducated on certain topics. They may hold views about themselves that are untrue and harmful. But so many people worked on Love Is Blind that the framing of bisexuality we got, and the dreadful discourse it has sparked is frankly irresponsible.
Just one final reminder before wrapping up, if a romantic partner ever makes you feel like you have to apologize to them for dating multiple genders, they're trash.