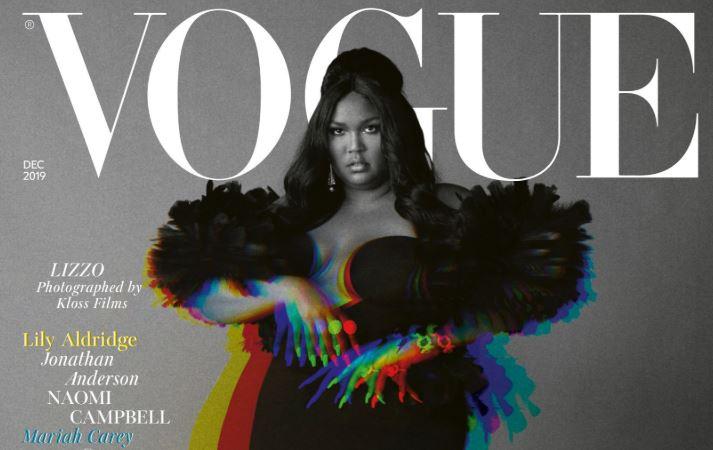 Lizzo Graces the Cover of British Vogue
By Jamie Rollo

Nov. 8 2019, Updated 5:26 p.m. ET
Until recently, fashion publishing was never the friendliest place for curvy women. Stick-thin, "heroin chic" models and celebrities were the preferred figureheads selected to grace the covers. Lizzo, breaking barriers as usual, recently adorned the cover of British Vogue proving that beauty and fashion no longer have restrictions. She tells Vogue readers, "I'm not trying to sell you me. I'm trying to sell you, you."
As we move into 2020, I think we can all agree that this flute-playing deity has become the It girl of a new generation. But it took a while for Lizzo to really break into popular culture. Even her iconic, chart-topping ballad "Truth Hurts," which dropped in 2017, took two years to become widely popular. In her feature for Vogue, the popstar opens up about her journey to fame, struggles with anxiety, and body positivity.
Article continues below advertisement
"I think if I was 21 right now, I would not be able to maintain this lifestyle without having major anxiety or panic attacks," she revealed to British Vogue. "But thank God, my journey is all about self-care and finding that love for yourself and nurturing yourself. Because that's what artists need more than anything." While anxiety can be tough to deal with, Lizzo explained how her nerves help her perform better. "I just go harder and harder and harder when I'm performing and I just go crazy," she said.
The singer revealed her feelings of mainstream media and how a lack of body and all-around diversity affected her negatively. "I would watch things on television and I would look at magazines and I would not see myself," she told British Vogue. "When you don't see yourself, you start to think something's wrong with you. Then you want to look like those things and when you realize it's a physical impossibility, you start to think, 'What the f*ck is wrong with me?' I think that took a greater toll on me, psychologically, growing up than what anyone could have said to me."
Article continues below advertisement
Because of these feelings she had as a youth, Lizzo makes sure to boast body positivity left and right, up and down. However, she does have her valid grievances with the current body positive movement since sometimes isn't surrounded by actual self-love, but marketing and revenue. "Anybody that uses body positivity to sell something is using it for their personal gain. That's just it," she declares. "We weren't selling anything in the beginning. We were just selling ourselves and selling ourselves on the idea – selling ourselves on ourselves, you know?" For her, body positivity isn't about selling anything. It's about loving herself loudly and proudly to let her fans know that beauty is an all-inclusive entity.