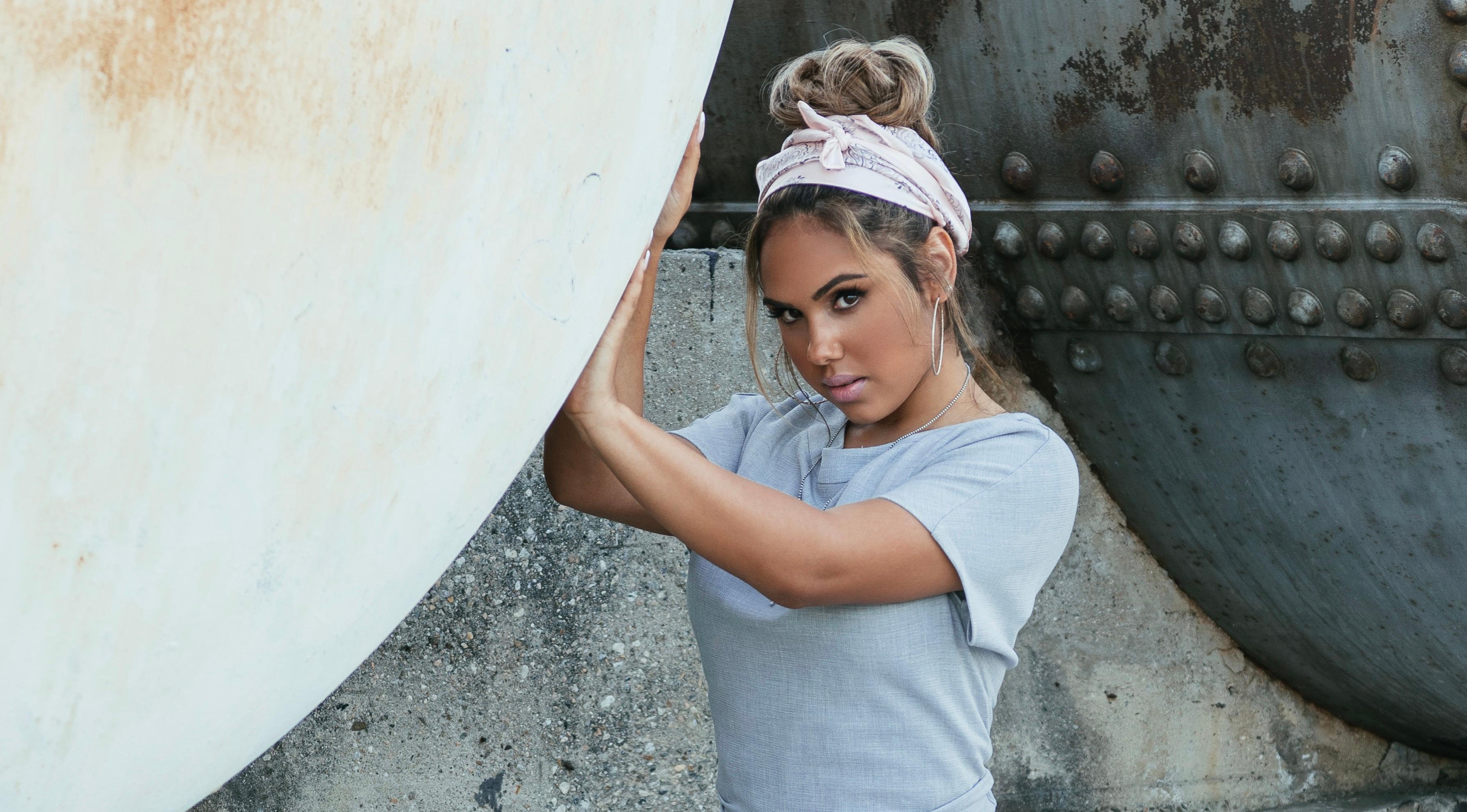 Kristinia DeBarge Spices Things Up in New Single, "Pink Love"
By Nicole

Aug. 30 2017, Updated 12:05 p.m. ET
Kristina DeBarge, 27, is no stranger to the music industry. At the age of 12 DeBarge started to take her career more seriously, and by the age of 19 was signed to Island Def Jam where she worked with industry giants, L.A. Reed and Babyface.
After taking a brief hiatus from music DeBarge became a true boss, releasing her own music independently. Now, she is ready to take her career to the next level, and is not afraid to push the envelope just a little. In her latest single and music video, "Pink Love," the songstress confidently struts around in lingerie revealing a sexier, more mature side. Take a look at the video down below:
Kristinia is more than a beautiful talent. She has a big heart and has been taking strides to share it with the world. Keep reading to learn more about her philanthropic spirit, musical journey, and what she is bringing to us next.
Article continues below advertisement
Congratulations on all of your previous success and with your newest single "Pink Love." How did this musical journey begin for you?
It began in 2002 when I was 12. That's when I started to take my music career more seriously. I ended up getting a record deal four days before my 19th birthday, and I signed to Island Def Jam with L.A. Reed and Babyface. I had a partnership. I had a big single out in 2009 called, "Goodbye," that some people remember. I toured with Brittney Spears as her opening act for a few months, I was the brand ambassador for Wet Seal, and I had sold two million records. It ended up being a really great success for me. Then I decided to take a hiatus from music and focus on acting and being a normal person for a little while. Then I got back into music in 2012 and since then I've been putting out music independently. And that's where I've been [laughs].
You mentioned you worked with L.A. Reed and Babyface. That's so awesome! What was that experience like for you?
Well, it was a dream come true. I mean you never imagine that you're going to be working with these legends at such a young age. You know what I mean? So, I was thrilled to be working with them. I honestly couldn't believe it, but I had a lot of fun. I learned a lot. I definitely learned that you have to be resilient in this industry even though I was so young. You know, I'm still young so I'm excited to have a long career ahead of me. It's a great thing now that I have the experience and the knowledge to do it on my own, and I'm doing that. I'm in full control of my music, my career, my brand, and my image. It's really exhilarating and it's nice to be able to have my own label now. It's really exciting and I'm really happy. I feel like a boss-lady [laughs].
Article continues below advertisement
How has your sound evolved since you first started in your career?
I'd say that I definitely don't have that teenybopper sound anymore. I love my music. I feel like it's always been good, so I'm blessed in that aspect, but this music is sexier, grown, and mature. I wanted to show that in this project and I wanted the transition to be noticeable, but not over done like, "Oh, she has gone way too crazy. This is way too sexy." You know what I mean? I wanted them to see that I am a women, but I didn't want them to see "Oh no, my daughter can't listen to her songs anymore." I wanted something universal, but I could still get my point across. I feel like I'm doing a pretty good job of that so far.
I saw the "Pink Love" music video, and it definitely got a little steamy. What was it like filming that video?
I know! Then there was a little kiss at the end [laughs]. At first I was a little hesitant about doing lingerie, but I was like, "You know what? I'll do it," because I dressed myself for the whole video. I was my own stylist. It was the first time that I was my own creative director for a video. I had a complete vision and I just went with it. So I was like, "Don't be afraid to step out of your little box. It's not like your overdoing it." The theme of the video was an old Hollywood, Marilyn Monroe, and the movie Casino type of vibe. So it was kind of like, I needed to get out of my comfort zone. I'm 27. I think I'm allowed to wear lingerie [laughs].
Who have been the artists that have been the biggest inspirations for you in this new phase in your life/career?
Article continues below advertisement
Oh yeah, absolutely. Janet Jackson is the top example. She started at a very young age. When she started she was acting and then she came out with "Control." When she started coming out with her music after that it was like, "Okay, she is making a statement." She was very sexy and very "I am who I am." It was so empowering and I thought, "Wow." Here is a women who is definitely a sweet person and her persona is very classy, but when she is on stage her alter ego comes out and she is not afraid to show that person. She's a complete star. I remember looking at her and being like, "I want to be like that." That was someone that I looked back and did some research on. Jennifer Lopez is another one. It gives me a lot of hope.
You definitely looked confident in that video, which is why I was surprised when I read that you dealt bullying in the past, and have been using your voice for good. What types of things have you been doing to advocate against bullying?
Article continues below advertisement
Well, I actually have a children's book about bullying called, "How Joe the Monkey Got His Tale," and I'm working on getting it published. I started writing it when I was in 7th grade, and I rewrote it when I was 19. I had my aunt do all of the illustrations. I started to sell it on Amazon, but I took it off because I wanted to be able to start my own foundation called, "The Purple Piano Foundation." My dream is to go to all the schools, whether it's high school, middle school, or elementary school, read the book, sell the book, and have the proceeds go back to the arts departments of schools. I know that a lot of schools lack teachers in the arts departments and they lack live instruments. I feel like it's important for children to have an outlet. A lot of kids are more creative and want a creative outlet, and to be able to do that in school. That's a dream that I've always had since I was 20. I'm just trying to figure out how to pursue it. I've been asking around recently to certain people for help, and a lot of people have been receptive so I'm excited to see where this is going to go. I never wanted to rush this, so I am taking my time with it because I want to do it the right way.
I heard that you are currently working on something that will be released soon. What can your fans expect to hear from you in the near future?
Article continues below advertisement
I'm actually releasing an app in a few weeks. I'm really excited about it because I think it's so cool to have your own app [laughs]. No, I'm really excited about it because I can interact with my fans more. It's for people who want to see more of me, who want to be more involved in my career, who want to be involved in my listening parties that I'm going to have, and that want to be a part of just the whole movement. I'm really excited because from now on my music is going to come out on the app first. It's a great incentive for people to download the app because they're going to be able to get things that other people are not going to be able to get right away. I'm going to be doing giveaways. I have these hats that I sell on my website and they're starting to get more popular because I am starting to promote them more now. I'm going to giveaway about 50 when I launch the app. So the first 50 people that sign up are going to get a free hat, which is pretty cool I think, and it's going to be signed by me. Then I'm going to have my next single be released through the app, which I think will be really soon because it's more of a summer jam and summer is about to be over soon. I want people to enjoy the record in the sun. It's one of those records that you're like, "This makes me want to go out and have a good time." There will be other great giveaways, opportunities for people to come and meet with me at meet-and-greets, opportunities for people to come meet with me at the studio, and I'm going to be having listening parties for all of my music; just stuff that if you don't download the app you won't be able to do. So, yeah! I'm really excited for that.
Stay up to date with this BOMBSHELL by following her HERE!