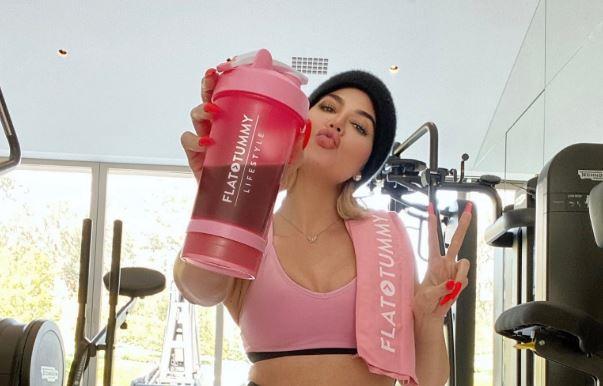 Khloe Kardashian Is Promoting Sh*tty Diet Shakes
By Elysia J

Jan. 10 2020, Updated 8:31 p.m. ET
On January 8 Khloe Kardashian posted a promo for Flat Tummy Co. shakes to her twitter. Because she's the worst.
It seems like she knows she's not being her best self. Because she tries to anticipate some of the criticism in the post itself.
"YES, I also use a personal trainer and nutritionist" is a very clear sign she has seen responses to ultra-rich celebs posting about diet products in the past. We know that reason rich people are skinny is that they pay experts a lot of money to make and keep them that way. Not because they drank diet shake. But Khloe thinks that doing a cute pose and saying "trust me" will make us believe otherwise.
Article continues below advertisement
So she's the worst firstly because she's obviously lying. This shake did not give make her tummy flat, her trainer, nutritionist and possibly her surgeon did. She's the worst secondly, because all that money she has to spend on being skinny means she doesn't need to be doing this. Khloe Kardashian is not a moderately successful influencer who kind of has to take what they can get. She's a whole millionaire. She has one of the most famous names there is. If she turned down this sponsorship she'd still have plenty of others to choose from. Even if she didn't get another sponsorship offer for months, she'd still be more wealthy than most people will ever be.
No, Khloe Kardashian was happy to leverage her fame to sell a scam. And it is a scam. Flat Tummy products aren't a magic fix for the Instagram-perfect body. The tea is basically just a laxative (when I said sh*tty products I did mean it literally). The meal replacement shakes (which is a yikes name we'll get back to) contain extract of garcinia cambogia, which has been hailed as a weight loss miracle drug….by Dr Oz – the guy who has been investigated by congress for lying a lot about this kind of thing. Actual scientists on the other hand say that the extract has been "conclusively determined" to have no effect on weight loss. The appetite suppressant lollipops (another yikes), also have been found in studies to not work.
But Even If The Products Did Work…
Would that be ok? It seems like we would still have a problem.
Products like this can only sell if there are enough people so desperate to be skinny that they are willing to inflict harm on themselves. A meal replacement shake that works is still denying yourself food. An appetite suppressant that gives you perfect abs, is still taking ignoring your body telling you it needs food.
Celebrities like Khloe and Kim (who promoted the lollies) and all the rest aren't just selling bad products, they're selling self harm. They contribute to a culture that thinks eating disorder behaviors are a necessary step to avoid the ultimate horror of having a body that is anything but skinny.
In conlusion, eat food and eat the rich.