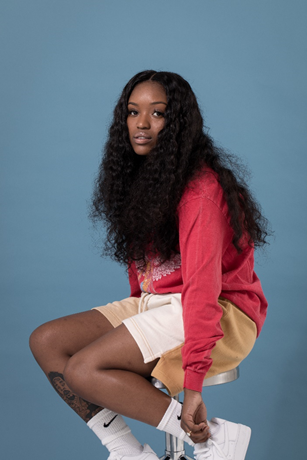 Kaash Paige Releases HAPPY SONG music video
By Ash C

Sep. 18 2019, Updated 9:34 p.m. ET
Kaash Paige is an 18-year-old musician from Grand Prairie, Texas. She's been doing music since she was a kid, dropping her first track in high school – but it was just a passion project with some friends at the time. She's back now, a little more grown up, refined, and definitely more dedicated about making tunes.
Her stage name "Kaash" means "Kill All Arrogance Stop Hatred" and she aims to stay humble and grounded, much like her new release "Happy Song." She said, "Happiness should revolve around you, not the stuff around you."
She says on Traxsource: "Happy is a song about being depressed because what you think makes you happy – social media likes, being in multiple relationships, doing illegal things getting money with ya homies, those things don't make you happy. It's a feel good song but it ultimately doesn't feel good."
Citing Doja Cat as one of her inspirations, Kaash Paige's mellow vibes are endlessly infectious. She's been through mental health issues and anxiety surrounding not feeling confident in herself before, and now, she aims to change lives with her music. In this new drop, she asks, "Can we keep it chill like Mac Miller?" Check out the super cool music video below and let us know what you think!
Like it? Comment below and stay tuned for more music updates. "Happy Song" is now available on all digital service platforms. Follow Kaash Paige on Twitter, Instagram, and Soundcloud now so you can catch her come-up before your friends do.