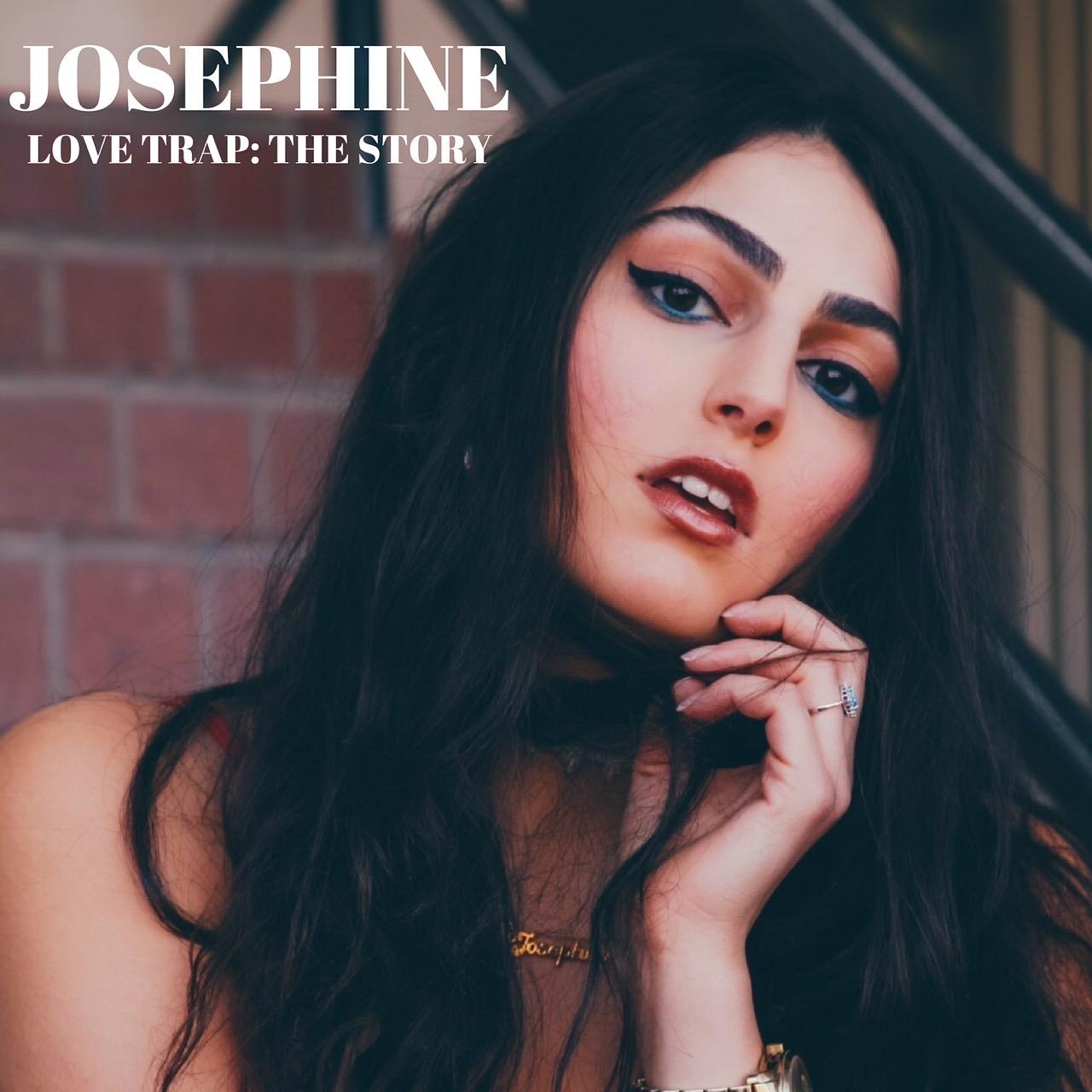 JOSEPHINE INTRODUCES US TO HER "LOVE TRAP"
By Rhamer Bernardez

Jul. 23 2017, Updated 4:05 a.m. ET
A woman who is not afraid of her roots, embraces her past, and builds the brightest future is taking the music industry by storm. Josephine, an up and coming pop singer, of Persian descent, is rising above all to showcase her talent to the world. She takes her Persian background seriously through her music, singing about the love-torn reality of a break-up in her song, "Delusional". The single, the first off of her EP Love Trap: The Story, is an eerie sounding love message to her ex-boyfriend. The mystique of the song, mixed with Josephine's professionally nailed high notes in the bridge gives you chills. Of course, she was able to take notes from EDM artists when she worked with a record label in Tel Aviv, where she spent months learning the ways of the industry. The opportunity landed Josephine a trip that filled her mind and heart with unforgettable knowledge, which is portrayed through her new music.
Bombshell had the opportunity to sit down and talk with Josephine about her new EP and the idea behind it, as well as get to know the Persian girl who fell in love with music:
Article continues below advertisement
How did you get started working with music?
Josephine: I have always been in love with singing. I've always been entrapped by the different kinds of genres in music. I'm Persian, I come from a Persian background. My parents are Persian immigrants, so I was raised on Persian music. But then I had older cousins that were heavily influenced by hip-hop and rap, so I was always listening to that. As I got older, I started to find my way with jazz and classical music and I just have always been so inspired by so many different things! That pushed me to exploring my own sound. It's been pretty recent that I've been really doing it. About a year ago I decided this is what I wanted to do, because before that I was doing a lot of acting. Once I started to make music, it just started to take off.
What particular song/artist in Persian music brought your attention the sound of music you wanted to produced?
Josephine: I'm really into Moein, he's a big artist in the Persian community. The songs in Persian music are very romantic. They don't really border with anything that we have in pop culture, American pop culture. A lot of our songs revolve around sex. Persian music isn't like that, it's all about love and romance. Nostalgia of relationships and longing. That really is what connected with me and definitely what I was influenced by. Black Cats, they're more like pop.They're a Persian boyband so they're more like pop. I was always around that. Even though I sing all my stuff in english, growing up speaking Farsi and growing around Persian music, it has really influenced the way that I sing. The tonality in my voice, because when you speak a different language it comes out a different way than when you sing a different language.
Article continues below advertisement
Why did you choose to go to Israel to work for a record label?
Josephine: So I did, I went to Israel last summer and I was working with this record label, they brought me out, they sponsored me, it was awesome. It was really great. I was there for three months. They were my mentors, just teaching me everything about music, about the business. It was really a development stage for me because I was just coming in as my own artist, figuring out my sound. They're EDM, but my solo stuff isn't EDM, but I definitely do have those influences. A lot of the featured things that I have out right now are with EDM artists, them included. It was a beautiful experience. Tel Aviv is a second home to me.
What was that experience like? What was the main thing you got out of it?
Josephine: The influence on me as an artist, is different. It's a different sound, different community, different energy. It just brings something. I love all kinds of music. I'm down for anything.Right now, I've got a few side projects in the works with Levi and Suiss from the Tel Aviv record label, Ascanio and JetLyfe. I'm more focused on my solo project because we'll be releasing a lot of music. That's definitely something I'm excited for! I feel like the EDM community is so welcoming. It's a different vibe.
Article continues below advertisement
Can you tell us about "Delusional" the song?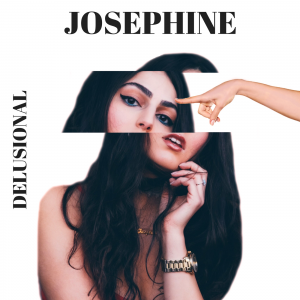 Josephine: Yes of course! "Delusional", I wrote the song a while back, I don't even know where to start. It's very special to me. "Delusional"…I was coming off of a break-up and in this nice 'hook-up' culture that we are in right now, it's hard to know where you stand with a person I think? There's so many blurred lines like, "Are we together?", "Are we a thing?", "Should I even ask?". So "Delusional" is about not really knowing. Like where you stand, "Did this relationship even happen?" or like, "Was this all in my head?" just like the lyrics, "I'm feeling high, but I'm sober." When you're in this state, you're just like, "Did I image this relationship?" and it's both sides. When you're in love, you are in love. You literally cannot see anything because you are blinded by this light of love. When you're coming out of the relationship, you're high, but not in a good way. You still kind of have those flashbacks to that relationship like, "Did that just happened?" and you feel like you're still in it. I was with this guy, we just broke up, and it was bad. So basically, this is what it's about. "Delusional" is the first single off of this EP called Love Trap: The Story. This EP is going to released as a visual concept album. There's four songs. They all follow the trajectory of a relationship from start to finish and post break-up. It's all about identifying the parallels between love, drugs, and success. You'll see that through the songs on the surface, that are about love. When you watch the videos, it's going to be totally different. It's for the viewers—well it should be abstract enough—to put you own imagination on it. So "Delusional", the second one is "Coming Back" which will be released the 14th, the third one is "High Hopes" which comes out the 21st, and the last one is "Not Me, It's You" which comes out the 28th.
Why did you choose to release it in this order v. releasing it all at once?
Josephine: Because I wanted people to follow this trajectory of the story and…I want them to put their own take on it. What do they really think it is? I love art that makes you think you know? Drake has this quote, "I don't want anyone to get my song on the first take, I don't even want them to like it on the first take." I really want people to observe it and put their own meaning, how it means to them, how does it move you? So on the 28th, it will al be consolidated into one EP, but for now they are being released as singles until the end of the month.
Article continues below advertisement
This EP is very important to you. It's songs from your experiences! What would you want people to take away from this, as an artist beginning in her career?
Josephine: Like connect with me?
Yes, as an artist and connect with this EP?
Josephine: I think they're going to take away that nothing is on the surface. Everything, you can always go deeper. There's always some way to connect something. I'm very into critical thinking. I'm very into finding your own conclusion and finding what something means to you in art. Art is a reflection of yourself. When you listen to this, when you see the full album, I want you to come away with it, what it means to you. It might not even be what I intended, but if it can steal someone then that's great. I came from a bad place off this break up. I've been healed by so many songs, so much art. If this can heal someone, if someone can connect to this and be like, "Shit, that is me, I literally went through that," that's my goal in these songs. That will make me happy.
Article continues below advertisement
You talk about women empowering other women on your Instagram. Can you tell us why that is so important to you?
Josephine: Oh god thank you for asking that! I feel like, especially in L.A., there tends to be so much competition between women, so much bad energy and I just don't deal with that. I really don't fuck with it.I have a lot of male friends. A lot of my best friends are guys. My producer Paul Water is my best friend and he executive produced this project, helping me from start to finish coming up with concepts and ideas and just fleshing the whole thing out. We can hang out all day but there's something to be said about having real women in your life. It gets competitive with your friends! I'm competitive with my guy friends and my girl friends, we'll push each other! It's healthy. There shouldn't be any jealousy, there shouldn't be any animosities. There's a quote that, "Successful people want to be around successful people". You don't want to be the weakest link in your group. You want other people to push you want to learn, you want to grow from them. If you're the best one and you're stepping on other people, then who's pushing you? How are you learning then? How are you getting better as a person? I'm all about self-love and self-empowerment. I think it's so beautiful when women come together to succeed and push each other. I found it so beautiful with the girls who have come into my life.
What are 6 words you would use to empower yourself and other women in the music industry?
Josephine: I would say: SELF-LOVE, CONFIDENCE, POSITIVITY, RESPECT, PERSPECTIVE, BEAUTIFUL. It's not about what you look like you know? It's about both.