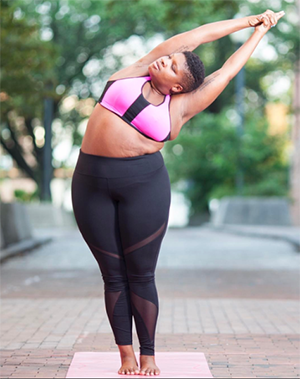 Jessamyn Stanley: Ignoring Social Media Trolls and Accepting Her Body
By Rhamer Bernardez

Jul. 23 2017, Updated 4:04 a.m. ET
Your body's a temple that should be treated with respect. Love, acceptance, and strength are things that women face when dealing with their looks. Nowadays, a girl looks into the mirror and sees flaws plastered all over her body, but her "flaws" are what another person calls beautiful.
It gets harder day by day in this world to accept who you are physically and mentally, hence why Jessamyn Stanley is all about self-love on her Instagram page.
The plus-size yoga instructor tells USA Today in an interview, "Apparently, when you show the Internet your fat a** in a yoga pose, everyone wants to know how the hell you managed to do it," regarding people questioning her decision to showcase herself publicly.
Stanley has over 315k followers on Instagram, where she posts motivational pictures and videos of herself to encourage women of all shapes and sizes to conquer their fear of taking a yoga class or heading to the gym. She defies the stigmatism of only "skinny" or "fit" girls do yoga, telling women that "if you can breathe, you can do this practice.
"Your physical state is not a problem. It's not something that's impeding your progress or to living this practice," Stanley said about women who are scared to enter a yoga studio.
Her words of encouragement have reached an array of different women across the world. On International Yoga Day, Stanley, along with hundreds of other women, took over Times Square, in sponsorship with Aerie to practice yoga.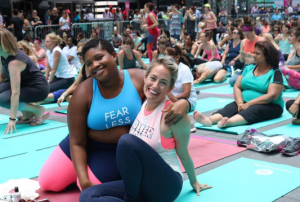 Article continues below advertisement
Stanley loves to talk about her weight, the challenges it comes with and the obstacles she overcomes because of it. She said she talks to her friends, family, and fans about her problems because it is a healthy way of dealing with issues.
Of course, practicing yoga is an idea way to deal with emotional issues head-on. She said, "It allows you to have conversations with yourself and to look at yourself in a way that is very difficult to look at just on a day-to-day basis."
The practice of yoga, she says, allows an individual to center themselves, when they are faced with a hardship. It brings awareness to the mind and body that you must take the time to breathe, relax, and face what is in front of you one step at a time.
Make sure to follow Jessamyn Stanley on Instagram to keep up with her latest posts and any upcoming events she might be holding!