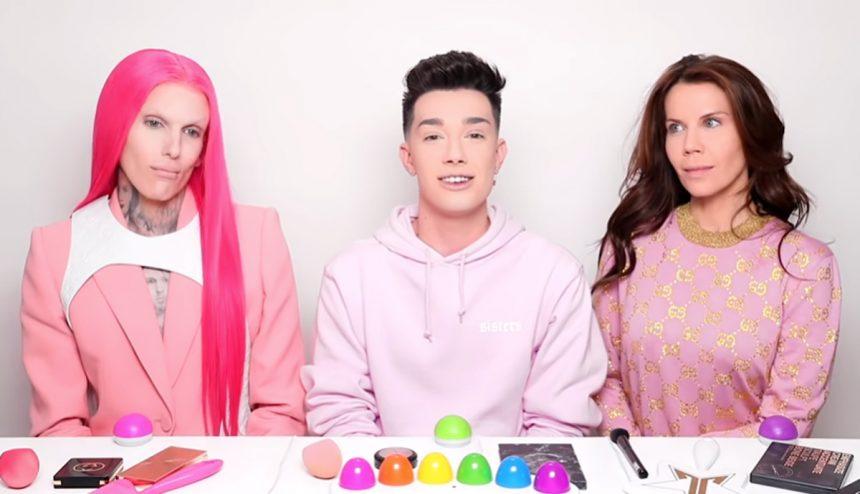 James Charles, Tati Westbrook, And The Failed Cancellation
By Elysia J

May 29 2019, Published 3:30 p.m. ET
There are two things you need to know about me in order to understand my perspective on the James Charles Vs Tati Westbrook scandal. Number one, I find most beauty vloggers extremely annoying. Number two, I love drama more than I care to admit. So when I saw on twitter that a big beauty blogger was dragging another big beauty blogger, I was in guilty-pleasure heaven.
Tati's Original Video
Tati Westbrook had released a 40-minute long video called "Bye Sister" which according to Twitter, was a devastating blow, losing James thousands of subscribers a minute. So, bursting with petty excitement, I clicked and waited for the tea to spill. And waited. And waited. Skipped around a bit. Waited some more. But once I finally got to the end of the video, my cup was still empty. Tati had achieved something that I don't think anyone else has achieved before. A drama video that was boring. The vast majority of the video was empty waffle and clichés (to the extent that even someone who appeared to be a fan based on the description made their own version that was only ten minutes long).
The parts when she actually talked about what was bothering her, were so vague that you come away from the video still unsure what she was upset about. You can see for yourself in one of the many re-uploads of the original videos by other channels because Tati has since deleted the original. (For reasons we'll get to later).
Article continues below advertisement
Her Point…I Think?
It seems that in amongst Tati's making sure you know how much she helped James, there are two main points. Point one is what she insists is not the main reason she made the video. That James Charles promoted Sugar Bear Hair instead of her own brand of hair vitamins Halo and lied about the reason why. Now many (including me) find it hard to believe that the vitamins aren't the reason that the video was made, because of the timing. This video was posted not long after James did the paid post, and Tati posted an upset and angry Instagram story in response. The other situation happened a lot longer ago.
Article continues below advertisement
Point two set of some alarm bells for me. Not about James, but about Tati's views. Around 25 minutes into the video she starts talking about James and a situation with a straight guy. As previously mentioned the whole video is infuriatingly vague. But it seems like she's accusing him of being predatory with the man in question. But it honestly came across as kind of homophobic even on the first watch. The way she phrases her accusation explicitly ties in the predatory nature of the behavior with the fact that James is gay (which is another thing we'll get back to later).
But despite its vagueness, the video got millions of views and the intended result. James Charles saw his subscriber count drop off the edge of a cliff. And Tati saw hers climb to the top of it. Jeffree Star chimed in during the aftermath, and strongly sided with Tati, piling on with the dragging and even targeting James's little brother.
Article continues below advertisement
The Rebuttal
Things were looking bad for James. First, he released a tearful apology video simply entitled "Tati." At some point during this time Tati realised "Why I Did It." Which along with her original video has also since been deleted. It was basically just Tati telling people she never meant for any one to get hate. Frankly doesn't really add anything so we'll move on.
But then. His magnum opus. The most beautifully crafted clap-back I have ever had the honor of laying my eyes on. On the 18th of May, James Charles released "No More Lies."
Article continues below advertisement
Now, this video is worth watching all the way through. Because James doesn't waste any time with waffle or clichés. Almost every second is dedicated to receipts, evidence, and shade. James deconstructs and disproves every single allegation against him. Was James unsupportive of Halo despite Tati helping him over the years? Nope. Was James lying about why he promoted Sugar Bear Hair? That's also a nope. Was James sexually manipulating a straight guy using his fame? N, O, P, E.
The Homophobia
That last accusation comes with a lot of baggage. What happened with James and the man in question boiled down to James flirting with someone who happened to be bi-curious. That person messaging him, them making out in a hotel room, and the guy not being sure what to make of it. But the way Tati framed this, knowing the situation, is deeply rooted in homophobia. James called out some of the hypocrisy in attacks against him in his video. Straight women can thirst all they want over hot dudes, as publicly as they want. But when James DM's hot guys' compliments, he's a danger to society. James doesn't call out Tati directly for this. But she is 100% complicit in continuing extremely dangerous stereotypes that paint homosexuality as inherently predatory, and a threat to the poor defenseless straights. I have to recommend you read the Dazed article by Jason Okundaye which goes in hard on the homophobia laced throughout this entire scandal.
Article continues below advertisement
Apologies ?
Everything Tati threw at James was disproven. But Tati wasn't ready to give up. This is what she tweeted after "No More Lies" was released.
Article continues below advertisement
She says she wants healing. However, what she really wants is to call James a liar and tell you that she's right and he's wrong. But she's using #healing language so that her more gullible followers will think that this is her taking the high road.
But very quickly the tide had turned, and dunking on James Charles wasn't a hot look anymore. Jeffree walked back his comments in a video called "Never Doing This Again." On the same day, Tati released her final statement on the matter, which differed very little to what she posted after "No More Lies."
Article continues below advertisement
Still letting you know that she was right and he was wrong. Hinting that there's more evidence to show that James is a liar. But hiding it behind #healing language. But with an added bonus of making herself out to be some kind of martyr by saying it was a fight she was always going to lose. This may be yet another achievement for Tati, along with most noting drama video, she gets the prize for most obvious n0n-apology.
The End?
At least for now, it seems that the scandal is mostly over (although James has cancelled his upcoming tour). I went into Tati's video looking for a fair fight between two big channels. But what I got was a 37-year-old woman, trying her hardest to get a 19-year-old canceled for promoting rival vitamins. Calling out his mother, getting other YouTubers to dogpile on him, and perpetuating homophobia in the process. James Charles isn't perfect (he's a beauty blogger so he's also kind of annoying, plus there was that post after the MET Gala that painted influencers as some kind of marginalized group). But being a kind of arrogant kid doesn't merit the full-scale attack Tati and others launched on him, even after James had told her that just her original Instagram story about him was getting him death threats. This was messy, and it should never happen again.