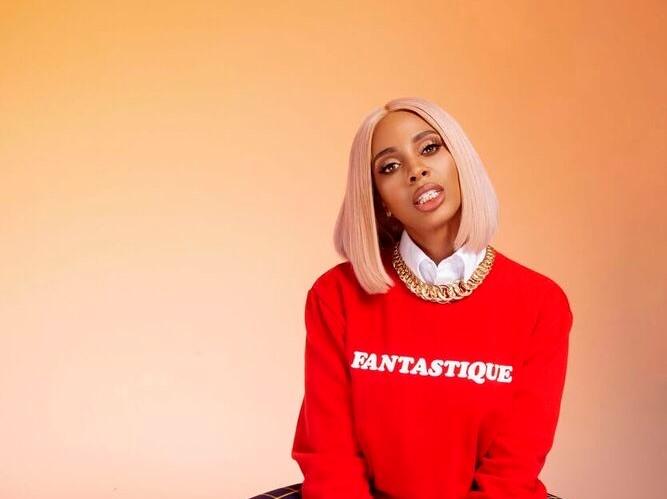 Jade Novah on her 'Year of Intention' and More
By Jamie Rollo

Mar. 9 2020, Updated 7:57 p.m. ET
With a new album release in 2020, Jade Novah is setting her eyes and mind on success in the new decade. A big believer in manifestation, each step of Jade's career led her to where she is now. While working primarily as a backup vocalist for the likes of Rihanna, Missy Elliott and plenty more, she decided that she wanted to start creating her own music. With the success of her 2018 debut album All Blue, Jade is enthused with her latest release Stages. Bombshell was lucky enough to chat with this talented artist all about her career, her latest release, manifestation and more. Read below: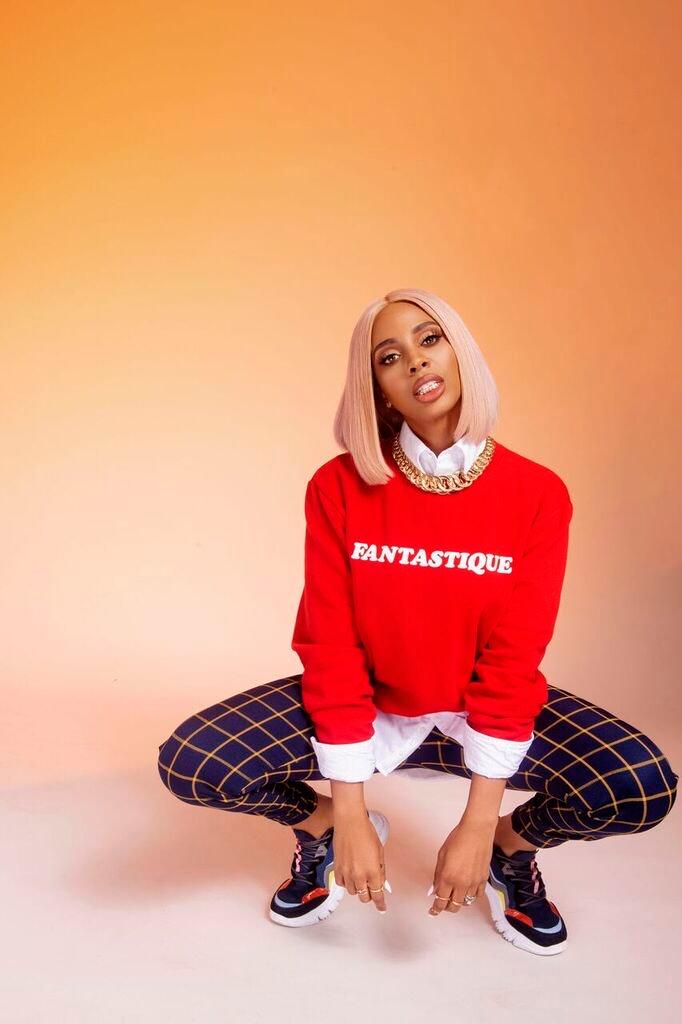 Bombshell: Starting off, can you talk a little bit about the album you are releasing this week?
Jade Novah: I'm really excited about [Stages]. Like, the first project I did was called All Blue and that project was definitely like a snapshot of where I was at the time of my life; like just about elevation and just good vibes. [For] this next project I wanted to kind of tell more of a story of where I came from to get to that point and to show that okay yes, we want to be positive, we want to be happy and elevated, and all that but real life shit happens and you know it takes a lot to get to that point. So I talk about my past relationships, depressions, the good, the bad and everything.
Article continues below advertisement
And it's called Stages because each song has its own character to it so every single song sounds sonically different from the next and each one has its own character. So, we shot visuals for eight of the 11 songs and literally each song has a whole entire vibe, a whole entire persona. [It's] almost like the manifestation to be in that specific space, so if i was in toxic love what does that look like and so on. It's really diverse, it's eclectic and it's just storytelling. I always like to tell stories through my heart… That is a very long way to answer your question.
B: Where do you get most of your music inspiration from?
JN: Just life and stories like I love film, I love theater so yeah just storytelling, really, it's always my inspiration.
Article continues below advertisement
B: For All Blue, would you say the inspo is the same?
JN: With All Blue, I had moved to Los Angeles and had just gotten into this new kind of unlearning things, you know what I'm saying? And I think our generation, well I can't say our generation because I don't know who's Millennials or Gen Z's up in this place, but I think Millennials and Gen Z are discovering so many things and unlearning a lot of the myths that previous generations kind of fed to us cause they didn't have the information. So I had just gotten to this space of just smoking a lot of weed, moving out to L.A and just being in that vibe. And that's really what that was for me then. So I think that was more of the inspiration for it. It was just where I was at that time. So it was more relatable to me. But I think this project is universally relatable because like I said, every song has something that I think everyone can relate to.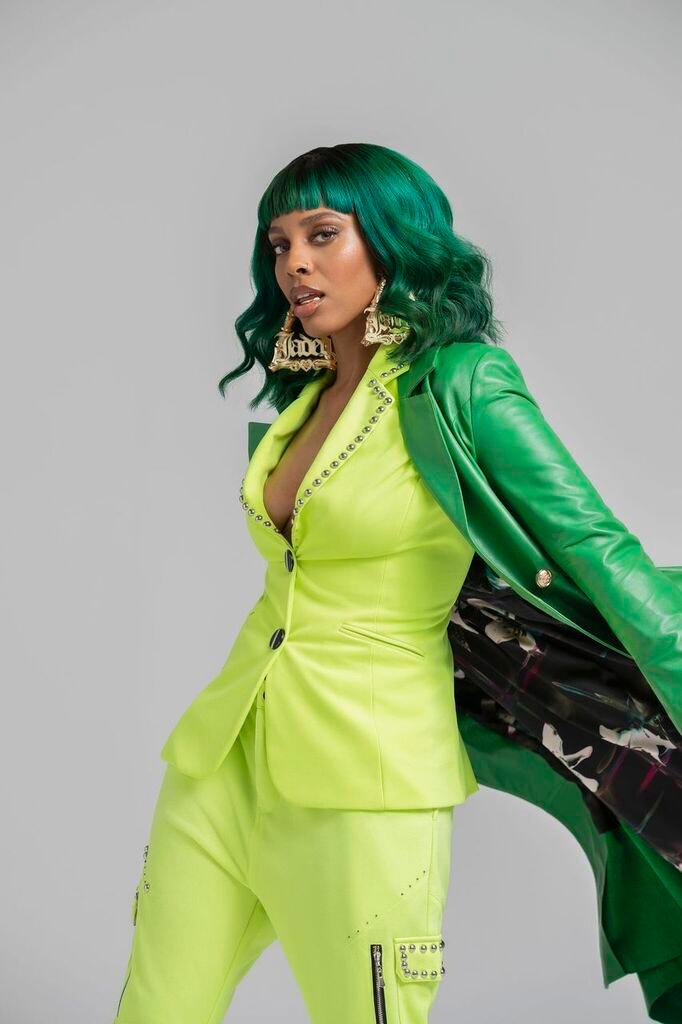 Article continues below advertisement
B: How about some of the artists you listened to growing up?
JN: I love '90s R&B. I think everyone loves '90s R&B. But yeah, I grew up with a really eclectic household. My father was in a rock band, you know, when he was younger. And my mom really loves musical theater. So we have vinyls of the Beatles and of Judy Garland and Barbara Streisand. And just Broadway musicals. And then I love '90s hip hop and '90s R&B… I love Mariah Carey. Whitney Houston is my absolute favorite of all time. I love vocalists, I love people who just have integrity about vocals. Cause that is a lost art, you know? So I just, I love vocalists, like flat footed singers and I love artists who tell stories. And I feel like Toni Braxton did a very good job of always having so much dynamic in her vocals, you know what I mean? The way she would say 'kiss' and this little, you know, sprinkles of, of technique that just told a story through her emotions and her song. And then, yeah, Whitney, because she was an actress and a singer. All of her music had that storytelling element to it and just all hip hop because hip hop always tells a story… Country and hip hop conceptually. I mean, I'm not saying I'll listen to country, but I'm just saying as far as genres that aren't as boxed in, I think country music, I mean, they'd be talking about all kinds of shit. And then hip hop tells me stories that, you know, sometimes R&B just hasn't told before.
B: What was the breakout point of your career
JN: Breakout point? Oh gosh. I think it's always evolving. I don't know. And maybe because I'm in it, I don't know, but I always feel like there's always room to have more of a breakthrough… I feel like an underdog, low key. Like I was just having this conversation. I feel like, and I don't know if it's because where I came from, I've lived a million different lives. I came from the background world. You know I was singing background for Rihanna for four years and I've sung background for pretty much every artist you can think of from Gaga, to Eminem. And then I was writing for other artists and you know, I kind of started doing my artistry a little later in life than a lot of my peers. So I always feel like I have something to prove and then I'm kind of, you know, overlooked a little bit, a little slept on.
Article continues below advertisement
B: Because you have so much background, well experience in background vocals, with so many people, has that shaped who you are musically or do you have your own voice?
JN: I feel like my voice was always there, but I think that on the comedy side and then my ability to impersonate other people singing background for other artists and then writing for other artists gave me that ability to be a chameleon and you know, but I feel like my voice was always there. I just didn't have the platform… But I do think it gives me range. I genuinely feel like there's not too many things I can't sing or do. And this project definitely showcases that… It definitely helped to sing background cause you have to be a chameleon and accommodate whoever you're singing for, you know?
B: What would be the full story behind your career in the music industry? When did you start doing backup vocals and then how did that lead into writing and being where you are now?
JN: Oh wow. Okay let's see. Well social media was the catalyst and I guess, honestly, maybe that is also the breakthrough because I was doing YouTube videos back in like 2006 and 2007, like in a turtleneck in my dorm. And every opportunity that I've had kind of came from that space… Tyler Perry had seen the videos that I have posted on YouTube and I sang background for about five of his plays. It was like 'Madea's Big Happy Family.' And that was the thing that got me out of working a nine to five. Like I had just graduated college, I was working at a low cost and you know, that's where I was and I didn't work a regular job after that… And then after that opportunity, I used that money to move to Atlanta. I was going back and forth to L.A and I got a publishing deal as a writer because I had no desire to be an artist. I was like 65 pounds heavier and I was just like not even in that space. And I just enjoyed being more in the background. And I met my husband in 2011 and he was kind of the one who was like, 'yo, like you, don't you wanna be an artist?' And I had kind of given up on the artist thing because before social media, you know you had to go through the major label system in order to get seen.
Article continues below advertisement
I sang in a girl's group when I was younger. I kind of skipped over that part but it's all blurry and weird. But, it was so much control in that situation. You know, like I compare it to kind of K-pop like with you know 'your the sporty one and you're this one, you're that one.' And we had no creative control or no ability to have a voice. And that's the only thing I thought that it had to be in order to be an artist, but social media has shifted that narrative and he's like, 'yo, like you've already been doing YouTube, like just do your own stuff and you're writing songs that are for you and like no one else can sing them.' So he definitely encouraged me. I got my ass in the gym, I changed my name and I just created a whole other persona and we just been going ever since. And then in the midst of that, my hustle was singing background so again they saw something I posted on YouTube and Rihanna's team reached out. Just from doing background for her, every single background job I did I never had to audition for because it just came from word to mouth from that point on… In like 2017 is when I said I was not doing background anymore because I believe in manifestation and I believe that when you keep taking things that you don't necessarily want to take, that's what you're going to keep attracting and I had done the Soul Train Awards and I had promised myself that that would be the last time… Anthony Anderson was at the podium and the teleprompter broke, and he was kind of just improving for a second. And he looked back at the house band and he said, 'Is that Jade Novah back there singing background? What's wrong with y'all?' I was kind of mortified by it but it was like, okay bitch you're not doing this anymore, and that was the last time I did background.
B: You said you changed your name, why Jade Novah?
JN: Well, I didn't like Lindsay. I mean, I like my name, but it just didn't fit where I was going. And again, like I said, I wanted to kind of put out something that represented where I was going, where I wanted to be. I'm really into stones and Jade represents femininity and love and positivity. And then Novah is an exploding star and I'm obsessed with the cosmos, like very much so, so I kind of just wanted to kind of fuse those together.
Article continues below advertisement
B: So, what do you feel has changed most in the music industry?
JN: I don't know if singing is really an asset anymore. I've had this argument, I don't know that it is an asset. I think sometimes it makes it difficult, especially the state of R&B and the conversation that everybody's been having around R&B… And like now, R&B and hip hop stations are playing hip hop because a lot of hip hop artists are singing but they're singing in a way that's digestible and easy to repeat. And I don't know, I don't know if singing is as valuable as it was like 20 years ago. I feel like if I was coming up in the '90s, it wouldn't have been a question. But you know, I'm like stuck between two generations and it's just kind of difficult.
B: Why do you think that is the case within the music industry?
JN: I think that it all comes down to what is played, and what sells, and what is easy. Even look at groups, like singing groups. Labels aren't putting the budget behind that kind of thing because there's five stylists and five makeup artists. The easier that it can be. Like rappers in hip hop don't require a lot. I mean I'm definitely not saying it isn't art, I love hip hop. Let me not be misquoted on that but I mean as far as, I'm sure what it takes to launch hip-hop artists versus an R&B artist, it's just a lot more involved. There's a band and in-ears and all this. You go to a rap concert and all they need is a DJ and someone on the Mic. You know what I mean? It's very very cost effective, so I think that just like the groups, you don't see that anymore. I really just think it's because whatever's easiest. It's like processed food… We're in 2020 and everything's getting as easy and as instant as possible…
Article continues below advertisement
And that's another thing I appreciate about social media is that you don't really have to be a superstar. I also think that that is kind of dying, like what we know a superstar to be, you know, because with social media we have our own networks… It's just different than it was before..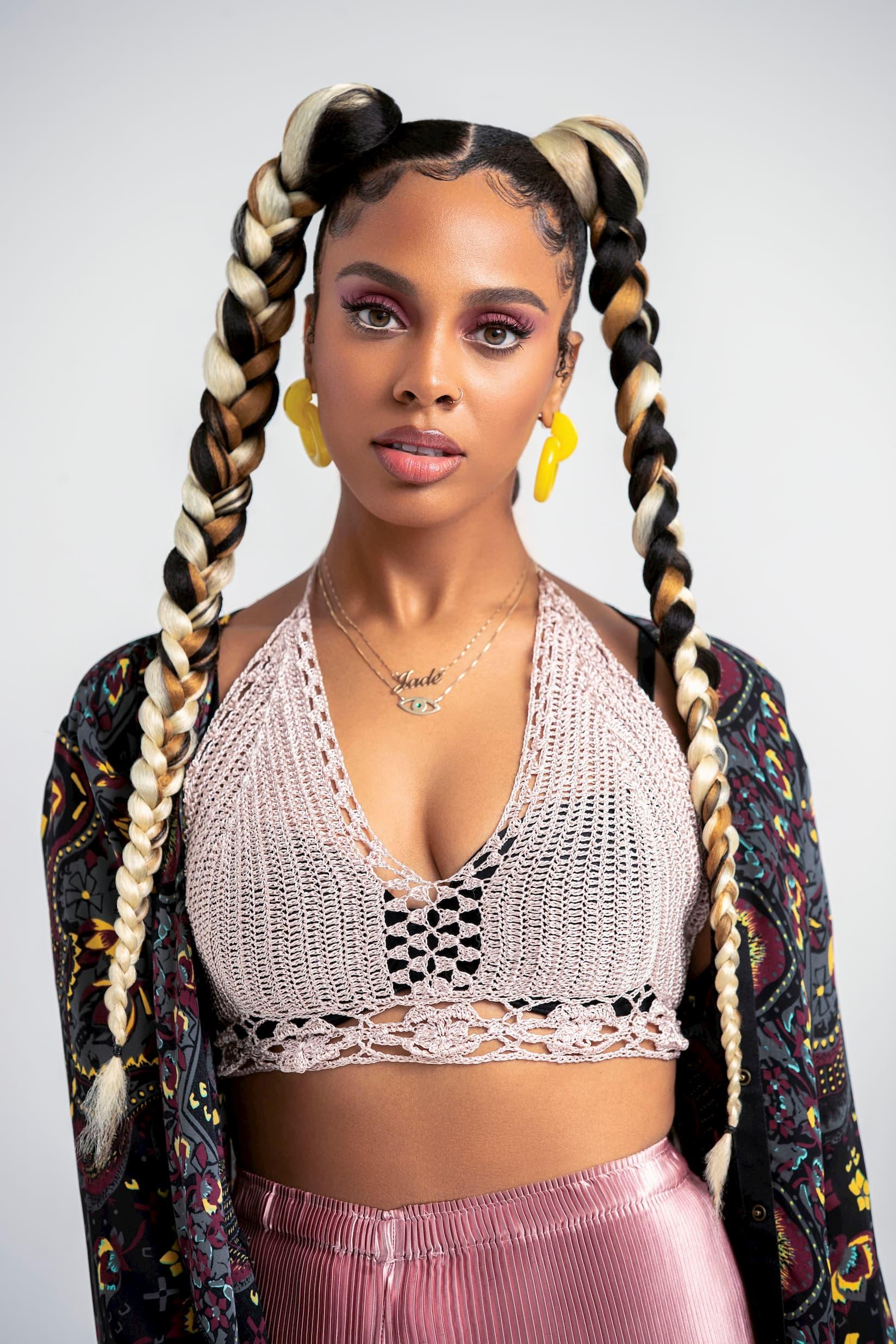 Article continues below advertisement
B: For this new project, do you have a set producer? 
JN: Yeah, my husband, Mr. Cosmic Love. He executive produced the whole project and he brought on two producers on a few of the songs. Young fire co-produced, too, with him. And then SK co-produced with him too. But most of it is just the two of us usually.
B: Did you introduce him to music or ya'll started music together?
JN: He is incredible and I'm glad you asked me that because I always love to shine light on him. He isn't a fantastic musical director. He's Lizzo's musical director. He's actually been with her for like a year and a half and he's an arranger. He did the Cynthia Erivo tribute … I'm sorry, the Oscars when she performed, he did her arrangement, the Kobe Bryant tribute at the all star weekend, that's his orchestration. Like he's a Berkeley Kid, he's incredible and so with the tour, we're actually going out on the road for the Stages tour. We're doing the 17 cities, it starts March 20, and it's going to be the two of us on stage. Like he's the one man band. He's going to be playing multiple instruments and then I'm going to be like a one woman show. So yeah, he's lit, he's lit, he's even more lit than I am. Seriously, he's insane.
Article continues below advertisement
B: To wrap up, going on tour with your husband, what are you most excited about?
JN: I just love performing live, like I just love to sing and that's really the best place where it's mostly appreciated. So yeah, I just want to sing.
B: Going forward, where do you want to see yourself?
JN: I love comedy, as I mentioned and I love so many different things, and I feel like now is the time for that, cause like I mentioned with social media, right? So I think the best thing for me is the variety show. And that's something I'm working on with my husband. And we're also creating a musical. So just doing things that showcase all parts of myself, that feed all parts of myself, those are the sort of things I want to do. It's like this is the year of intention, you know? Cause I think a lot of things I've done in the past were because they were there and they came about and it's like, 'oh this makes sense, this is good coin.' But now whatever I do, I want it to be something that feeds me. So comedy, music, writing those are my forever dreams.