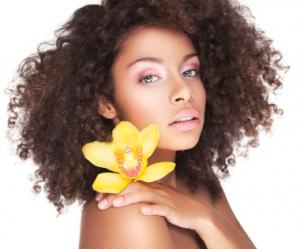 How To Maintain Your Curls In The Dry Summer Heat
By Patrice Gillespie

Jun. 27 2019, Published 11:54 a.m. ET
Imagine prepping your hair for the perfect braid out; you've deep conditioned, added a protein treatment, hell you even threw a nice hot oil treatment on it. Your go-to product, DevaCurl Supercream, sealed in those curls with your favorite Jamaican Black Castor Oil. You top it off with some Eco-styler gel on them edges and girl you are ready to slay in the morning. Imagine… after all of that prep work, you take down your beautiful curls just for it to shrivel and dry within a few days.
magine it? I've lived it one too many times. The truth is, the dry heat of the summer is brutal on curly hair. The reason? It sucks up all the moisture. If you're not careful you may fall into Autumn with some serious breakage. No worries sis, we got you. Here are some useful tips on how to keep your natural curls moisturized and safe from the sun.
1. PROTECTIVE STYLES.
I cannot stress how helpful this is; I mean the name itself is a big giveaway. The opportunities are endless, from box braids to Senegalese twists, to weaves and wigs, your hair is safe when it's tucked away and requires less manipulation. (Yes you still have to oil your scalp. You can't protect your hair from being brittle if it's already dry).
Article continues below advertisement
2. CO-WASH.
I myself hate this technique because I never feel as though my scalp is being cleansed, however, conditioner plays an important role when it comes to moisture. Washing your hair with cleansing conditioner is a softer, gentler alternative to shampoo.
3. DEEP CONDITIONING.
Again, conditioners are pivotal when keeping your curls moisturized. 30-40 mins under a steam cap or steamer with deep conditioner saturated throughout your hair weekly can truly make a difference. My personal favorite? Eden Body Works' JojOba Monoi Deep Conditioner.
Article continues below advertisement
4. REFRESH.
Because let's be real, sometimes you can deep condition for a whole hour and still have dry ends in a few days. Sometimes adding a little product with some oil as a sealant in the middle of the week can keep your ends soft until wash day.
5. W A T E R.
The most important tip of all. Water should be the base of every part of your hair care routine so when the weather calls for reinforcements, water should definitely be first on the list. When styling your hair, opt the dry stretched base with a wet one. Seal it in with a moisturizing styler of your choice, and oil, and you are set. Drink it too! We often forget that water hydrates our bodies which can be essential for the health of our hair.
The sun already has us sweating and killing our whole vibe, we can't let it kill our curls too! For more information about the different ways to sustain your curls this summer, check out this article.