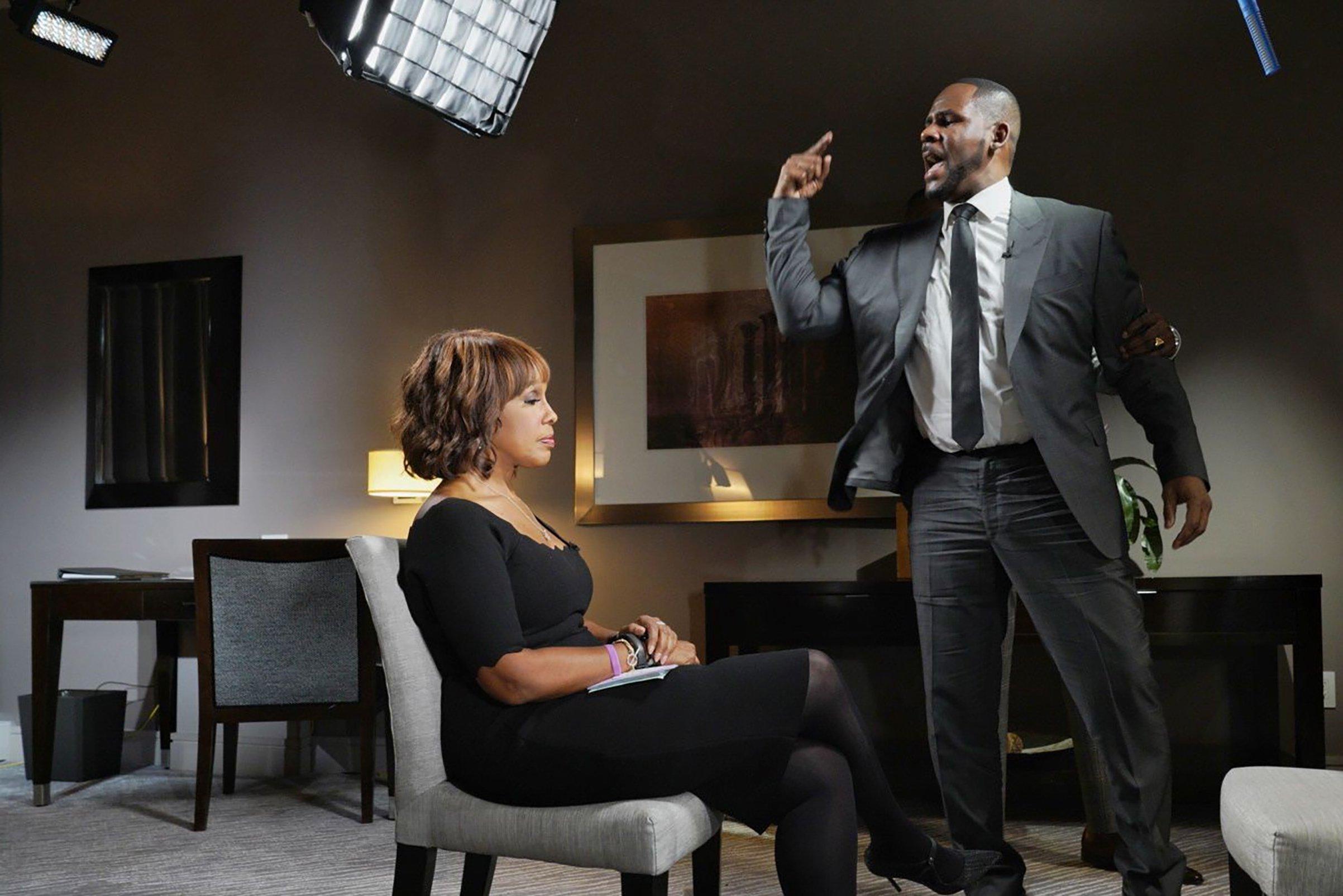 How Gayle King Kept Calm with R. Kelly
By Jamie Rollo

Mar. 11 2019, Published 10:04 p.m. ET
Few people could have the courage to face one of the evilest public figures of 2019, let alone keep calm while they are mentally unwinding in front of your very eyes. It was CBS co-anchor Gayle King who stepped up to the challenge of interviewing R. Kelly and did not waver even when the interview took a turn for the worse.
"In my head, if there was a thought bubble, it would have been: Please don't walk out, please don't walk out, please don't walk! Because I've seen him walk out of interviews." King told The New York Times. "I was just thinking, I want to salvage this, I want to save this."
On March 8, King became the first journalist to interview R. Kelly after being charged with 10 counts of aggravated sexual abuse. She told The Times that R. Kelly's team actually reached out to her despite the other reporters gunning for that interview.
The only restriction King was giving was to not mention Kelly's relationship with the late R&B star Aaliyah, who reportedly married Kelly at the age of 15. Despite expecting continuous denial of allegations, King moved forward with the interview knowing that there was a lot of information that could come from Kelly.
"I knew that he was probably going to deny that he had done anything wrong. I was not prepared for him to not accept responsibility for anything," King told Time, speaking to the moment when R. Kelly lost his cool, claiming everything that had been said about him is an elaborate plan to ruin his career, despite video evidence.
It was this very moment in which viewers everywhere saw the infamous mogul break down in front of King. He raised his voice, screaming things like "this is not me", "I'm fighting for my f***ing life", and "ya'll trying to kill me" after King posed questions surrounding Lifetime's Surviving R. Kelly.
Article continues below advertisement
King kept a stoic composure. She didn't interject, she didn't yell back, she just sat there quietly until things began to calm down. It was a moment that highlighted her quick thinking, intuition, and dedication to getting information out of this man.
"I could see it escalating, but I didn't think he was going to jump out of his chair. Even when he jumped out of the chair, I have to say, I didn't think he was going to do anything to me." King told The Times, "The problem is when you get that out of control – the way he was hitting his fist and the way that he was cursing, the intensity of his voice – sometimes you can't control yourself, so I just didn't want to get hit accidentally. So I just decided, let me just sit here very quietly, and I would look at him to let him know, I'm not getting up. I worried that if I got up, that would say to him, this is over, the interview is over, even on a subliminal level, it's okay to leave."
Article continues below advertisement
In addition to interviewing R. Kelly, King also interviewed two of his current girlfriends whose parents believe they were brainwashed by Kelly. Both girls defended him claiming their parents are to blame for their relationship. Despite their unfavorable attitude and manor, King continued to keep a professional composer, being careful to not to be overcome by her motherly instincts.
"What I wanted to say was, 'listen, listen, little girl, you don't even know what you're saying right now. And one of these days you're going to regret this moment'… But I was no point in chastising her or, as the young children say, breaking bad with the way she did with me," King told Time, "I just feel sad and very sorry that you don't even realize what is happening to you at this moment. I have to say, if that was my daughter, I think that I would be camped outside R. Kelly's apartment."