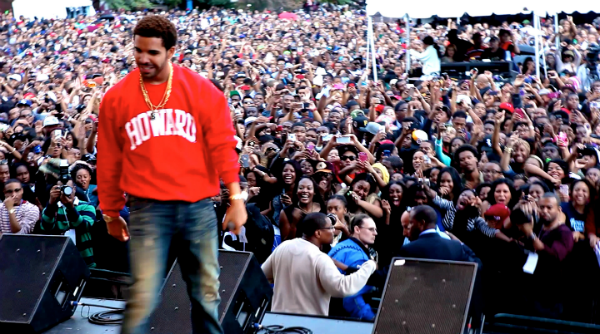 HBCU Homecoming Szn 101
By Kaylin Young

Oct. 20 2017, Published 12:28 a.m. ET
Tailgates, highways detours, celebrity appearances, and massive swag surfing. Welcome to Homecoming Season! …HBCU homecoming season, that is. From Howard to Spelman… Morgan State to North Carolina A&T, homecoming season is among us. For HBCUs, homecoming is like a family reunion, super bowl, a block party, fashion week and a million man march rolled into one weekend.
Students at predominately white institutions (schools with a majority white population, such as Princeton, Syracuse or Berkley) flock to HBCUs to experience black excellence at its finest during homecoming season. Endless shades of melanin float around campus towns as marching bands play, music booms and food flows.
Alumni come from around the country back to their alma mater to celebrate with old roommates and friends. But current students would argue that homecoming is really for them. With classes canceled, this gives students ample time to find the perfect fits and stock up on event tickets. Speaking of, there are plenty.
Typical homecoming events include a student-produced fashion show, concert, Greek step show, football game and the infamous tailgate…and that's all before 10pm. Homecoming at night = outfit change, local concerts and parties galore. If you're in town for homecoming and you're unsure of what to do, Eventbrite is scattered with parties, networking events and boozy brunches for you to enjoy.
Here's a few tips to enjoy your HBCU homecoming season:
For students attending homecoming: FINISH ALL WORK AND STUDYING BEFORE THE FESTIVITIES BEGIN!
Your weekend will be devoted to bumping into celebrities, snapchatting Greeks as they stroll past you, and keeping track of your money that seems to be dwindling faster than you can count. Any assignments and test prep should be completed beforehand.

If your outfits don't look like they were selected by Love & Hip Hop stylists, don't bother.
HBCUs are notorious for their fashion game (especially Howard University, which was rated the 2nd best dressed college by Huffington Post). Homecoming is a main source for this style legend. This is not the time to look regular-degular.

Stay hydrated, stay vigilant and stay safe!
While homecoming is the perfect excuse for nonstop partying, it's so important to be cautious of alcohol intake and surroundings. There may be a ton of HBCU love on campus with alumni and students bonding over their common thread, but there are also strangers and scammers who come around with harmful intent. Keep your eyes open and your girl squad close!

Article continues below advertisement
Happy Homecoming Season HBCU family!