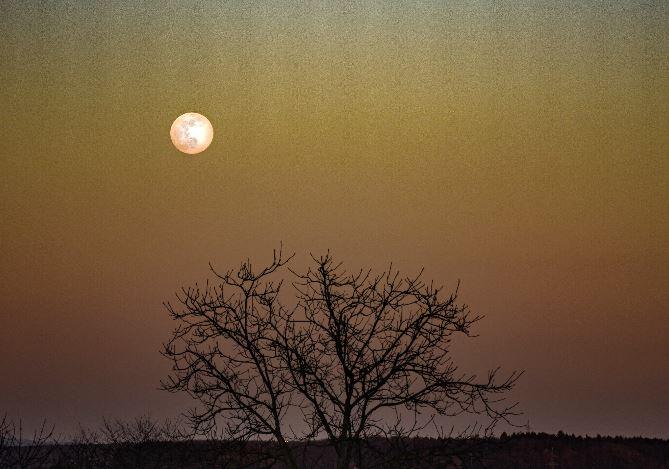 Friday the 13th will be Complete with a Harvest Moon
By Jamie Rollo

Sep. 11 2019, Published 9:30 p.m. ET
The spooky season is being celebrated in the greatest way this year. This Friday, September 13, there will be a full, harvest moon. That means this is the first full moon to take place on Friday the 13th in 13 years! Extra spooky. This can mean a lot of things, but mainly, we're in for an emotional ride.
Scientifically, this moon is interesting because it will be a "micromoon." According to The Washington Post, micromoons must be more than 251,655 miles away from Earth. This moon phase will actually be 816 miles further than that. Also, it will be "at apogee," meaning it will be at its furthest point during its current four-week orbit.
Astrologically, this upcoming harvest moon will be in Pisces. What does that mean? According to Bustle, all signs will have a deeply emotional experience. Pisces, being a fish and the only zodiac that lives in water, represents imagination and emotional sensitivity. This why those whose zodiac sign is Pisces oftentimes are known for daydreaming. With this upcoming full moon in Pisces, all signs will experience an emotional and confusing time. But, it will be "transformative."
Astrologer Lisa Stardust told Bustle, "a full moon in Pisces is an emotional ending… This luminary in particular is a very complicated one because we may not want to let go easily. In fact, we may feel stuck and the feeling of inertia will cause emotions to rise."
This harvest moon also marks the last full moon of the summer, meaning we will all start embracing the "autumnal equinox." Days will start getting shorter, the weather will start getting cooler, and also Virgo season will be in full affect. Stardust added that all signs should be extra gentle with their emotions.