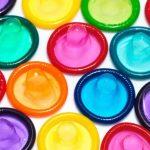 Happy Sexual Health Week!
By Kaylin Young

Sep. 14 2017, Published 1:05 p.m. ET
Happy Sexual Health Week! Whether you visit your gynecologist yearly or monthly, there are a few things that might go unmentioned during your check-up. However, sexual health is not only physical or about how our bodies react to sexual interaction. It's also about how our minds interact and interpret sexual behavior. New data and studies about sexual health reveal millennial sexual behavior and information that generations prior did not have to worry about. Here are a few new tips and facts that have been revealed this year by sexual doctors and experts.
1. Sex toys can be infectious…even if you don't share them with a partner
2. You can get an STI from oral sex…and fingering…and hand jobs
Article continues below advertisement
3. Porn isn't just mentally harmful for men
A study by the University of New Brunswick examined the effects of porn on over 600 women. The survey suggests that women who watch porn regularly are disappointed by real-life sex because the sex in porn is shown to last longer with easier-achieved orgasms and *clears throat* larger than average penises. The women surveyed also experienced sexual and body insecurities, fearing their image and performance was not as exciting as those on their screens.
4. Women aren't visiting the OB-GYN as much as they used to
5. People between ages 18 to 29 are having 112 sex sessions per year…aka twice a week.
If this is you, congrats sis! If not, don't feel pressured into getting into a sexual relationship before you're ready. In the words of an abstinence poster from my high school: "Condoms don't protect the heart."