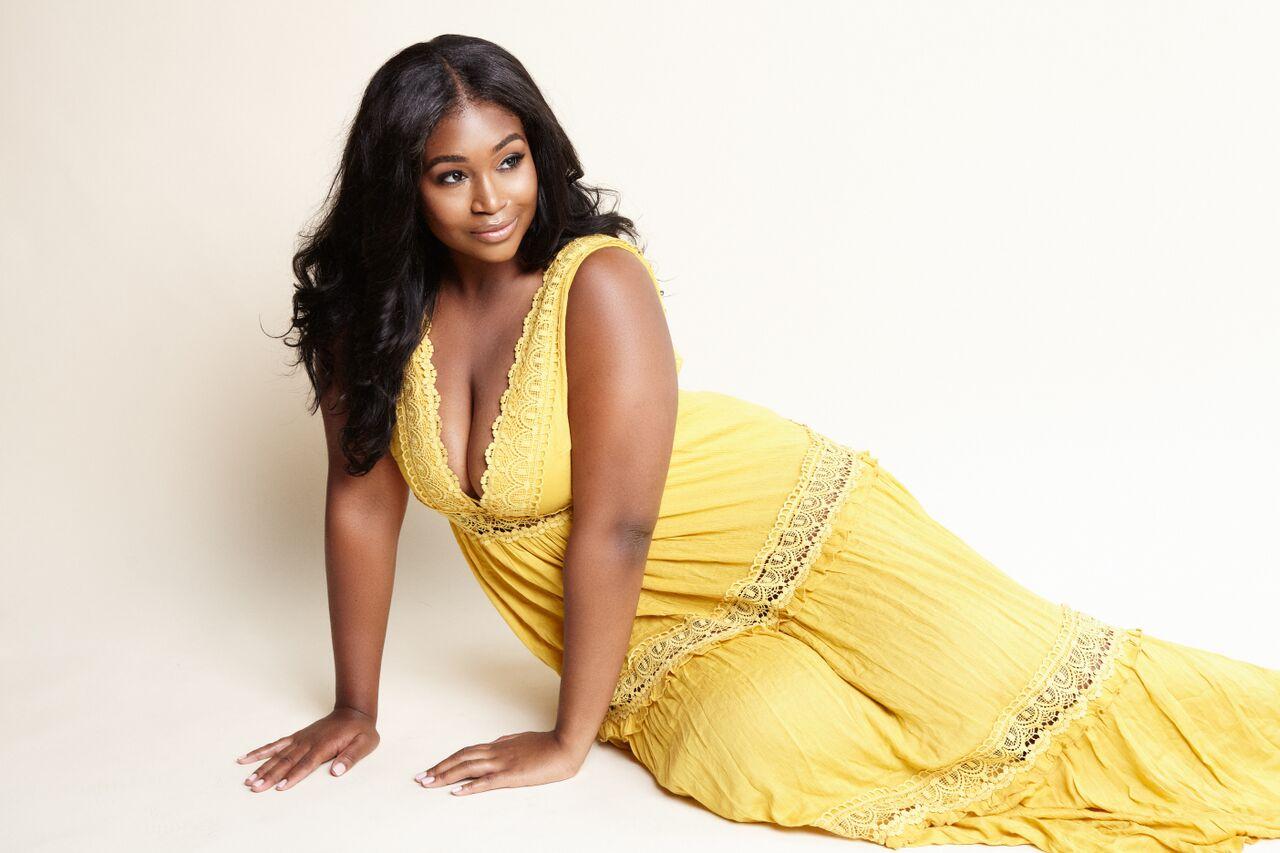 Halle Deneen is the Body-Positivity Queen the Fashion Industry Needs to Crown
By Kaylin Young

May 29 2019, Updated 6:16 p.m. ET
New York Fashion Week broke records this fall as 44.8 percent of its models were people of color and 2.2 percent were plus size. While the world applauded the inclusivity and the fact that beauty can be found outside the lines of a size 2 and peach skin tones, Halle Deneen is ready for even more. Deneen, whose modeling career began over 10 years ago with a viral photo gone wrong, knows that runways can never have "too much" diversity that exists – but is often unseen – in the model world. It's for this reason that the model, body positivity activist, and entrepreneur works hard to ensure she is creating space for more curvy women of color like herself everywhere she goes. Today, Deneen's face is everywhere from Ashley Stewart catalogs to the aisles of Lord & Taylor, sporting La La Anthony's exclusive line.
Deneen spoke with Bombshell about how haters from her original viral photo lead to her self-love journey, why giving back is a part of everything she does even when the cameras aren't rolling, the looks she's most excited about rocking this Fall, and so much more.
BOMBSHELL: As a self-proclaimed body positivity activist, what does "body positivity" mean to you? And what does that activism look like for you?
HALLE DENEEN: For me, it means accepting yourself – all body types, and just loving yourself. It doesn't matter if you're tall and thick, tall and skinny, short and thick. What body positivity means to me is truly embracing who you are, flaws and all because nobody is perfect and bodies come in all shapes and sizes. It's so important to love yourself and just embrace who we are, regardless of what society thinks of us or what social media tries to proclaim as "the perfect body" – which is so unrealistic. We just have to embrace who we are.
Article continues below advertisement
On an everyday basis, it's empowering women. I get so many women contacting me about how they don't feel comfortable or confident in themselves and it's so troubling to hear that because they're trying to lose weight to fit an unrealistic standard of beauty. On a daily basis, I'm constantly empowering and teaching women how important is it to love the skin you're in. Of course, if you want to be healthy, go to the gym and eat clean, but just proclaiming self-hate over yourself because you'd rather look like women on Instagram just isn't positive.
BOMBSHELL: You've been on magazine covers, modeled for countless Ashley Stewart campaigns, been a brand ambassador for Fashion Nova Curve, walked runways on television… but it wasn't always like that. How did you modeling journey begin?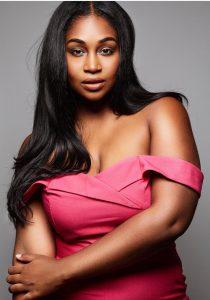 Article continues below advertisement
HD: My modeling journey began in 2008 when I was in 8th grade. When I started to model, it wasn't popular. Not a lot of people who looked like me were modeling – when I say "looked like me", I mean thicker. A lot of the models were size 0, 2 or 4, and nobody really did plus-size modeling. Getting started in plus-size modeling, I got a lot of backlash and push from photographers and models who were saying "Plus size modeling isn't really a thing." And photographers would try to charge me ridiculous amounts to shoot me – I'm talking thousands of dollars – and say "I'm not shooting you because you're plus-size." So I had to put myself out there and do a lot of things for myself. I had to buy my own camera and do my own photoshoots. I would travel back and forth to New York and go to agencies and they'd slam the door in my face. But I was just like "okay mom, when are we coming back tomorrow?"
I was on this constant journey of trying to put myself on. I was never the type to ask anyone for handouts or try to take the easy way, I always wanted to put the work in and experience the ups and downs. As I started to put my photos out, I started to get cyberbullied. It was really really bad. Someone put my photos online and they were making fun of me and it went viral, fostering thousands of likes and comments of people saying how miserable I was and how I'd never be a model. Going into high school, I was in this state of depression; I didn't go anywhere, I didn't talk to people. I hit a really low point in my life and I gave up on modeling. During that time, I prayed a lot and asked God to send me signs and I kept having dreams of modeling. I said to myself one day, "okay, if I'm going to do it, I have to do it and I can't worry about what people are saying about me. I have to love myself first." And that was the key that I was missing. When I started modeling, I didn't really love myself. I was trying to lose weight because that's what other people told me. It took hitting rock bottom to realize everything I do has to start with self-love. We have to be able to believe in ourselves and push ourselves when no one else is there to push us.
Article continues below advertisement
Fast forward to 18, I did this photo shoot and the photos went viral. This time, everybody loved them and they wanted to know who I was. I ended up working with Plus Model Magazine after basically stalking them on Instagram and sending them a ton of photos. After my first shoot with them, I did an entire campaign on an iPhone and that was the first time Plus Model Magazine ever did that. I spoke to the editor and she said, "I love your story, you have a story to tell and I'm going to get you signed." At the time, I'm like "girl, no you're not about to get me signed." But sure enough a few days later, she said Dorothy Combs Models wanted to sign me. So my story is truly a testimony of anyone being able to do anything if you put your mind, your heart, your soul into what you believe in. To this day, I struggle with so many things, like anyone does. But you just have to keep pushing.
BOMBSHELL: I name dropped a few notables in that last question like Ashley Stewart and Fashion Nova, but you've also starred in campaigns for LaLa Anthony's Lord & Taylor line, among many other things. What has been a defining moment for you?
Article continues below advertisement
HD: As it pertains to modeling, it's so hard to tell. Definitely, the many campaigns I've done and the people I've met. I can't even name one specific shoot because each and every shoot, I treat it like my first shoot. I get excited, nervous, so every shoot is a defining shoot for me. I haven't really gotten to that point when I'm like, "okay, whatever, this is just another day on set." But being able to make my mom proud is defining for me. Going into her office and seeing all of my modeling photos makes me realize that's who I do it for. As far as other things, I do a bit of hosting, so the BET Experience and the NAACP Image Awards, all of those are defining moments as well.
BOMBSHELL: Some of your fellow models like Naomi Campbell, Ashley Graham, and Jordan Dunn have spoken out about the lack of inclusivity when it comes to runways, editorial shoots and overall opportunity that models of color or models over a size 4 have experience. What do you think is the biggest issue when it comes to the fashion industry today?
Article continues below advertisement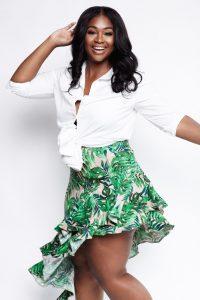 HD: I honestly feel like there's not enough representation at all. Even now with Ashley Graham, reaching far more high-end designers, I still don't see black plus size models or Asian plus-size models. Sure, there's more diversity when it comes to plus size, but not when it comes to other races of plus size models on the runway. I think designers need to open up their scope when it comes to finding plus size women because we're out here. I hate when designers say, "we can't find them," because there are plenty of beautiful plus-size models of different races and ethnicities. That is no excuse for me. I do feel like I need to see more diversity when it comes to high-end designers. A lot of plus-size models do a lot of e-comm – which is when you see models on retail websites – but I don't see enough in magazines. When I was a little girl, that was the one place I would think "I don't see anyone who looks like me." And it's still an issue today.
Article continues below advertisement
I'm hoping one day we can reach that point when we see more sizes in magazines and runways. One thing that stuck out to me this season is Teen Vogue They did a really great job of including so many races, shapes, and sizes. And I think that was the most diverse show I've seen this year, but one isn't enough. We should be seeing this more often so women can relate, so young girls can relate. There are young girls who are depressed right now because they don't see anybody who looks like them and they're being teased in school for how they look. But if we had more women who are influencers and models saying "hey, there are people who look like me, and I'm beautiful on the inside and out."
BOMBSHELL: So not only are you a model, but you're also an entrepreneur and owner of HDLUXHAIR. What pushed you to launch a luxury hair line?
HD: One of my dreams as a little girl was to own everything that I wear. From extensions to my clothes, I wanted to own everything I wore. Being in the industry, I wear a lot of weaves. I'm always switching my hair up or doing wigs. I really wanted to own my own hairline to provide for people who don't have a bigger budget to get hair for shoots an everyday life. I'm working on the re-launch and I want to transform it into a beauty brand, do wigs for cancer patients, and do more to expand and help others.
Article continues below advertisement
BOMBSHELL: Another one of your ventures is your To Be A Model series, where you host workshops on the essentials of modeling. Why was it important for you to create this avenue of service and interaction with aspiring models?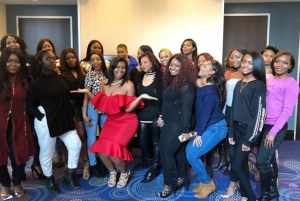 Article continues below advertisement
HD: I've always been the type to give back. I've always believed in giving back to those who need it and are yearning for more information, or to elevate their lives. When I started my To Be a Model classes, I remembered that feeling of not having anyone to turn to and I had to figure everything out on my own. While I love every minute of my journey, if I had someone to turn to and ask how to navigate the fashion industry, it would have been a more seamless process for me. I just want to help that aspiring model who is lost, who needs more information, who needs more assurance as they're moving throughout this industry. It can be a very confusing, intimidating career if you don't know what you're doing or know how to get started in modeling. As I continue to grow, I want to go to different states, different countries, and continue to teach women.
Not only do we talk about modeling, but we also talk more about self-love and confidence. I want to talk more about empowerment and other things that aren't completely touched on, in addition to modeling. When I started doing this, I wanted God to use me as a vessel. I didn't want one person to come in and leave out the same way. I want them to take away at least one thing to help make them a better person.
BOMBSHELL: Bombshell is all about driving the culture of dope chicks forward. What makes you dope?
Article continues below advertisement
HD: Oh Lawd! I think my personality, I think I have a really dope personality, and what I stand for makes me who I am. There are so many people who claim to be influencers, but I feel like in order to be a dope person, you have to have a purpose behind what you do it can't be all about you. Nothing should be all about you, it should have something to do with helping others.
BOMBSHELL: Okay, now time for the lightning round. Who's in your top 5 on Instagram?
HD: Will Smith – woo, I love Will Smith! Chris Brown… Drake… Sarah Jakes Roberts… Jada Pinkett Smith
BOMBSHELL: What Fall trend are you most looking forward to this season?
HD: Definitely neon – I feel like everyone's talking about neon as a spring trend, but I'd love to see some neon sweater. Houndstooth! Oversized sweaters and oversized trench coats. Fall is my favorite season, so I'm excited about a lot.
BOMBSHELL: Dream designer to work with?
HD: Christian Siriano. I LOVE his work!
BOMBSHELL: Piece of advice that always stuck with you?
Article continues below advertisement
HD: My mother used to tell me, "There are things that you will learn at rock bottom that mountaintops will never teach you." This past year has not been the best year for me, but I have learned so much because I hit rock bottom so many times. It was while I was low – like before when I was depressed – there are things I have learned about myself, the people who are really there for me, and the love of God. Those things you don't necessarily learn when you are at the mountaintops all the time. But honestly, once you get through to the other side, you'll be able to see why you went through what you went through. There's a lesson in every single season you go through.
BOMBSHELL: Heels or sneakers?
HD: Oh, heels! Heels, heels, heels!