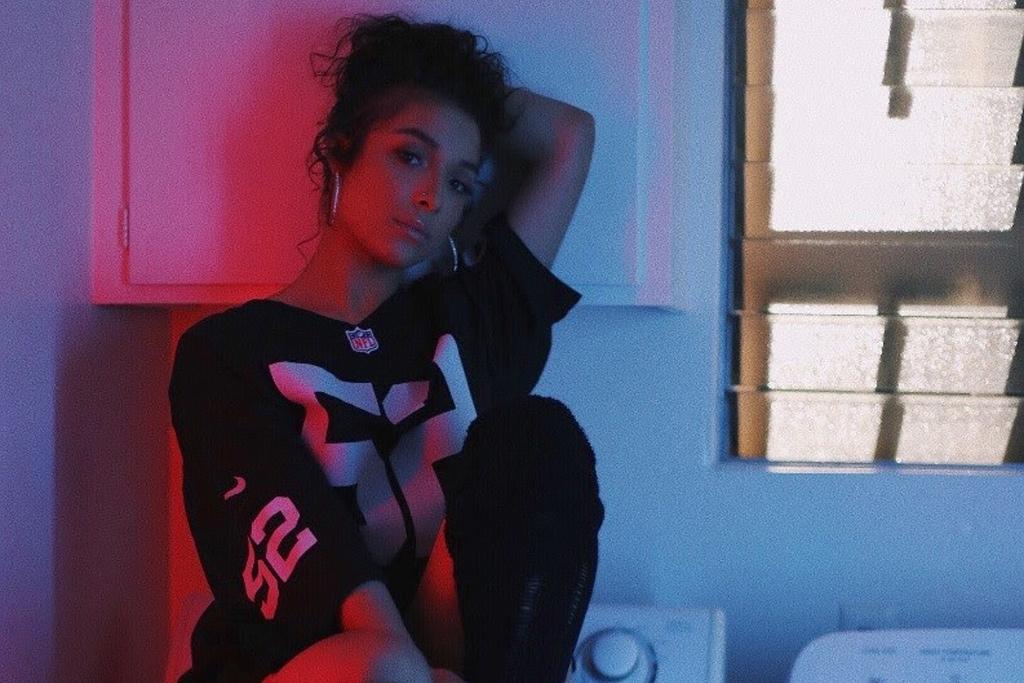 Ginette Claudette Discusses New Single 'True' & Her Evolving Music Career
By Jamie Rollo

Sep. 14 2018, Updated 4:44 p.m. ET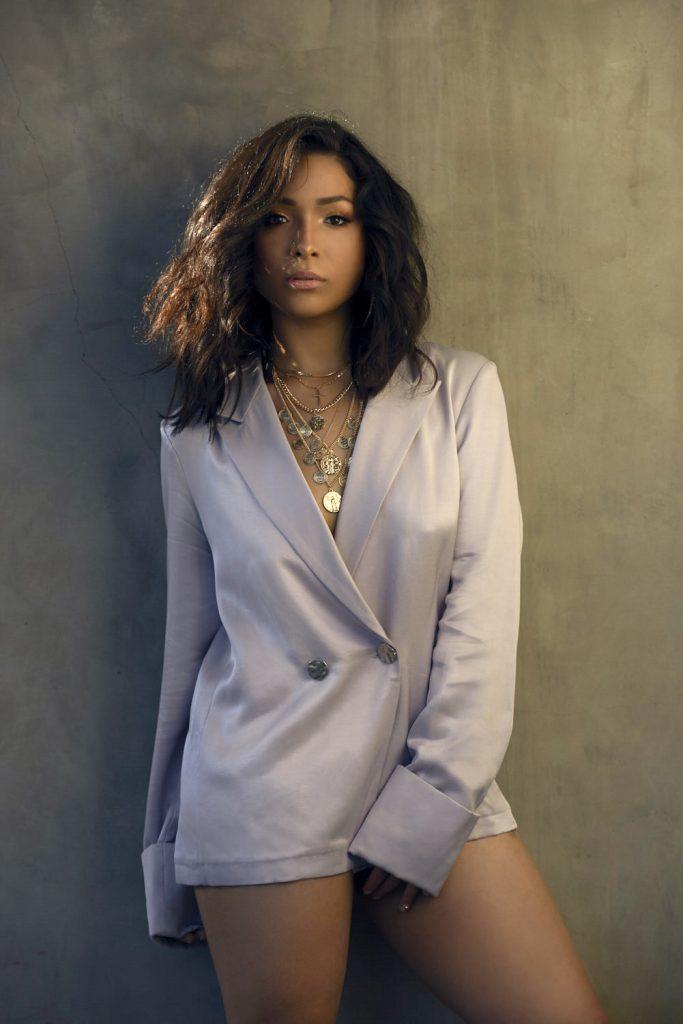 Taking after her mother, the rising songstress Ginette Claudette exposed herself to music at a very young age. At just three years old, Ginette saw stardom in her future.Dealing with the loss of her father at a very young age, and then later her sister in her teen years, Ginette was always influenced by all the types of music they showed her whether it be Latin or church music, or the 90s and early 2000s R&B that fuels the inspiration behind her music. At eight-years-old she took guitar lessons, and wrote songs, and began to truly see her dream career.
It wasn't until she enrolled in college and realized that the only thing she wanted in life was to perform. She gave herself a year to see if she could turn her dream into a reality and began booking studio time with producers and posting Youtube covers which eventually attracted many record labels. In 2010 she inked a deal with Universal Motown Records, however the project she started under their belt never made it to the public. "It was at a time in my life where I was so impressionable and being pulled in so many directions that I am thankful that project never came out because it's not representative of who I am today," commented Ginnette.
Article continues below advertisement
Now the r&b crooner is creating her own sound unapologetically. With her new singles "Twisted" and "True" climbing the charts, we sat down with the artist to discuss growing up in Washington Heights, artists that inspire her and dream collaborations.
What was your life like growing up in Washington Heights?
Crowded, playful, colorful, fun because I grew up in Inwood, specifically. I went to school there, that's where my park was. I just remember it always being just fun and full of life because everybody up there is Dominican, so its just music, food, culture. That's just how I remember it.
Article continues below advertisement
How did that lifestyle influence your music career?
My mother was a Latin singer growing up, so that was definitely a big influence. Just Latin music in general, and Selena was what introduced me to music in the very first place. Church also as well, I was in a Spanish choir in church. But growing up around that culture and that music playing in the house all the time definitely set me on the path.
Growing up, was there one artist in particular that you wanted to be like?
There's so many, it's such a melting pot because I feel like it happened in phases. My intro to it was my mom, because she was the first singer I've ever seen. Selena is a big one, then there was the Mariah Carry and Whitney Houston phase where I was obsessed with the divas like Celine Dion. She is one of my biggest influences. And then, it was the 90s R&B phase, my older sister used to play so much R&B around the house. She was way cooler than me because we're five years apart, so anything she did, I was like "I wanna do that, she's cool." And then there was the early 2000s J-LO, Murder Inc. era, that was when I was finding myself in my youth and I fell in love with that kind of R&B, so it's a big melting pot.
Article continues below advertisement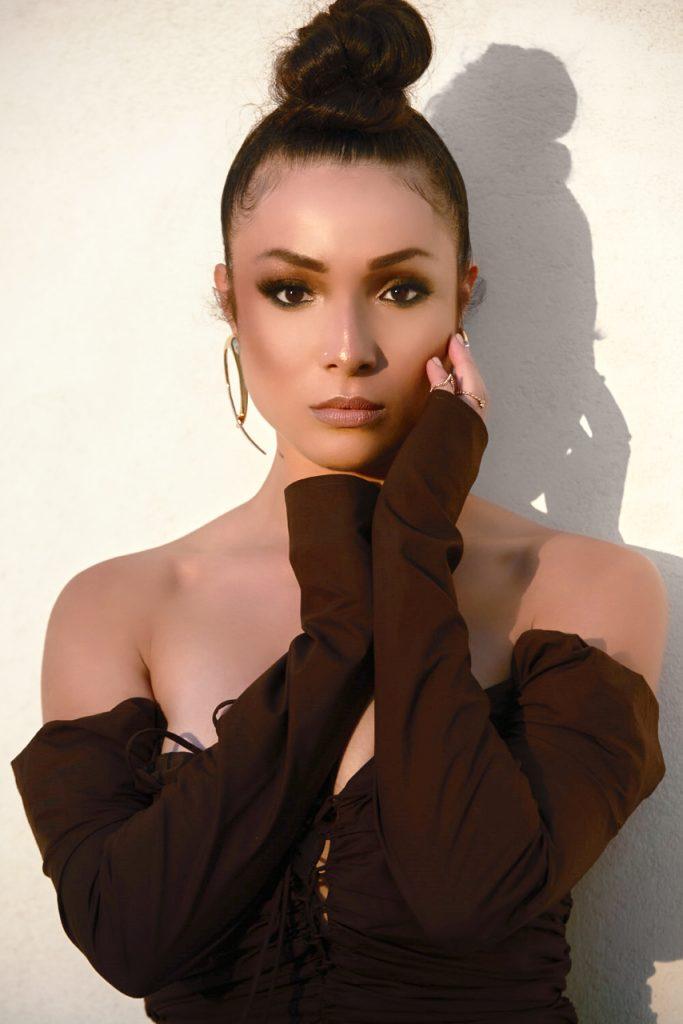 When you were younger, were you nervous performing at such a young age?
No, I was always so ready to go; I always went up to my mom and asked to sing with her. I always put myself in theater and things like that. I obviously always got butterflies, and I still do, but no, I never was nervous. I've always wanted to sing. And, as soon as I step on stage it just goes away, it's like riding a wave.
Article continues below advertisement
How has all of your experiences helped you mature to the artist you are now?
I just feel like practice makes perfect. Just doing it consistently for so long just gave me that comfort with it where I just got used to it. I love it and the butterflies come more from a place of love. All of that has helped with stage confidence and connecting. I realized that people just want to have a good time. I don't think that anybody is there wanting you to fail. Once you get over that kind of nervousness, it's fun, it's so fun.
What was one of your favorite experiences?
There's just been so many. It's funny, I specifically remember I performed at a fair when I was 11, and I sung "Come On Over" by Christina Agulara. And you know how she has that full dance break in the song? I have a hazy memory of going so hard on that dance break, and I didn't even have choreography or anything. I would pay to be an audience member to see myself from the other end because I just remember what I felt like, and I was going in. Nobody recorded it. Little memories like that really make me think, "Wow it's been such a journey".
Article continues below advertisement
When you were making "True," what was the whole vibe like?
I did that song in Miami, so the vibe was already awesome because it's Miami. We went to go see Rico and we were all just hanging out in the studio for the first hour or two. I love working with my friends because there's no pressure, you just go in there and have fun, no expectations. We were talking and joking around, and he said the first lines "grape martini, blue bikini, Lamborghini," and I was like "you have to record that right now." We did four songs that day and I knew "True" was going to be the one. For the video, I knew I wanted to shoot in New York. Like Chris Brown's "Yo," for example, the outside, and the basketball court, and that fun summer feeling. That's the kind of feeling that this song gives me and that's the vision I had for the music video. I definitely wanted to shoot in Washington Heights because I want people to know where I'm from and I wanted the culture, and the colors, and the train, and all that stuff to be in it. We did it and it came out just how I dreamed.
I saw you one-uped Kanye on the most added song list on Rhythmic Radio how does that feel?
That was amazing. That week was so nerve-wracking. It's crazy because I signed my first record deal in 2010, so that was 8 years ago and that album never came out. I recorded so much music and I kind of had to navigate through that frustration of being an artist, and not knowing if you're going to come out or not. We never got to this step where something actually saw the light of day, and that was 8 years ago. So just every little thing that has happened in the last two months is just mind blowing. We just did a month on the road meeting all the radio programmers; that week determined the set up for the album. And then, my manager called me and said, "your top 10 added on rhythmic radio," and I literally ran laps around my apartment. It was just a blessing, but at the same time I was like "damn right, it's about time." I'm really happy and grateful.
Article continues below advertisement
How do you show your personality through your music?
I think it's more about voice and the character. Every song is different, there's a different emotion behind every single song, and I just mentally put myself in the place of what I'm saying or where I was when I wrote the song and what it's saying, and what it means. Then it's like acting. "True," for example, is such an aggressive, fun, light song, but if you look at the lyrics, its deep, it's really about missing someone who low key played you. Its got that aggressive tone going the whole time. It varies by song, but I think that's the fun part about it, you can kind of play a different role in every song, like a movie.
There are a lot of young people who want to be in the creative field, but they're scared because it is not a certain path, what advice would you give them?
I'm going to sound cliché, but just going with your gut would be key. I was totally in for college up until the moment I held my transcript, and I didn't feel good about it in my heart. That night was when I went home and made that decision. So I think just following your gut because, honestly, you really know what's best for you deep inside. So I think just going for it, whatever your passion or your dream is. You only got one life so you just gotta go. You just gotta do it. Things are going to happen that aren't that great, but you just have to pick yourself up and start over.
Who would you want to collaborate with?
I have like a weird vision of doing a 2018 R&B version of Lady Marmalade with Kehlani, Sza, Her, Cardi, me, and all the R&B youth who are just doing it coming together and just killing it on one record.
Check out the latest video for True Above and stay up to date with all things Ginette Claudette here!