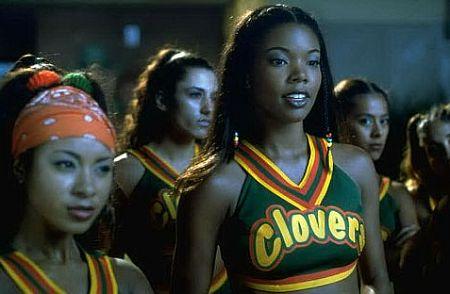 How Gabrielle Union Reimagined Isis in 'Bring It On'
By Jamie Rollo

Aug. 26 2020, Updated 10:27 p.m. ET
The beloved 2000's cheerleading dramedy Bring It On turned 20 this week. In a recent interview, Gabrielle Union described her experience on set and how she was able to make Isis, the captain of the Clovers, one of the most iconic characters in film.
If you haven't seen this classic, the movie follows the story of the Rancho Carne Toros, lead by Captain Torrance (Kirsten Dunce), who end up stealing all of their sideline cheers and routines from the Compton Clovers, lead by Union's character Isis. In a recent interview with Vogue, Union explains that the character of Isis was originally written "like a bad stereotype."
"There was a line in the original script that was like, 'Meow! Me-gonna-ow you! My nails are long, sharp, and ready to slash!'… Huh? And that girl ends up at U.C Berkeley? How did girls from Compton talk in their minds?" Union asked. "How about we make her a very clear leader where her path to cheer justice is done with more class and dignity but also justifiable anger. She doesn't need to speak in made-up, Blaxploitation dialogue."
She continues to discuss Isis's character saying, "I knew what it would have taken for Isis to get into U.C Berkeley. Knowing that that's where she ended up, I just sort of worked backwards in creating a very strong, intelligent leader who was also justifiably f*cking angry."
"It's interesting because I once saw this poll someone made of great cinema villains and Isis was one of them. I was like, 'When the f*ck did I become a villain?' Why is she a villain? For wanting accountability? Does calling someone out make you a villain? When Black women ask for accountability, no matter the tone, some people hear aggression or rage. They make me the angry Black woman versus someone whose work and intellectual property has been stolen, repackaged, and used to win national championships."
It's safe to say that the movie would not have been as influential had Union not changed up the character a bit. The story itself focuses around cultural appropriation in the backdrop of neighboring high school cheering teams. It broke down what is sometimes a complex topic into a digestible lesson for the masses.
"Bring It On is a fun teen movie, but there's so much more when you pull back the layers," Union continued. "It allows white people to see themselves as complicit in cultural appropriation, but the takeaway for Black audiences or marginalized audiences are so different. It told them, 'you're not crazy. Your emotional, spiritual, and physical labor has been stolen and repackaged.' Cultural appropriation is real and the lack of credit for your work and labor is real."