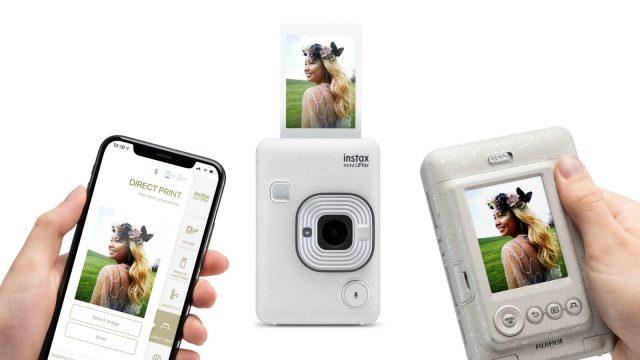 Fujifilm Instax Mini LiPlay Is Both Instant Film and Digital
By Ash C

Jun. 12 2019, Published 10:21 p.m. ET
You don't need to be an avid photography enthusiast to know Fujifilm: one of the biggest names in the instant camera game renowned for their gadgets that are pocket-sized on the outside and mad cute aesthetics on the inside. They made a new hybrid instant camera that is their smallest and lightest yet. It even doubles as a printer for your phone pictures!
Fujifilm Instax Mini LiPlay is the combination of an analog instant film camera and a convenient digital camera, in the sleekest, most compact package possible. It comes with an LCD screen on the back that allows you to frame and review shots before you print. The result? No more wasting photo papers, and no more disappointments!
The LiPlay is a hybrid instant camera that uses a very small 1/5-inch digital image sensor to capture 2,560×1,920-pixel images, all the while produce prints that are as tiny as the ones from other Instax Mini cameras at 3.4 by 2.1 inches (86 x 54 mm), but the actual image size is 2.4 by 1.8 inches (62 x 46 mm).
Article continues below advertisement
Because it also functions as half a digital camera, your pics are stored either in the camera or saved onto an optional microSD card. It even has Bluetooth so you can control it on the LiPlay mobile app, which makes taking selfies infinitely easier. SO! You can just print your phone pics with the camera. This all-in-one gadget also gives you the freedom of choosing from six different colour filters, and up to thirty frame options. Most importantly — the built-in battery is good for at least 100 prints on a single charge, and with no ink or paper, the film is the only consumable, which makes the LiPlay such an amazing travel buddy.
You're not going to believe this, but Fujifilm has even added a mic button to the front of the camera that you can use to record up to 10 seconds of audio that converts to a QR code. We can't wait to get our hands on these petite beauties. The Fujifilm Instax Mini LiPlay goes on sale June 14 for $160.