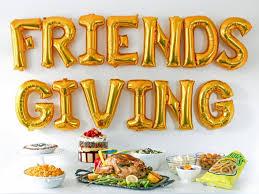 Friendsgiving: Making Homesick Friends Feel Less So
By Victoria Mickens

Nov. 15 2018, Published 5:26 p.m. ET
Here at Bombshell we are from all over and we are well acquainted with the dreadful symptoms of homesickness. For that reason, we would like to provide you beautiful Shells with several ideas to make a meaningful night with friends, of what could otherwise be a lonely one. Whether you're trying to catch a meal with friends the Wednesday before or the Friday after, you're far from home this year, or you just resent your family for any reason, check out these ways to spend your time that we're oh so thankful for.
Games
Games are the glue that hold Thanksgiving together. Let's be honest, going around the room talking about what you're thankful for is cute but can only take up so much time. There are tons of new games that come out every year [What do you MEME? $29.99, a personal favorite] Just remember some games can take the night into strange territory, so have the booze and popcorn ready.
Football
Simple enough. Grab a football, get some fresh air, and have some laughs. Along with that the NFL games usually begin around 1:00 pm, a perfect excuse to get the gang over early and crack open a couple of cold ones.
Article continues below advertisement
Potluck
Can't forget the food! If you're looking to enjoy the typical Thanksgiving dishes without the hassle of providing the entire spread, give the responsibility away. Just let each of your friends know what you need them to bring food-wise and then you can focus more on decorations if you're hosting. On the day of be sure to send a friendly reminder text to make sure no one comes empty handed or at least if they do, you've got it covered a head of time.
Pro tip: There are table clothes you can print out that have Thanksgiving designs you and your friends can color in while chatting over drinks. A simpler approach, just use butcher paper as a table cloth and throw some markers and colored pencils in cute cups.
Pie Pie and More Pie
If it wasn't clear you should try to incorporate pie into your night. And assortment of pies is probably the best way to go to accommodate everyone's taste. Aside from that, dessert can always be fun, set up a make shift ice cream sundae bar, a station for coffee and hot chocolate for when you move things into the living room.
To the Streets!
Okay, maybe I could have phrased that a little differently. My friends and I usually opt to go out to eat and split a bottle of wine. This is somewhat due to laziness but also our way of treating ourselves after eating school food all semester. A restaurant is perfect for the bonding with friends and eliminates the stress of hosting or cooking. Snatch those edges, get that skin popping, and dress up, just for some extra fun.
Lastly, don't overthink the night. Invite people you know without worrying if they're going to get along with the other people you invite. Don't hesitate to extend and invitation to coworkers, acquaintances. or even that hottie you've had on your mind, they might have no one to spend the holiday with and it could be a perfect opportunity to grow relationships.