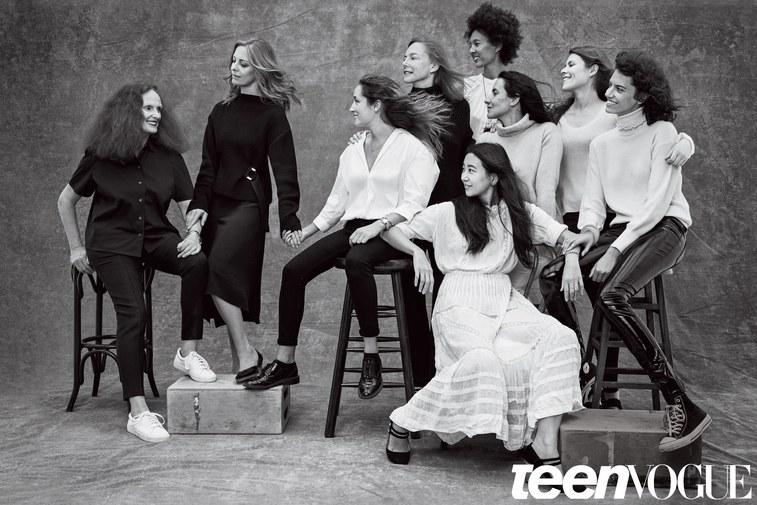 Former Assistants To Grace Coddington Tell All
By Ebony Allison

Apr. 25 2017, Updated 2:32 a.m. ET
Clockwise from left: Grace with Jessica Diehl, Yvonne Bannigan, Anne Christensen, Brooke Williams, Michal Saad, Lauren Bellamy, Stella Greenspan, and Tina Chai.
If you've ever come across a Vogue fashion spread that was so fantastical you had to rip it out and tape it to your bedroom wall (and you have), chances are it was styled by Grace Coddington. Vogue's creative director for nearly 30 years, Grace has become one of the most recognizable fashion-world icons, beloved for her feverish imagination, fire-red hair, and fondness for cats. Lesser known is her role as an extraordinary mentor. To hear her former assistants tell it, Grace is less a boss than older sister, life compass, and brilliant collaborator rolled in one. She is Vogue's dreamer-in-chief, and landing an assistantship with her is the fashion-world equivalent of finding a gold-wrapped Wonka Bar. Those who work alongside Grace learn not only about how she concocts images that are like silent, two-dimensional operas, but how to draw inspiration from sources where nobody else thought to look.
The job entails ironing out shoot logistics, helping edit clothes, and building storyboards. Her assistant might also find herself scouring the East Village for motorcycles to borrow for a shoot of supermodels in pastel-colored Chanel ball gowns and leather jackets — or helping paint the sheep on Madonna's English estate. Perhaps the greatest perk of the job is traveling with Grace to exotic locations, and acting as an extra pair of hands and feet — and catastrophe-averter. "You're setting up a dinner party and you have to make sure everybody is happy and the principal guest is Grace," Mical recalls.