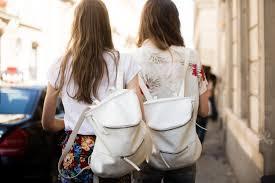 Every High School Girl Should Have These Items in Her Backpack at All Times
By Alyssa Serrano

Aug. 10 2018, Published 3:44 p.m. ET
Back to school season is something we all dread, but can't avoid. Which means we must do some back to school shopping to prepare for the new year. High school can already be a tough time for most students, especially teenage girls. But being prepared should make things a little easier. Here are some non school supply items to have in your bag this school year.
Feminine Hygiene Products
This may seem obvious, but not every girl has these on hand at all times. Even if you're not on your period, I suggest having at least one pad or pantyliner on hand at all times. You never know if mother nature will come knocking unexpectedly. Pro tip: keep all of these products in a separate makeup bag, so when you go to the bathroom, it's less embarrassing and obvious that you're going to change your pad.
Whether it's Tylenol, Advil, or whatever works best for you, I highly recommend having these on hand. This item can go hand in hand with the last one, for those who get bad cramps. Painkillers are also great because high school is a major cause for headaches, for me at least. Staying up late doing a paper or simply stressing over the workload can cause headaches. This item is a simple fix for both cramps and headaches.
This one can be tricky because some accessories aren't useful for all hair types. So that's why I'm letting you decide what to bring specifically. What's best for me is a hairbrush, hair tie, and bobby pins. These items can be a quick fix for a bad hair day, or simply when you just need to get your hair out of your face. This may not seem that important, but there will be a day you need a bobby pin for a quick fix, and you'll regret not having one.
Whether you sweat easily or not, everyone uses deodorant in high school. Thus, it's always a good idea to have it on you in case o anything. Being in a hot school gymnasium or taking crowded public transportation will cause any person to sweat. So better to be safe than sorry, carry around a travel sized deodorant in case you need to freshen up at school.