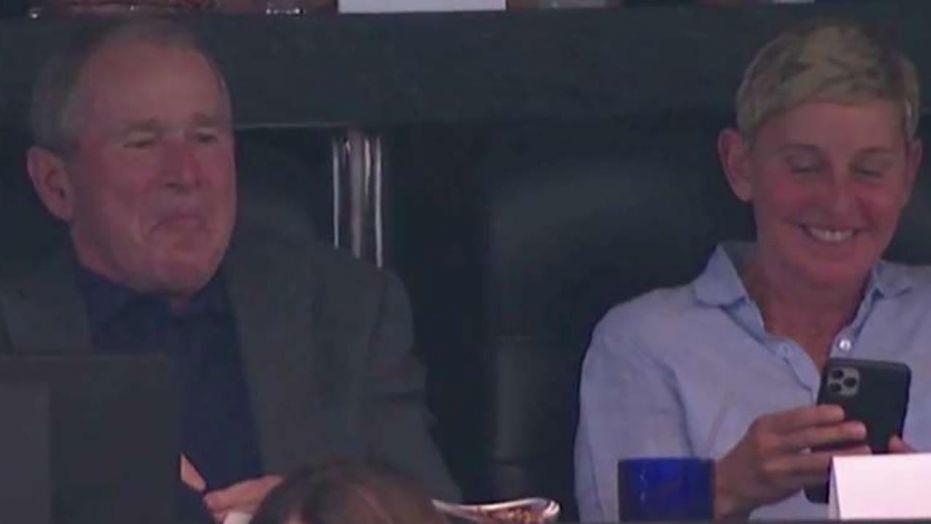 Let's Talk About Ellen And George W. Bush
By Elysia J

Oct. 10 2019, Published 6:06 p.m. ET
A lot of people love Ellen, so the following may be a hard pill to swallow. Fortunately being cold, sarcastic, and deeply averse to anything resembling earnestness, I never warmed to her so I'm not losing anything here.
The pill in question is her friendship with former president George W. Bush. The scientific name for this pill is "her defense of this friendship relies on a notion of civility that silences the powerless on behalf of the powerful." The branded name is "this ain't it chief."
For those blissfully unaware, Ellen attended a Cowboy's game over the weekend. During the game, she laughed and joked along with George W. Bush who was sitting next to her. Many people were rightfully perturbed by the images and videos that came out. Yesterday she used her massive platform to defend herself. She did a bad job, and some parts were downright objectionable.
Below is that defense, with a fitting tone-deaf and self-congratulatory title.
Article continues below advertisement
Don't Lie About Who George W. Bush Is
We get off to a terrible start beginning on a false premise. There is a huge difference between "a gay Hollywood liberal sitting next to a conservative Republican president" and whitewashing the legacy of George W. Bush.
The issue is not that Bush is a conservative Republican. It is that when he held the highest office in the land, he did horrific unforgivable things. The issue is that people are still suffering the consequences of his actions, and Bush has neither been punished nor did he apologize.
George W. Bush started a war that lead to the deaths of thousands of innocent civilians. George W. Bush is a literal war criminal. His administration oversaw an extensive and illegal torture campaign. Irreparable harm has been done to the Middle East as a direct result of the Bush administration's "War on Terror." To compare this harm to someone wearing fur is sickening. Maybe expecting Ellen to see the humanity of foreign people is too much to ask.
But do you know who else has a huge problem with George W. Bush? Gay Americans. Not only was he opposed to gay marriage, he was in favor of a constitutional amendment to ensure that it was never possible to legalize it. His anti-gay agenda was a big part of his appeal to Republican voters.
He is not just any conservative.
Article continues below advertisement
This Isn't Kindness
Knowing who it is we are talking about helps to drive this second point home. Ellen is suggesting that the answer to everything is kindness. She says,"when I say be kind to one another I don't mean only the people that think the same way that you do. I mean be kind to everyone." In theory, it sounds lovely, but in practice this notion is dangerous.
The world we would get if we all followed this particular brand of "kindness" is not a kumbaya utopia where everyone is nice to one another. It is a world where the most powerful people in our society can do monstrous things, and the rest of us have to shut up and be nice to them.
This speech shows that she does not see Bushes' record as the type of unkindness that needs to stop. Only criticism of him. This isn't a call for kindness, it's a call for submission.
The Ellen model of kindness is just another way that powerful people can sneakily condemn opposition to injustice. It is similar to how comedians utilize the idea of "cancel-culture". Perpetuating the myth of cancel-culture ensures that valid critique of racism, sexism, transphobia, and, homophobia are dismissed by wider society. (Seriously watch the "Some More News" video on the subject it's really good)
Powerful and/or privileged people will always try to frame valid criticism of them or their actions as the real problem. Whether it be through calls for "civility" crying about "cancel-culture" or even something as seemingly innocuous as insisting on "kindness" for everyone, regardless of their actions.
Ellen can afford to call for kindness because she too privileged and powerful to feel the brunt of the injustice that her friend George W. Bush inflicted both home and abroad.