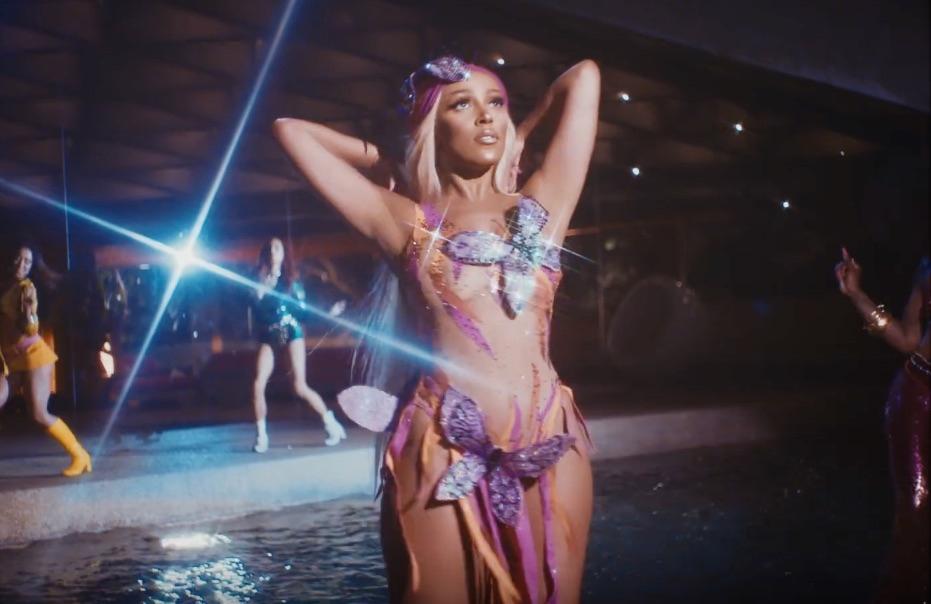 Doja Cat Drops Video For "Say So"
By Elysia J

Feb. 28 2020, Updated 4:15 p.m. ET
Singer, rapper, and songwriter Doja Cat has released a video for her hit song "Say So."
The song was first released as the fifth track on her second studio album, Hot Pink, which was released in 2019.
The song's popularity can be attributed in part to internet trends. "Say So" has been making the rounds in TikTok dance challenges since it's release, and is a popular choice for twitter fancams.
Doja Cat Dropped The Video On Thursday
And it did not disappoint. The 70s themed video has Doja Cat in multiple vintage looks that fans are currently obsessed with. It opens with her in a lavish home, directing the lyrics at a workman fixing her record player. We then cut to her outside in front of a skyline in a blue high necked glittery dress. Then we see her back in the home at night time in a short tight purple glitter ensemble. The final look is her performing on stage in an elaborate bikini and chunky glitter heels. There's also a tiger for good measure.
Doja Cat also gives a shout out to the TikTok creator who helped spread her song. She does the signature TikTok dance and the creator of it gets a brief cameo performing it herself.
There's even more in store for Doja Cat fans as the star also announced a North American tour via her Instagram. Tickets go on sale Friday at 10 am. There are currently 15 dates to choose from, all in cities all across the country.
Check out the video on Doja Cats official video below: