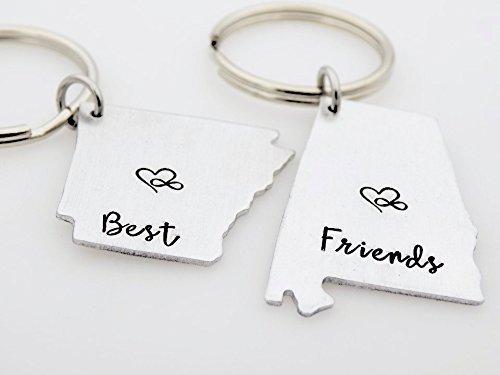 Dealing With A Long Distance Friendship.
By Claire Concannon

Nov. 16 2018, Published 8:17 p.m. ET
People talk about the difficulty of being in a long distance relationship, and while this statement is very true no one ever seems to discuss the difficulties of a long distance friendship. Yes they slightly differ as a relationship without physical contact can be very straining, believe me I know, but when your best friend moves away it's a whole other kind of loneliness.
My best friend moved away last year, she was the one person who knew all my secrets and I could call at any minute of the day or night and knew she'd be right there for me. So when she told me she was moving across the country I was so excited for her but also so sad for myself, I was worried we'd lose contact with time difference or just lose touch in general being so far away from each other. On the other hand I was so excited for her to start this new adventure and experience another part of the world. I remember the day before she left, trying to fit everything into her suitcase, the two of us in tears but promising to talk everyday. The first few weeks were strange, it's weird knowing that your best friend isn't just a few doors away, but rather a few thousand miles away.
Article continues below advertisement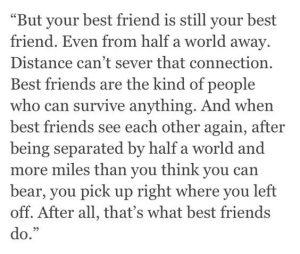 But despite all that worry we did speak every day. Literally every single day. People will say it's not normal the amount we talk to each other. I could still call her for every problem I had and she was still able to give me all the life advice I needed. A few tips I'd give to anyone who's best friend is moving away, or if your moving away is to make sure you communicate, it's important to stay in touch and to feel like you still know what's going on in their life. Another one is try to plan a trip to see them, I came out to visit my best friend after a couple of months and it's honestly as if no time had passed at all. Have a time set every week where you call each other for a catch up, and if you miss this time once or twice don't stress. Life gets busy, but your best friend is still going to be there. I think you worry that your friendship will sizzle out, but your best friend is your best friend for a reason, you don't just forget about them when there's some distance put in between you two.