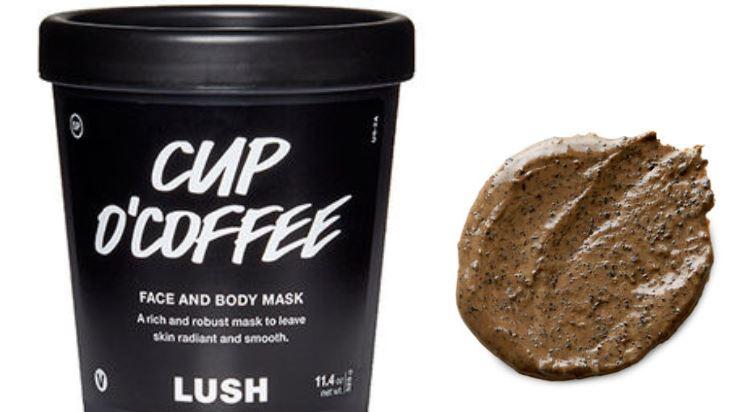 The Cup O' Coffee Face Mask from Lush is Worth It
By Jamie Rollo

Aug. 2 2019, Updated 8:06 p.m. ET
I'm not one to "splurge" on beauty products – honestly. Anything that costs over $12 is something that I really have to think about before purchasing. But, over the weekend I decided to get a little frisky with my spending and buy a Lush face mask. After spending a half hour annoying the employees with my extensive questions on which face mask IS the best mask, I finally landed on one: The Cup O' Coffee Face and Body Mask.
I've heard nothing but great things about this particular face mask. It uses natural coffee grinds to exfoliate and invigorate your skin, without being to harsh. This formula has only one synthetic ingredient, which is always amazing and what I truly love about all Lush products. Sure, they can be on the pricier side, but at least you know you're getting high quality, natural products. The key ingredients for the Cup O' Coffee face mask is of course different types of ground coffee, and cocoa extract. It also has Kaolin infused into it, which helps deeply cleanse your pores.
Not only does this face mask smell amazing, but it gives immediate results. I tried this for the first time the second I got home from purchasing it and once I took it off, I could physically feel and see how well it worked. I was honestly glowing. I will say, however, that it is extremely goopy and messy. What I like to do when applying face masks (because I'm lazy), is apply them before I get in the shower. I would definitely recommend doing that with this particular product. That way, it is 10 times easier to remove and you won't leave any behind. Quick fact, you can actually breakout from leftover face mask residue.
Since this mask is from Lush, yes, it was on the more expensive side. I decided to go all-in and buy the 11.4 ounce jar of it, which costs $22.95. But, if you don't trust my word, you can buy the smaller 5.2 ounce canister for just $11.95 if you want to test it out.