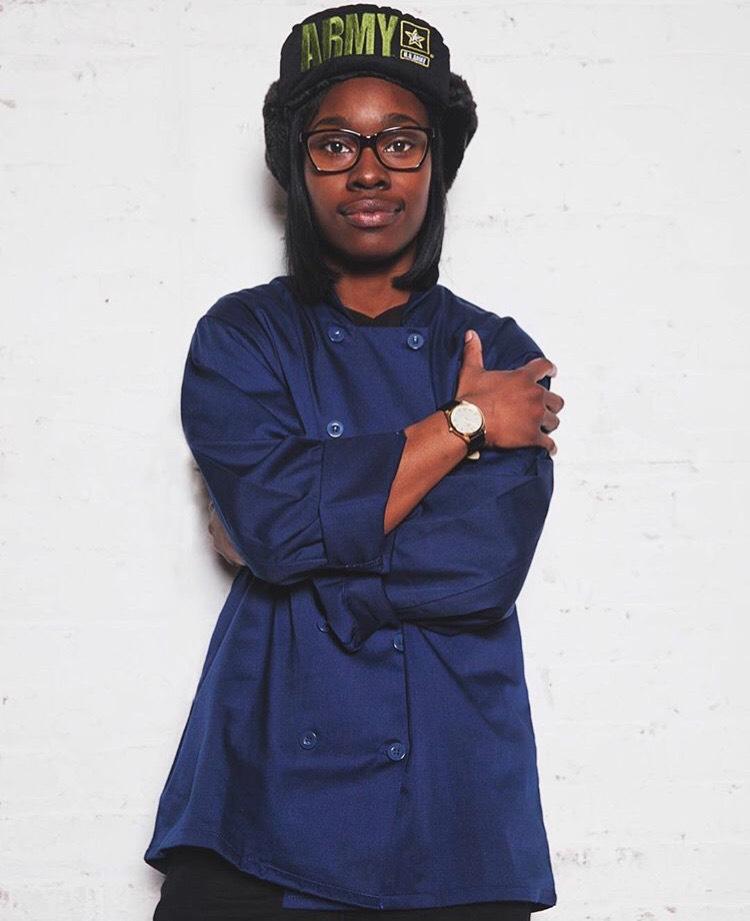 Chef Roshara Sanders Is Living In Her Purpose
By Ebony Allison

Nov. 30 2017, Updated 8:24 a.m. ET
Numbers don't lie and statistics have proven that Black Girl Excellence is at an all time high! From being the most educated group in the nation and the fastest growing group of entrepreneurs,black women are quietly leading the pack- creating one of the most elegant revolutions ever! Chef Roshara Sanders, better known as Chef Ro, is the perfect example of this radical chick!
Prior to being the accomplished chef she is today, Roshara spent time in the military. It was there that she evolved on her journey and stepped into her purpose. Balancing the highs and lows of life and turning tragedies into testimonies would be one of Chef Ro's specialties. From winning on the Food Network's hit show-Chopped,partnering with Habitat For Humanity, to starting her own company -Alkhemy, her ambition goes unmatched and her dedication to transform lives is inspiring.
Article continues below advertisement
So Chef! How did you make that transition from the military to becoming the accomplished Chef you are today?
I joined the military because I couldn't afford college,like most people do. When I got out I wasn't sure about what I wanted to do but I lost my roommate (in the military) to a tragic death, she was raped and murdered in my room by our NCO. He ended up getting life in prison, but she was the one who definitely encouraged me and pushed me to pursue food. When I lost her it was like God allowed all my dreams to manifest through her death. From there I went to CIA ( Culinary Institute of America), killed it, and got a bachelor's degree in Culinary Arts.
Wow! That's a powerful story! So lets talk Chopped, how did that opportunity come about?
I was an executive chef at a dementia facility in Connecticut and one of my employees was encouraging me to go on Chopped. I didn't think I was ready,but I applied..told my story then I got the phone call. I had to go to New York so they could meet me in person and I blew the producers away and they were like absolutely! Winning Chopped was so big for me! When I won Chopped that was for everybody I lost in Afghanistan.
Article continues below advertisement
Is there a cuisine you prefer?
I specialize in Global cuisine so I've been all over the world learning. I love all foods.I don't want to put myself in a box! My company is called Alkhemy…you know alchemy is the transformation of average medals into gold or the transformation of the soul..the transformation of the mind…So I take the same idea into all my cuisines. I'm transforming particular dishes and creating something totally new…
Being in this industry that's so white washed…what do you feel like you bring to the game and how do you hope to create more opportunities for women of color?
It's a very male dominate industry and there's definitely a glass ceiling that we have to break. First of all I have the education.I came from the number 1 school in the world -CIA. I took that and honed everything that was taught to me by female chefs. At the end of the day my education is going to get me a seat at the table! I'm black, I'm Gay and I'm a female so some may say I have a few strikes against me but I believe my passion is what sets me a part and my drive will give more women opportunities to come through the same doors.
Article continues below advertisement
Everyone nowadays is on this vegan craze…Being a chef and working in food how do you feel about this trend?
I respect vegans. I respect anyone wanting to be healthy. I do believe that going vegan is a healthier lifestyle and definitely helps with battling different diseases.On the other hand…I am a chef..I'm global chef..I've been to Europe and nothing is genetically modified there and all their disease rates are lower than America. However with being a vegan in America you have to realize that-just because you eat an apple..how do you know that apple isn't made in a lab because the USA is the only country that doesn't make you label what your food really is.
How did you get involved with Habitat for Humanity?
I remember one day sitting talking to my business partner and I'm like "Yo,God isn't going to make us as big as we desire to be if we don't bless the world". I wrote them a letter -I wanted to do a home garden program so every time you put a family in a house 10% of my proceeds can go to them having a garden in their back yard or putting groceries in their house. They came back and said they wanted to do an exclusive partnership , everyone else told me no… but then God spoke Habitat and I wrote them and they came back and said yes…so that was just meant!
Article continues below advertisement
What other type of Philanthropy work would you want to get into?
I'm trying to start my own scholarship program,there are so many people I want to help! I'm building an orphanage with Habitat in Africa so that's amazing! Habitat has teamed up with The Crase Family Companies and I will be doing a line under their Microfoodery label, where a percentage of proceeds goes back to Habitat. I eventually want to branch out and do something with Poland Spring-there's so many millions of Americans who don't have fresh water. I also see myself teaming up with airlines and having cargo planes go to these different countries I work with through Habitat.
Lastly, can you leave us with any words of encouragements to other young women.
Always mind over matter…if you think you can do it you will and never feel threatened. The thing about food is when you cook with love you can taste love. Whatever you do, do it with love. As long as love is involved you will always shine.
-
Always mind over matter…if you think you can do it you will and never feel threatened. The thing about food is when you cook with love you can taste love. Whatever you do, do it with love. As long as love is involved you will always shine.