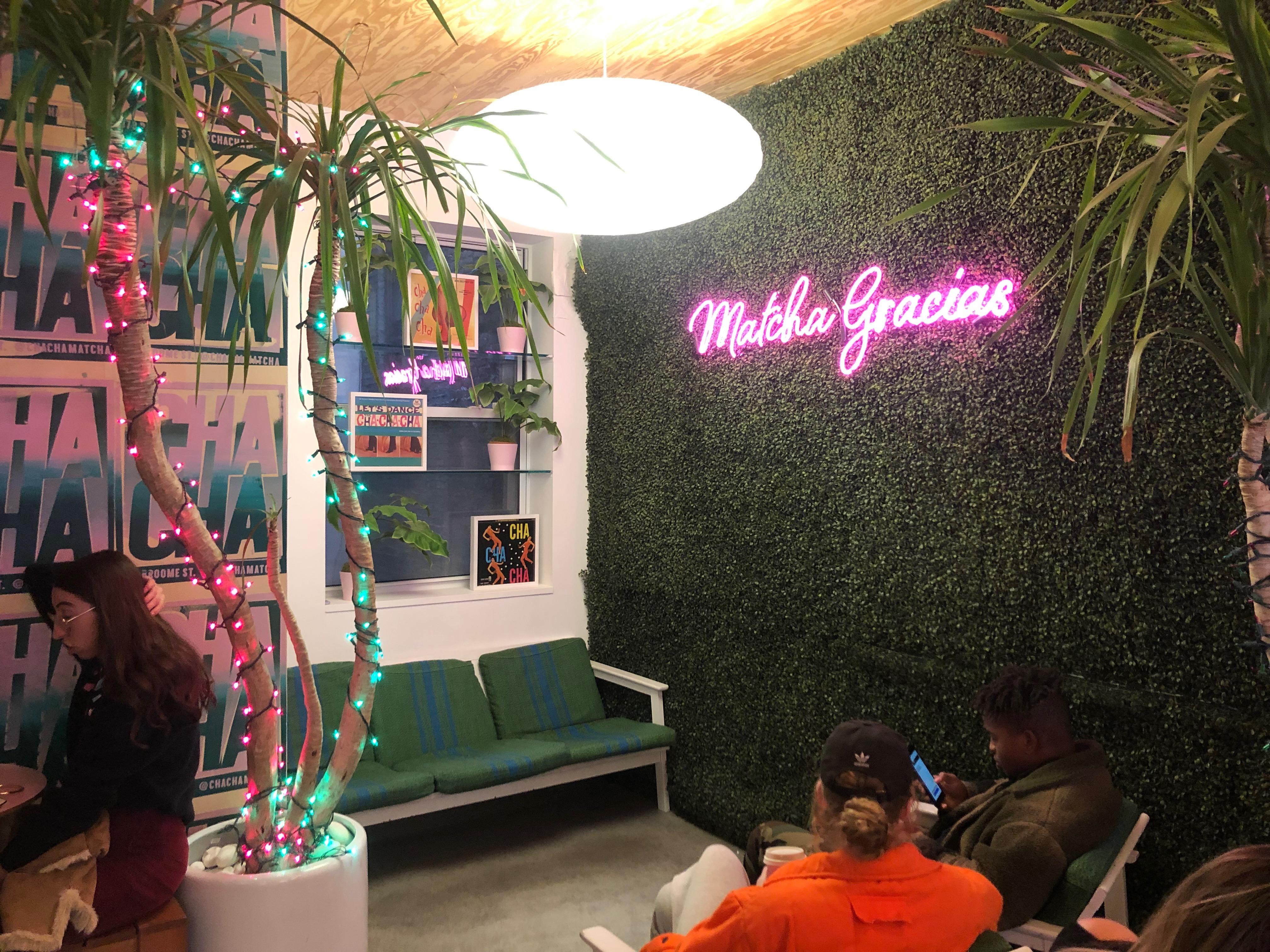 Cha Cha Matcha: An NYC Escape
By Jamie Rollo

Feb. 4 2019, Updated 11:25 p.m. ET
Cha Cha Matcha is the perfect Manhattan escape. With beautiful pink accents and green leaves strewn across the walls, and cups to match, this matcha stop has become one of NYC's most popular cafes. Even the most famous city dwellers, like model GiGi Hadid, get their daily fix at this eye-catching cafe.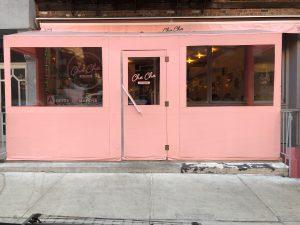 Cha Cha Matcha co-founders Matthew Morton and Conrad Sandelman discovered the art of the ancient Japanese delicacy when traveling after graduating from New York University in 2015. Both studied business management and hospitality, Morton also learning from his father Pete Morton, co-founder of the Hard Rock Cafe.
After being romanced by the culture and people of Uji, Japan, Morton and Sandelman devised a plan to create a matcha shop that would reflect the culture surrounding the drink with more of a Manhattan flair. They conceived the name from "Ocha", the Japanese word for tea combined with their main ingredient.
Article continues below advertisement
Their menu options take traditional matcha and fuse it with foods we all love. They have a variety of different matcha infused beverages including matcha lemonade, coconut matcha lattes, matcha cappuccinos, and even spiked "dirty matcha" drinks. Cha Cha Matcha also has unique treats such as matcha soft serve and matcha croissants.
Article continues below advertisement
Matcha has become a commodity for its amazing health benefits. Essentially, it is finely milled green tea leaves that are typically prepared by combining the powder with hot water, which creates an antioxidant-packed frothy beverage. The reason people, in recent, have become so obsessed with matcha is because of its amazing wellness-boosting capabilities. It has over 100 times the amount of antioxidants of brewed tea and is one of the most antioxidant-packed foods in the world.
Matcha also contains many beneficial amino acids, such as L-Theanine, which is the secret behind the amazing energy boosting ability of matcha. L-Theanine makes the mind calm, yet focus, and when mixed with caffeine it creates the perfect kick-start to even the sluggish of mornings.
Aside from their star ingredient, Cha Cha Matcha serves all kinds of coffee and pastries that you would find at a regular coffee shop, plus an array of various vegan options. They serve cold brew, americanos, flat whites, espresso, and everything. For vegan sweets, they have coconut cocoa power balls, vegan banana bread, and many more.
Morton and Sandelman's goal was to integrate the various types of people who call Manhattan their home.
"New York has such an amazing mix of people," Morton told The Wall Street Journal, "we want to have the 70-year-old man who lives upstairs drinking coffee next to the 20-year-old creative type drinking matcha."
Article continues below advertisement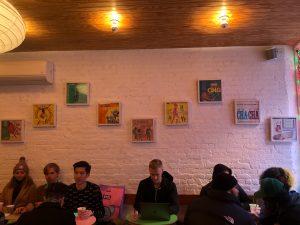 Aside from the amazing menu options, what makes Cha Cha Matcha a stand-out location is the atmosphere. From the street, any passersby can easily spot their bright ink awning and white brick building against the typical New York brownstone buildings. Their decor is inspired by the deep green of matcha beverages with bright pink accents. The cafe holds a relaxed, tropical-like feel. Their cushions are covered in palm leaves, and the words "Cha Cha" are found randomly sprinkled throughout the location.
Their cups also match the entire aesthetic of the cafe. They have bright pink accents, and the sleeves for their hot beverages say "thank you so matcha". A visit to Cha Cha Matcha makes for a picture perfect moment.
Cha Cha Matcha now has two locations. Their original shop is located at 1158 Broadway, and their newest location is found at 373 Broome Street in lower Manhattan.