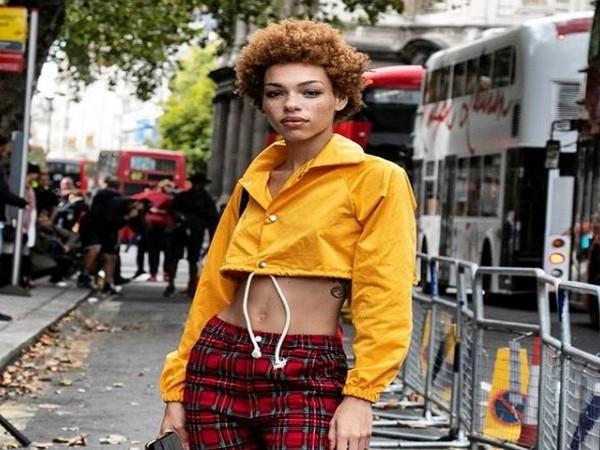 Carissa Pinkston, Savage X Fenty Model, Lied About Being Trans
By Jamie Rollo

Jul. 30 2019, Published 7:53 p.m. ET
words by Kai Collado-Vazquez
Carissa Pinkston, model for Savage X Fenty and Marc Jacobs has been caught lying about being trans to avoid backlash for past transphobic comments. In May of this year, she posted transphobic opinions on Facebook, saying "being transgender does NOT make you a woman. It makes you simply transgender," and "being transgender does make you a woman in a transgender context according to gender and not sex. This is how they want to be perceived. In a biological context these are Females and Males. This is the world in 2019."
These comments are transphobic, offensive, and ignorant. But, why would she ever feel the need to tell people how to identify when she's not even educated on gender? When she said according to "gender not sex," she doesn't even make sense because a woman is a gender not a sex, it's impossible for "woman" to be your gender. She also said the only biological sexes are male and female, which is also false because intersex is another sex. Her ignorance sparked outrage and the model began to receive hate and death threats. She was even dropped by her company.
Pinkston decided to come out as trans after receiving negative backlash for these posts, saying she "transitioned at a very young age," and made transphobic remarks because of her "inner insecurities." Transgender model Aaron Philip responded to Carissa Pinkston's coming out saying, "I know this person irl and she is SO CISGENDER," and believes she came out for clout. Cisgender means you identify as the gender you were assigned at birth, so the exact opposite of transgender.
Article continues below advertisement
Pinkston then admitted to lying in Instagram post saying, "I panicked and thought if I came out as trans I could somehow make things better for myself." She also used her age as an excuse, and never gave a genuine apology. Euphoria star Hunter Schafer was previously friends with the model and she declared she is no longer speaking to her.
Carissa Pinkston claims she has been friends with Schafer for a long time as an excuse because she thinks her being friends with a trans woman will show she's not transphobic. On her Instagram story the model wrote, "if you're Trans and would like to educate me please DM me," which is also problematic because it's not the trans communities responsibility to educate her. Why would we need to explain ourselves when she can easily Google how to be more respectful?
Since this scandal, she has deleted all of her apologies from Instagram and hasn't said anything about it again.