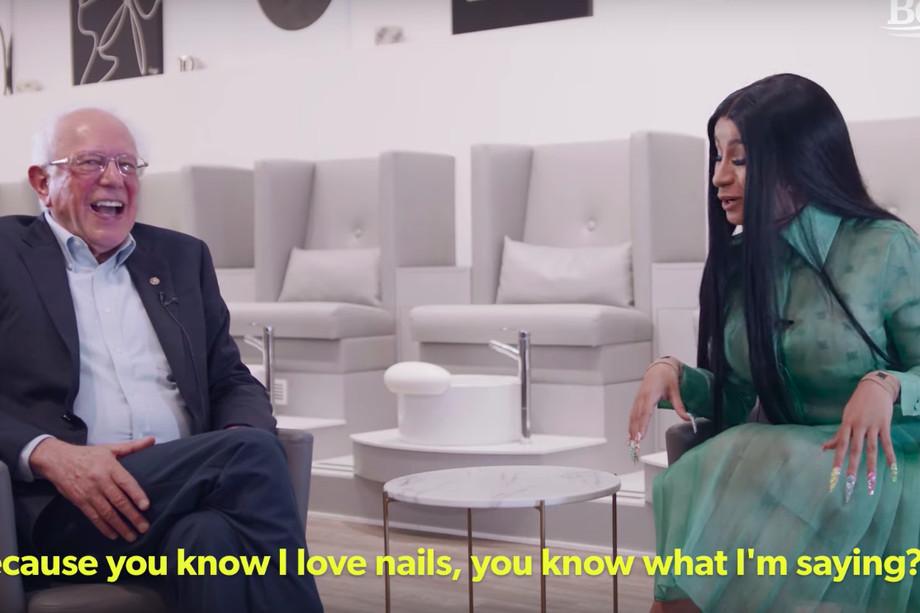 Cardi B interviews Bernie Sanders in Nail Salon
By Ash C

Aug. 15 2019, Published 9:39 p.m. ET
Cardi B sat down with Bernie Sanders at The TEN Nail Bar in Detroit, Michigan for an unlikely conversation about police brutality, immigration, health insurance, taxes, wages, jobs, and student debt. Announcing the video collab on Instagram, the Bronx rapper expressed that Bernie Sanders was her favourite candidate and said "let's feel the Bern" as Bernie joked about his nails being "juuuust a little different" than hers in a behind-the-scene clip.
The 26-year-old Grammy-winner has always been very verbal about her political stance on social media, urging fans to pay attention to the upcoming elections and calling on people to get educated on the issues. She said that "having a bully as a president", people are not afraid to show their hatred anymore. There's police brutality against black men and minorities that no one's talking about, and to that, Bernie replied, "We need to end all forms of racism in this country from Donald Trump down to the local police department." He calls for police departments that looks like the community to erase the possibility of an "oppressive army." As for the brutality, Bernie wants more investigation for a police officer that's killed somebody.
Article continues below advertisement
Cardi was also interviewed in the return, being asking if she ever gets nervous before big performances abroad. "They love Americans over there, no matter what." Bernie threw some massive shade here, saying "Well, not all Americans," hinting at a certain white/orange president.
Funny enough, when you think about it, the United States of America wasn't even initially white people's land to begin with. When it comes to immigrations laws, Bernie promised to reestablish the DACA program in his first week in office, and even expand it to the children's parents as well. Cardi was visibly excited about the idea, her arms dancing a little as she squealed "Yeah!" before she attempted to grill the old man again: "How would it be possible to get free health insurance, free education, and how will our student loans be forgiven?" After all, extreme socialism isn't what most people want.
Article continues below advertisement
Bernie responded that healthcare is a human right in countries such as Canada, United Kingdom, Germany, Sweden, France, Norway, Denmark. It's all about changing the system and making it work for everyone, instead of the rich.
Bernie wrapped the interview:
"Young people have got to get involved in the political process. Register to vote. It is not hard. It takes you five minutes. Register to vote. Trump does not want people of color to be participating in the political process. Participate in the political process. And then think about who the candidate is that is speaking the issues that are important to you, and then vote. If we have young people voting in large numbers, you know what, I have zero doubt that Donald Trump would be defeated."
-
"Young people have got to get involved in the political process. Register to vote. It is not hard. It takes you five minutes. Register to vote. Trump does not want people of color to be participating in the political process. Participate in the political process. And then think about who the candidate is that is speaking the issues that are important to you, and then vote. If we have young people voting in large numbers, you know what, I have zero doubt that Donald Trump would be defeated."