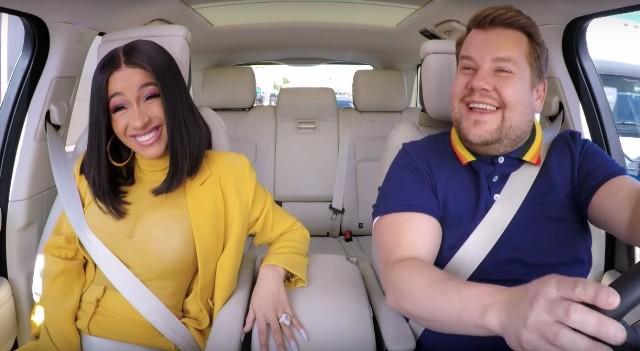 Cardi B and Corden's Carpool Hilarity
By Xavier Rivers

Dec. 18 2018, Published 8:59 p.m. ET
Dressed in all yellow from head to toe, Cardi B joined James Corden on his hilarious Carpool Karaoke segment. The two sing along with gusto to numerous Cardi B hits such as "Bodak Yellow," "Money," and "Drip". The two seemed to be old friends that hadn't caught up in a couple of years.
Cardi B, the Bronx native, talked with Corden about her past as a stripper, her start in the music industry, and her childhood growing up in the Bronx. The two are from completely different worlds but nothing brings people together like Carpool Karaoke.
After discussing Cardi's car collection of five, which includes a Lamborghini, it came to light that Cardi B didn't know how to drive. Not abnormal being from New York, but when asked why she had so many cars since she didn't know how to drive, she responded hilariously, "to take pictures with."
Corden took the wheel and pulled up to an abandoned parking lot to teach Cardi to drive. No one was hurt in the process but let's just say that Cardi should stick to taking pictures with cars.
Next, the two went to the only other place you would expect to see the brazen duo…The Culver City Senior Home. Having never performed for an older crowd it was only right. The two seemed to have a genuine blast performing together. Cardi even got asked out about by resident Gunter. The status of their relationship is still unclear.
Watch the hilarious episode linked above.