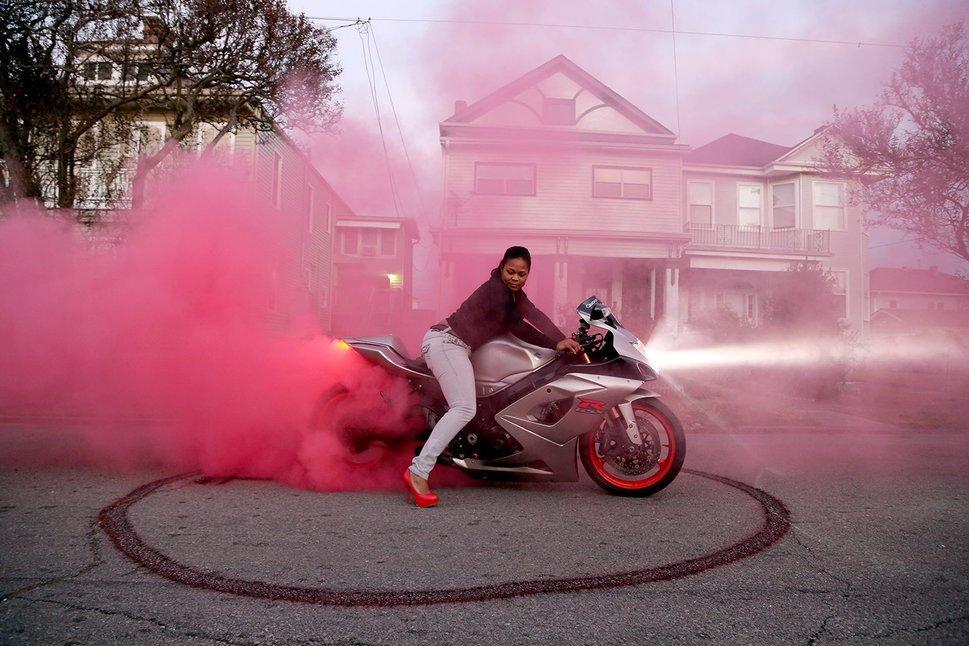 Caramel Curves: All-Women Motorcycle Crew Turns Feminism Up A Gear
By Ebony Allison

Apr. 18 2017, Updated 2:29 p.m. ET
When photographer Akasha Rabut moved to New Orleans in 2010, she was taken by the city's traditions ― the parades, especially. While photographing one, she noticed two women on motorcycles and decided to introduce herself. Their names were Tru and Love; immediately, Rabut was enamored.
The pair invited her to a meeting for their all-women motorcycle crew, Caramel Curves, which took place in a member's nail salon. Rabut took the women's portraits, and has been doing so ever since.
"I love the feminism and femininity that these women bring to the masculine world of motorcycle clubs," Rabut told The Huffington Post, taking care not to conflate the two terms.
Her shots of the crew include images of riders enveloped in billowy, hot-pink smoke. In some portraits, their camaraderie is clear as they laugh together wearing matching checkered jackets. In others, the pride they take in their pastime is on display as they pose on their bikes, showing off their high heels.