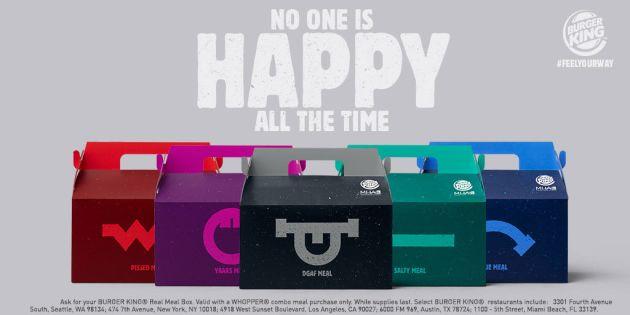 Burger King Talks Mental Health, And It's Terrible
By Elysia J

May 6 2019, Updated 9:19 p.m. ET
So it's mental health awareness month and we're in the absurd nightmare stage of capitalism. This can only mean one thing…perverse marketing campaigns. And oh boy did Burger King Deliver.
The fast food chain launched a line of what they called "Real Meals" presumably in contrast to the McDonalds "Happy Meal" with the tagline "No One Is Happy All The Time." Because a mental health campaign is incomplete without a jab at your market competition.
There are five meals which represent a different mood, each with a different coloured box and cute little symbol. They include the "Blue Meal" which is of course blue and has a sad face symbol. The "Salty Meal" with what I think represents a straight face, because I guess being salty or shady is a mental health condition now? There's also "Yaas" "Pissed" and "DGAF."
The overarching awfulness of this move from Burger King is pretty well encapsulated in these little titles. "Salty" "DGAF" "Yaas" and the rest are nothing to do with mental health. They're just catchy phrases. A cringe-inducing attempt by a brand to be down with the kids. Because make no mistake, this is just a way for Burger King to grab attention, and attention = sales.
Article continues below advertisement
It doesn't seem to even be the case that any money from the meals is going towards mental health charities. The description for the YouTube announcement of the campaign says "help support the work of Mental Health America by visiting mentalhealthamerica.net." The video itself just says that Burger King supports the work of the organisation, which is nice and vague. Typically when profits are going to charity, companies make that explicit in the marketing.
So what we have is a fast food company (fast food is linked to worse mental health btw) running an advertising campaign that uses mental health issues as a fun gimmick. The materials themselves contribute nothing useful to the conversation around mental health. And none of the profits from the mental health themed meals go to organisations that actually care about the issue.
This is not how mental health issues are solved, this is a shallow gesture towards de-stigmatising, that doesn't achieve it, but does make Burger King money.