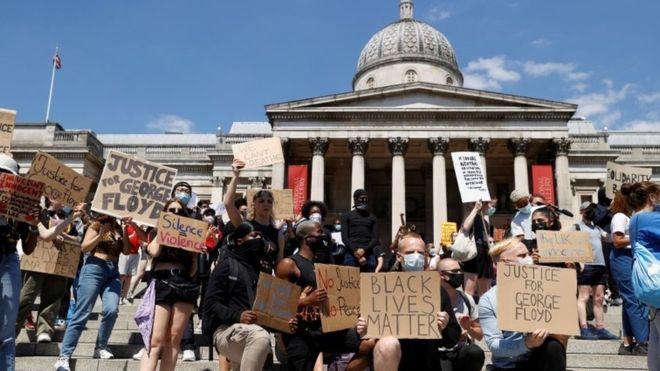 British Perspectives On BLM
By Elysia J

Jun. 3 2020, Updated 7:10 p.m. ET
On Monday, May 25th officer Derek Chauvin killed 46-year-old George Floyd. Chauvin Knelt on Floyd's neck for eight minutes and forty-six seconds, ignoring Floyd's repeated pleas to be allowed to breathe.
As every American knows, this is not the first murder by police hands. It isn't even the first time a black has man died begging cops for breath. But much like the murder ofMichael Brown, this one, along with the pain of all those before, ignited something in the people.
Demonstrations are taking place across the nation. The police are responding to many of them with theverybrutalitythat caused them.
Protests in solidarity have also taken placeacross the globe. In France, New Zealand, Germany, Syria Brazil, Mexico, and many others. Included in the list is the UK, which is where I am from. Which lead Bombshells Editor in Cheif to ask…
…What Do Brits Think Of All This?
Honestly, it depends on who you ask.
There is this idea in Britain that racism isn't as much as a problem here as it is in America. Or if it does exist, British racism is more subtle, less violent. So for some, the reaction is complete shock at how bad things are over there, and relief at how much butter things are over here.
Article continues below advertisement
This notion can be seen in some of the reporting on the protests that broke out in Britain. In mainstream reporting, there is a tendency to assume they are purely in response to Floyds' death and leave it there. Two articles I found quoted the same priest who commented that people were passionate about the issue. But neither had any comment from a demonstrator. The closest one got to acknowledging a British problem is one that said they were protesting American brutality and "alleged" police brutality at home.
The public met very first British Black Lives Matter demonstration with similar dismissal. In 2016 British Black Lives Matter demonstrators laid on the roads in front of traffic around the country. Tracy McVeigh in herarticle about why Black Lives Matter came to Britainsummarizes the British attitude towards the movement at the time."Why were motorists being inconvenienced over racism that was America's problem? "
Of course, there are differences between Britain and the US. The UK doesn't arm or militarize its police in the same way the US does. That remains a point of difference and shock. The training is not quite asbewilderingly antagonistic.
Article continues below advertisement
But Britain is more than capable of violence.
McVeigh's 2016 article outlines just some of the events that sparked the Black Lives Matter Movement in the UK. And they are remarkably similar to the stories we hear from America. She points to the police killing of a black man namedMark Duggan, whose death leads to unprecedented riots across the country. And she points to the case ofJimmy Mubenga.G4Ssecurity guards suffocated Mubenga whilst restraining him on a deportation flight.
There is also violence that is uniquely British to contend with.
Violence comes in many forms. It can be physical, but it can also be intuitional. Perhaps the most disgraceful example of British institutional violence in recent memory is theWindrush Scandal. "The Windrush scandal began to surface in 2017 after it emerged that hundreds of Commonwealth citizens, many of whom were from the 'Windrush' generation,had been wrongly detained, deported and denied legal rights."
Thousands of black British people have their lives completely uprooted and destroyed. Not by accident, not because one person snapped for had a bad day. But because entire systems of power chose that course of action.
Of course, Windrush is not the only case of intuitional violence against people of color. Right now there is a fight foran independent public inquiryinto why people of color are far more likely to suffer from coronavirus than the white population. No one article can contain all the injustice that is inflicted against people of color in Britain.
So to answer the question "what to British people think about the Floyd case?" It depends on who you ask. Those whose privilege has sheltered them from what goes on here perceive what's happening in America as a shocking reminder of how bad things are over there. Those who don't have that privilege, perceive it was a grim reminder of how bad things are here. And how little we are willing to talk about it.