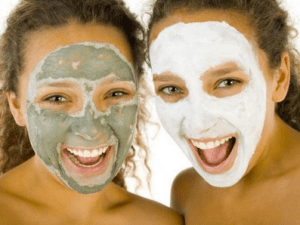 Bring It Back To Basics With These DIY Facial Masks
By Liyana

Jan. 18 2018, Published 12:32 p.m. ET
Tired of harsh products stripping your skin of all it's goodness? Try our list of all natural, homemade DIY facial mask ideas to keep things au naturale. Some of them you might already have in your kitchen right now, so get on it!
This Sh*t Is Bananas – Take a whole ripe banana and mash it up into a smooth paste. This mask will leave your skin soft and supple. You can apply it as is or you can up your game by adding Greek yogurt for extra moisture and honey for anti-acne benefits.
An Apple A Day… – If eating it isn't your fav, put it on your face! Using apple cider vinegar as a toner on your face keeps your pores tight, reduces oil production and keeps your skin's PH balance in check.
You Got Milk? – Blend 1/4 cup of rice until it turns to powder and add a few tablespoons of milk until you reach a paste like consistency. Let this sit on your skin for 15-20 minutes and rub it off of your skin as a scrub. The rice works as great exfoliant when it is uncooked.
Yo It's All In The Yogurt – Easiest one by far is this mask. Just grab some organic Greek yogurt and apply it to clean dry skin and let it sit for 15-20 minutes. If you have sensitive/dry/itchy skin, this is your new best friend. It will cool down any irritation while also giving a boost of moisture to calm down any redness.
When Life Gives You Lemons – You make a mask! This is perfect for when you feel your skin lacks luster and needs some brightening. This is also a great way to lighten any hyperpigmentation such as sun spots or acne scars. Simply rub half a lemon all over your face (avoiding the eye area) and rinse off after 5 minutes. Repeat this 2-3 times a week to see results.
Get ready for an at home spa experience or plan a fun girls night in with your besties and try out these easy DIY masks!