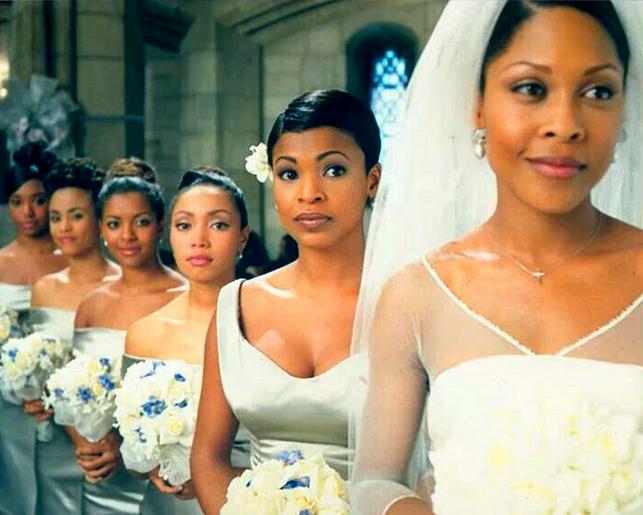 Dear Brides, You Need To Chill
By Elysia J

Feb. 5 2020, Updated 9:27 p.m. ET
Listen up brides. I get that this is your big day. I'm aware that there's a lot of pressure for everything to be perfect. I know that you're stressed. But some of you are crossing the line. Scrolling advice columns, the Am I The Arsehole subreddit, and hearing the horror sorties of brides crossing the same lines often.
So in order to make things clear, below is what is and is not okay to ask of you guests and bridesmaids.
OK: Asking Bridesmaids To Follow A Dress Code
Being a bridesmaid comes with the expectation that you will look a certain way on the day. Requesting that yours wear the dress you choose is fine. The same goes for deciding how they wear their hair and makeup. As long the bridesmaids don't hate what they have to look like these are all pretty much fine and standard procedure.
Not OK: Asking Bridesmaids To Make Permanent Or Long-Lasting Changes To Their Appearance
You get to decide how your bridesmaids look for one day and one day only. The moment you start making requests that they can't take off the next day you've crossed a line. No one should have to dye their hair for your big day. This applies even if the bridesmaid in question has brightly colored hair. She dyed her hair that way because that's how she wants it to look long-term. Asking a bridesmaid to loose weight for your wedding is also not okay. I can't stress enough how not okay this is. You don't get to undermine your friends body confidence for the sake of your dam wedding pictures. Remember, they have to exist in the world after your wedding and get to decide how they look for that.
Article continues below advertisement
OK: A Child-Free Wedding
I see brides getting heat for wanting a child-free wedding and I think that's unfair. Weddings vary massively, some will be suited to children and some won't. If you want everyone to get wasted it might not be a child friendly space. Even if you just want things to be fancy, a no child stipulation is perfectly reasonable. You just have to accept that not everyone will be able to attend, or might have to leave early if you chose to go in this direction.
Not OK: A Specific Child Free Wedding
I hope very few brides need to hear this. You can either have a wedding where any children are welcome, or one where no children are welcome. You cannot pick and choose which guests are allowed to bring their children and which are not. Whatever family drama you have going on, your wedding is not the time to hash it out and children are not the ones that should be punished for it. Even if that one friend has a kid that's loud and annoying, you can't tell them to leave the kid at home if everyone else is bringing theirs.
Article continues below advertisement
OK: Asking For Money Instead Of Presents
Wedding presents are expected and are seen as a way of helping the couple start their life together. If you're picky, or have most of the kitchenware you need then asking for money instead may be a tad awkward, but doesn't cross a major line. Some people may even be relived that they don't have to agonize over what to get you.
Not OK: Asking For A Certain Amount Of Money
Saying "we would prefer money over gifts" and saying "we would like $50 per guest" are two very different things. If you ask for money people are going to give what they can afford. You do not get to complain about the amount you receive. You also don't get to act less grateful to people who gave less than others. Send the damn thank you note. If you read this and start thinking "well we spent x amount on the food the least they can do is contribute" stop. Whatever you spent on the wedding was your choice. You don't get to claim that money back in gifts.