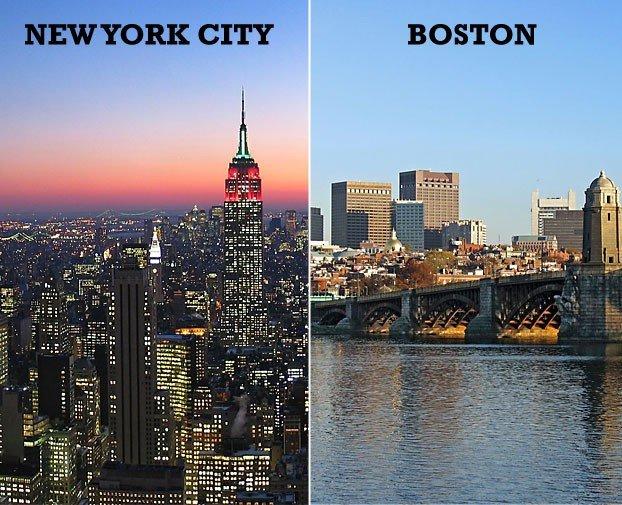 Boston Vs. NYC
By Elysia J

Jul. 17 2018, Updated 9:18 p.m. ET
Over the weekend, I made my first visit to the city of Boston. It was interesting for a number of reasons. As an Englishwoman, I was curious to see how New England held up against the original. Additionally as an adoptive New Yorker I had been informed that I am contractually obligated to despise Boston and its residents. The English love a good location-based feud. The Brits have one with the French (the World Cup results were a tough pill to swallow), the North of England has one with the South of England, and the Scottish will resent the English until the end of time. So of course after visiting the city that my temporary home is pitted against, I have no choice but to stir the pot and make some comparisons on a few key aspects of the two cities.
In New York, tourists walk around with their heads tilted upwards at the skyscrapers. In Boston, they have their eyes firmly on the ground looking for the next mark on the Freedom Trail. The places feel different immediately. New York, to me, is new, trendy, and busy. Boston is old, classic, and pretty. After weeks of the hustle and bustle of NYC, it was nice to walk around with space and not bump into people, and to cross a street without a cab coming at you. Over the course of my stay, I realized just how fitting it is that this region is called New England. Walking around, my other British friends and I had this strange sense of familiarity. This place kinda feels like London. There is something about the attached houses, the parks, and especially the train stations that feels eerily similar. It is for this reason that I have to give the points to New York in this round. I didn't go through all the hassle of getting out here to feel like I'm still at home.
Article continues below advertisement
You don't truly know a place until you know whats it's like to drink there. Admittedly, this was a big part of our decision to make the trip. We had been sold the image of Boston as the perfect place for a pub crawl. The promise was off hidden speakeasies and proper pubs serving proper pints. It's certainly true that Boston has some great pubs, it's just a shame that no one seemed to want us to drink there. When we rocked up at our hostel, tired and cranky from our four-hour coach journey, the receptionist could tell we needed a drink. She took one look at our faces and immediately began telling us about the drinking scene in Boston. But then she dropped a bombshell. She told us that they don't accept foreign IDs, only passports. Seriously? Only one of our party of eight had brought their passport. No one brings their passport for a night out. We had all been getting by on our driving licenses in NYC. We had gotten entirely too comfortable with the ease of getting alcohol in the Big Apple. From my experience, it seems like you could write a date of birth on the back of a Starbucks loyalty card and NYC bouncers would just raise their eyebrows before they wave you in.
You may think that this means another round goes to NYC, but this one goes to Boston. The fact that it was so hard to find a place to let us in made us search harder, and find some real gems. We started off in the bar from the "people don't hate you because you're a nerd, people hate you because you're an asshole" scene in The Social Network. We ended the night in an actual club with a dance floor and the unthinkable happened. I bought a real drink for both my friend and I and paid less than $20. I will never forget the first time I bought anything other than a beer in New York. I handed over $14 for a cocktail about the size of a shot of espresso and I could barely taste the alcohol. Boston wins on the drinking front, for prices, for variety, and for serving real pints. If you're not a U.S. citizen bring your passport, but even if you forget, the ones that let you in with a driving license are all pretty cool.
Article continues below advertisement
I have rather controversially stated before that I have found New Yorkers to be friendly. But that's nothing compared to the people of Boston. Whilst waiting for our coach home, a stranger asked about our group's accents and we all had a chat about our hometowns. We had a shuttle from our hostel to the train station, that went though the middle of nowhere. But that didn't stop our driver from giving us the full tour guide spiel. From the McDonald's to the random office building we drove past, we got the backstory behind it all. He also happened to come across another guest of the hostel who had had driven earlier that day. He told us that as he stopped the van in the middle of the street, and loudly honked the horn until the guy waved back at him. In the communal shower at the hostel, a lady got fully undressed before tapping me on the shoulder and asking if there was any hot water. I have to say this round defiantly goes to NYC. There's such a thing as being too friendly.
With all the scores tallied the winner has to be NYC. Boston is a great city to get drunk in, but the hustle and bustle of New York and the fact that strangers tend to keep their clothes on when they talk to you, just gives it the competitive edge.