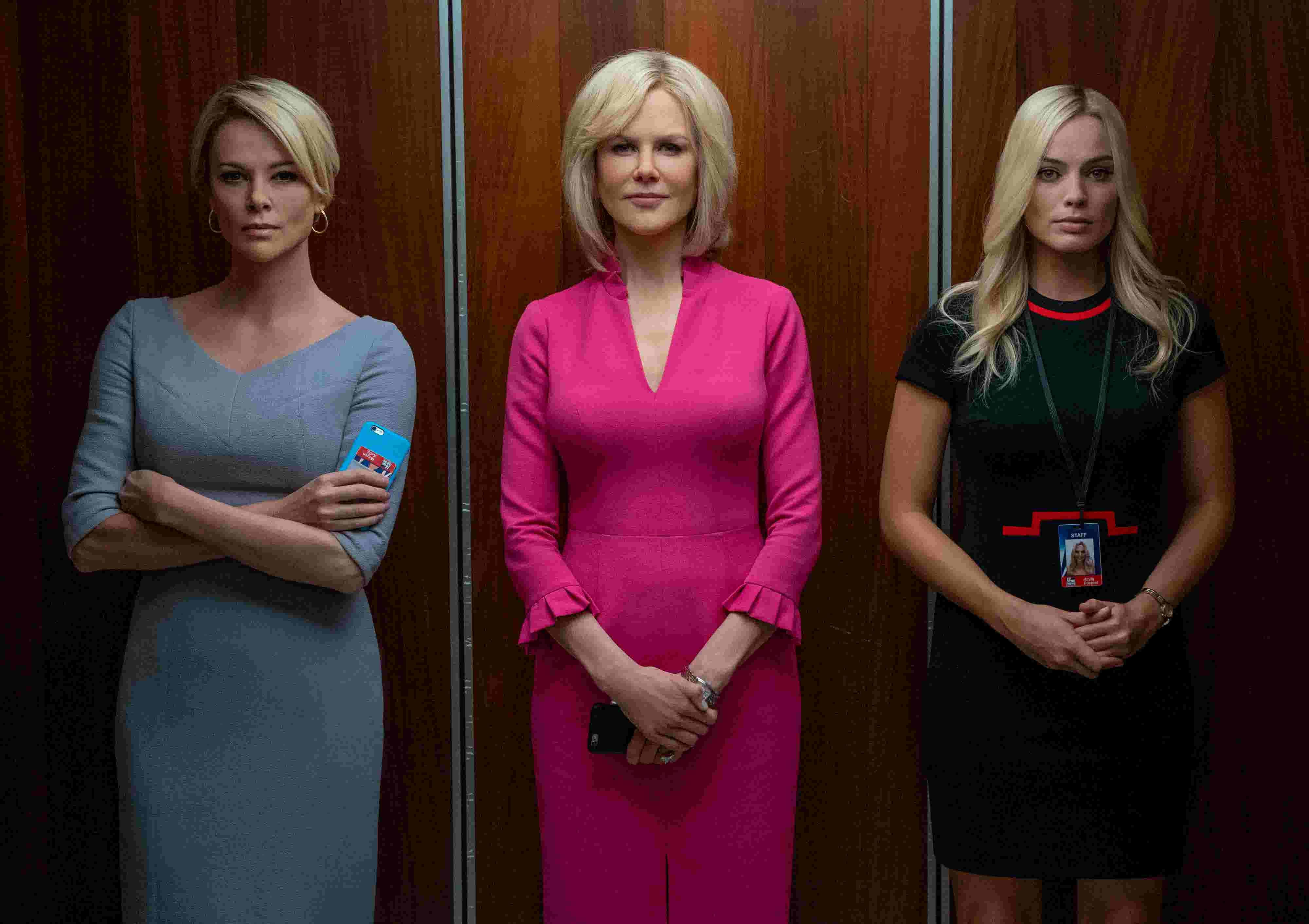 BOMBSHELL Movie Reenacts Fox News Scandal
By Ash C

Aug. 21 2019, Updated 9:25 p.m. ET
Dropping the trailer today, our namesake Bombshell is the new star-studded movie to come out this Christmas and it's based on the Fox News scandal that shocked the media a few years ago. A little context: the massive scandal was centered around Donald Trump's late pal Roger Ailes, former Chairman and CEO of Fox News for nearly 20 years, who resigned from his position in 2016 following allegations that he sexually harassed female colleagues.
Bombshell casts Academy Award winners Charlize Theron, Nicole Kidman, and Academy Award nominee Margot Robbie as the main women of the story. The trailer follows Robbie as she walks into an empty elevator only to have Theron and Kidman join her in the claustrophobic space. Tension runs high: these three women obviously know something bad about each other and acknowledge the awkwardness between them, and they are all seemingly heading to the same floor.
Robbie flinches cowardly at the sight of Theron, who clearly holds more power here. The super-nervous Robbie peeks at her, but she just stares right back. Kidman walks in to the quiet last with an awkward smile, but at this point Robbie already looks as if she's about to cry. Kidman breaks the silence: "It's hot in here." Theron fake-smiles and nods before turning her head to Robbie – the elevator stops on the second floor, Robbie rushes out behind Kidman as if she's about to be devoured by the monster that is Theron. The texts reads, "What started with a whisper will end – with a bombshell."
Article continues below advertisement
The second floor of the Fox News building was previously the executive suite which houses Roger Ailes' office. In real life, Gretchen Carlson (played by Nicole Kidman) filed a sexual harassment lawsuit against Ailes in the July of 2016 after her contract with Fox News expired. This first lawsuit led to dozens of women to come forward to accuse Ailes of sexual misconduct in the workplace, and one of those women was Megyn Kelly (played by Charlize Theron). Ailes was soon forced to resign.
Directed by Emmy Award winner Jay Roach and written by Academy Award® winner Charles Randolph, Bombshell.Movie says the film is "a revealing look inside the most powerful and controversial media empire of all time; Fox News, and the explosive story of the women who brought down the infamous man who created it." Bombshell will be released on December 20, 2019. Stay tuned for more info.