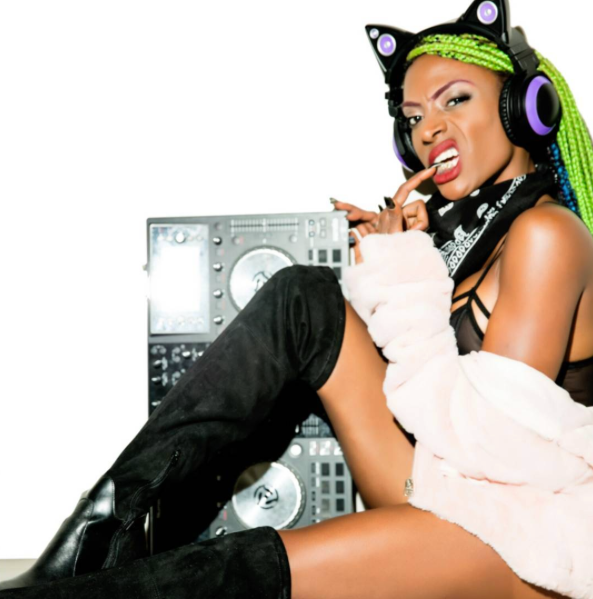 #BombBeats | Zoey Clarke x 'This is the Z-Mixx'
By Nicole

May 16 2017, Published 7:36 p.m. ET
"If you're going forward, it's inevitable that you'll get there…It's not always going to be exactly what you want it to be, but just keep going," Zoey Clarke, eclectic hiphop/pop artist, passionately stated. In her latest mixtape, 'This is the Z-Mixx,' Clarke adds her "mix" to some of today's hottest songs.
This multifaceted talent with the multi-colored hair is a forced to be reckoned with, emitting a sound that is totally her own. Zoey Clarke is a singer/songwriter and DJ who has had the honor of opening up for acts such as, Fantasia, B.O.B, Sean Kingston and the legendary Jennifer Holiday.
In our recent interview with the songstress, she discusses her journey through a male-dominated industry, who she really is as an artist, and why 'This is The Z-Mixx' has a song for everyone to enjoy, whether they are falling in love, out of love, or just enjoying life.
What made you want to go into the music industry?
I've always loved music and I've always done things that have required me to be on stage, whether it's ballet or pageants. Vocal talent was my talent when I was competing and I just found myself being able to do it as a career. I never realized until I started to make music that I actually had been passionate about it in so many ways. I feel like this is the perfect way to do everything that I love: I model on my cover, I'm singing on my albums, and doing interviews. I feel like it was the best career choice for me.
Were there any artists that inspired you to get started?
Article continues below advertisement
Oh yeah! I have my all-time-favs, which are definitely Madonna and Whitney Houston–I call her Auntie Whitney every time I hear her music because she always felt really good to me. My favorite singers are Vivian Green, a lady named Teedra Moses, and a lot of independent artists. I admire a lot of people who are out now. I love Ariana Grande, I love Beyonce, so I'm part of the Beyhive [laughs], and I definitely think Bruno Mars is really cool. I love him.
You're a songwriter as well. How long have you been writing?
Well, I've been writing for a while, maybe about six years now. I've had a couple really awesome placements with the Oxygen Channel and Disney, but my goal as a writer for 2017 is to land a single with a major artist. The licensing and placements are all great and I think a lot of artists should pursue that as opportunities to make music, but when you have the passion of creating music it's the ultimate goal to watch somebody else embody what your vision is.
When you sit down to write a song, does it come easy to you or are you doodling on random pieces of paper?
Article continues below advertisement
[Laughs]. I'm a doodler. I am! That's so funny. I doodle all the time on anything: toilet paper, paper towels. I'm literally a doodler because music is inspired, so when I'm inspired I definitely don't want to lose it. I write it down on anything and keep it in my pocketbook. But I definitely know it's going to be a hit if it comes fast because usually the vibe that comes fast like that is the song that is really, really awesome. If I have to work on it too much I will just let it go.
Life. Mine is definitely crazy and always has been. I always just try to stay sane though music. I write what I'm dealing with, what my friends are dealing with, what's happening in the world, but not necessarily what everybody else wants to hear all the time. So, I try to find a balance between what is popular and what I want to say because I try not to do what people have already done. I try to be original in that way and if I'm not feeling it, I'll just let it go.
Article continues below advertisement
How has being a DJ helped you with your music?
Well, DJ-ing is something that I fell into through my love of EDM music, and I really love that the DJ is bigger than the artist in EDM music. It was really exciting for me so I wanted to do both. I went to Scratch Academy to get certified as a DJ. It helped in general because, as a person who has to break a record, you know what people are listening for, or you're more in tune to what the streets want to hear, what people want to hear. I find, now that I'm DJ-ing full time, that as an artist I'm really more in tune to how I need to write something more so than being focused on what I want to write. I'm more into what the people want to hear.
I also read that you were born in the Bronx, but you were raised in Atlanta. How has that shaped you into the artist that you are today?
I feel like I have the best of both worlds. My brother and my older cousins, all of them are like, "BX 'till I die," and so I was raised in a 'New York all day' environment, but then being in Georgia from a very young age I had a suburb upbringing compared to people from New York. I think it just made me really broad musically. I like old school hiphop, so that culture has rubbed off on me, and I was born in a city where it was birthed, so I'm an extreme hiphop fan. New York is also very eclectic, which Atlanta is now becoming so I had a desire to really want to listen to other things: rock music, Spanish music. It's just intriguing to me because they are such polar opposites of each other. Traveling also helps with being open to different sounds.
Article continues below advertisement
How would you classify yourself as an artist?
I move around. I have music that is very, very pop-driven and the one I just dropped, which is 'This is the Z-Mixx,' that is a lot more hiphop-driven. I'm working on what exactly you could call my sound. Right now I'm just open to fusing everything together.
When you were working on 'This is the Z-Mixx,' what was your creative process?
Well, the Z-Mixx is basically Zoey's version of something that is a very popular tune. It's not just singing a cover. I really like to make my own record out of record that is already popular. My motivation is always just to make people like my version just as much as the original, if not more.
Article continues below advertisement
What made you choose the particular songs on the Z-Mix?
Those are my favorite records. That's what my iPod sounds like, or my playlist on Pandora. That's it! I listen to Ed Sheeran right after I listen to trap music [laughs]. That just goes back to being influenced by everything and liking everything. Remixes are fun because my music doesn't really go all the way in one direction or the other, but when I do remixes I can be a rapper or decide to be Lady Gaga. You can really just have fun with the Z-Mixxes.
What message do you try to convey through your music?
Overall, positivity. I really try to drop something in every record that let's people know that they can go the distance. I really just try to be expressive, period, because I think that just shows people that you're human. I try to, outside of music, do a lot of community service. It's always been part of the fabric of me, but in general, not doing pageants anymore, I still kept that [in my music]. I let my platform be a way to touch people and not necessarily just at a concert or a show. I just try to be positive. It's all about positive vibes.
Article continues below advertisement
Have you ever had to face any adversity in the industry that a lot of women have to go through?
Probably all of it. I think every girl in the industry can definitely say that. It's unfortunate, but it comes with the territory. It takes a very strong-minded, confident person, especially a female, to do what I do or what has been done many times before me. I think you see, when you get a chance to hear their stories, that it's nowhere near being easy, but that is for anything worth having. I just always try to not let me being a 'girl,' which is what other people think, be an obstacle in my mind. I can freestyle better than the best of them. I can write just as good as all the boys. I can perform before or after anybody. That's not arrogance, that's just confidence. I think as a woman you have to have a lot of that in this business. A lot of people are going to try to make you feel inferior, or that you shouldn't be there, unless you're there as just
a 'girl.'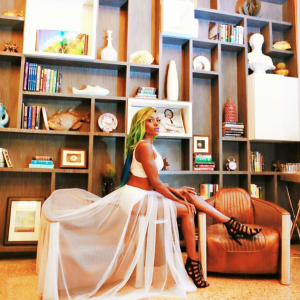 Article continues below advertisement
I love your confidence, not just in your music, but also in your sense of fashion. What is the inspiration behind your look?

I used to model and I thought it was really awesome that people dress you, and you get makeup and such, but I really felt like I was in a box sometimes. You start to literally feel like a hanger. For me, I felt like when I don't have to present myself so properly [laughs], or so neat and lady like, I'm just going to go extremely left from all of this. That's what made me dye my hair and really start dressing however I wanted to, even if it didn't match or wasn't stylish. That's my style, just comfortable and being free. If it's clean and it fits I'm going to wear it. But I also still like being girly because as women it's important, to me anyway, to always look presentable. My mindset is that I don't put that pressure on myself of like, designer labels and all that stuff. You can look cute and be in affordable stuff, or you can be cute and be in Prada.
Article continues below advertisement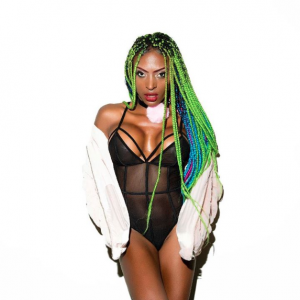 What do you do in your spare time?
I like to travel. I like to go places because I get a lot of inspiration from that. I get a lot of concepts, more than anything, from going different places. I really like to watch something on Netflix from the first season all the way until its done with no stopping. I don't know where that came from, but that's my new thing; find a show and be done with it in a weekend. I mean, you can get inspiration from anything so I'm just chillin'. I smoke too so I try to not be stressed. [I'm] Just chill all the time.
I also saw on your Instagram that you are deeply into yoga.
Article continues below advertisement
Yeah! Yoga is a relaxation thing for me. I do it for mental balance. I'm definitely an advocate for mental health and mental illness. I think it's important that everybody has something that they do because the world is very crazy, and the industry is crazier. I just find yoga to be very calming and it allows me to have that 'me time' that I think everybody needs.
For sure! So, what projects should we be on the lookout for?
I'm working on a mixtape and I'm really excited for it because of the content. We're going to drop that next summer so I'm excited to see what the reaction is and also how it turns out [laughs]. Aside from that, I have a lot of promo shows this summer, which can be found on my website, zoeyclarke.com. I'm going to be recording all year–for myself, for other people. I'm going to be working with different producers and engineers that I've never had the chance to work with before. So, I'm just looking forward to creating a lot of music.
Click on the mixtape cover below to listen to 'This is the Z-Mixx.'