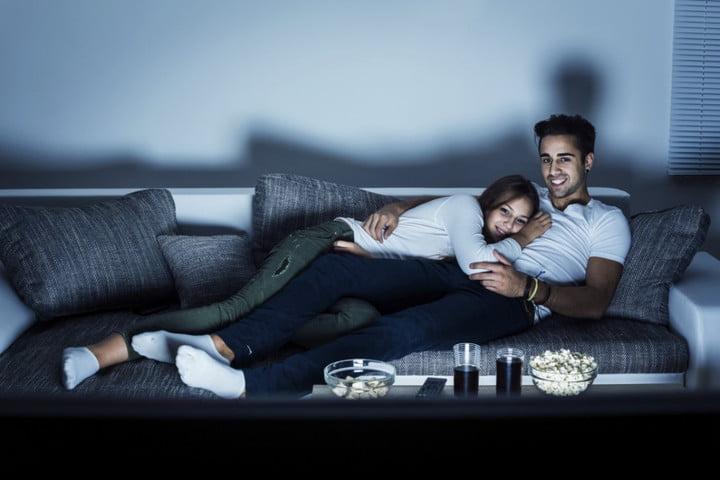 Big Love: Why Being in Love Makes People Gain Weight
By Kaylin Young

Nov. 15 2018, Updated 8:17 p.m. ET
In the last nine months, I've fallen in love, been on some of the best dates of my life and gained a solid 10 pounds. They say that love changes everything, but I didn't expect it to change the way my clothes fit. You might think this is a personal problem, but weight gain is a common symptom of being in a relationship. Says who? Science. Several studies have proven that relationships – especially those under a year – can be detrimental to ones' waistline.
A study conducted by the North American Association for the Study of Obesity (NAASO) studied the link between romantic partnership and obesity or obesity‐promoting behaviors. The study followed 8,000 people in different stages of their lives and relationships and found that couples moving from the dating stage to moving in together were most likely to experience obesity or quick weight gain. However, married or cohabitating couples who had been together for more than two years are more likely to have obesity-promoting behaviors like a lack of sex and physical activity and excessive screen time.
There are many reasons that contribute to this growing trend – no pun intended.
Article continues below advertisement
1. You have an on-call takeout buddy
Being single means finding a good takeout spot on your own, battling indecision to pick dinner that will match the mood of your Tuesday night show and then waiting alone for the deliveryman to drop off some pad Thai and dumplings. All of these solo moves are much more fun when you have a partner-in-crime. Having a significant other to indulge in bad foods makes the indulgence more acceptable and frequent.
Article continues below advertisement
2. Don't let them see you sweat
When I complain about my "love weight" to my friends they tell me I have no excuse… my significant other is a personal trainer. While I understand their point, I also know that sweating after an intense workout is not where I want to be seen. My gym sweat is not a glisten or sparkle, it is a serious drip after an hour of working out – and whining. Many non-exercisers share this sentiment, and refuse the invite to sign up for a couple's spin class.
3. Sex WAS our workout
If you have beat the odds of being in a long-term less-sex relationship, CONGRATS! But for most couples, the longer they are together, the less sex they have. Sex is a favorite in terms of physical activity, but what happens when that workout is subtracted? Couples who are not gym rats have to either find another source of exercise or forget about it all together.
Article continues below advertisement
4. You already trapped me – why get cute?
In the single days – even a little into the first few months of dating – we do everything we can to maintain our appearance: bi-weekly hair appointments, shopping trips and a beat face on the daily. But eventually, couples get comfortable with one another and don't feel the need to impress the other because "the chase" is technically over. For many, this is a perfect reason to eat the additional brownie.
5. "Don't watch our show without me!"
Whether it is black-ish, Game of Thrones, or Law & Order: SVU, you know there is that one show that is off-limits when you are alone. Whatever your show is, it is more than entertainment – it is an hourlong excuse to chill on the couch… often with snacks. This element of excessive screen time was a variable in the NAASO study and proved to add on the pounds between couples.
If you're like me and have gain a new love and a new weight, hey twin! While the study specified the reasons why this happens, it did not offer any solutions on how to make it un-happen. Keep the significant other, but maybe lose the takeout addiction.