Beyoncé Teaches The World Another Life Lesson This Halloween
By Terence McNealy

Oct. 31 2018, Published 5:52 p.m. ET
This year's "Spooky Season" has came with numerous eventful moments. From Venus Retrograde bringing all of our exes back into our lives to Cardi and Nicki arguing (once again), it was really a lot of crazy things happening in a short amount of time. Luckily, Beyoncé has come to drop an important gem that you may have missed if you were too involved in the mess.
Just in the nick of time for Halloween, Bey posted her Halloween costume as the living legend, Toni Braxton. A near-identical recreation of Toni Braxton's 1993 eponymous album cover. She posted "Sending love and adoration to one of our talented legends. Thank you for the countless bops," the star captioned her Instagram pictures. "Your tone, your beauty, your range, and your God-given talent is treasured. Loving you always. Have a Happy Halloween, my Kings, and Queens."
Article continues below advertisement
This isn't the first time that Bey has paid tribute to the ones that have come before her. Last year, she channeled not just one, but five iconic looks worn by the other Queen B, Lil' Kim, while husband Jay-Z went to a party as Notorious B.I.G. And in 2016, Beyoncé's daughter Blue Ivy and mom Tina Lawson joined her in a Salt-N-Pepa-themed look.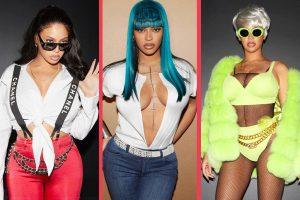 Now we all know that Beyoncé is one of the biggest stars on the planet and that she does not have to acknowledge anyone, but her showing love to all the legends that inspired her is something to be admired. No matter what industry you're in, usually there is a person that you look up to in that same field. Bey is here to remind us that no matter how successful we become in our careers, even if we are the best, we should always show love and respect to ones that came before us. Honestly speaking, without the people that inspired us, there is no guarantee that we would have become the people that we are today. Shoutout to The Queen for another discreet life lesson.