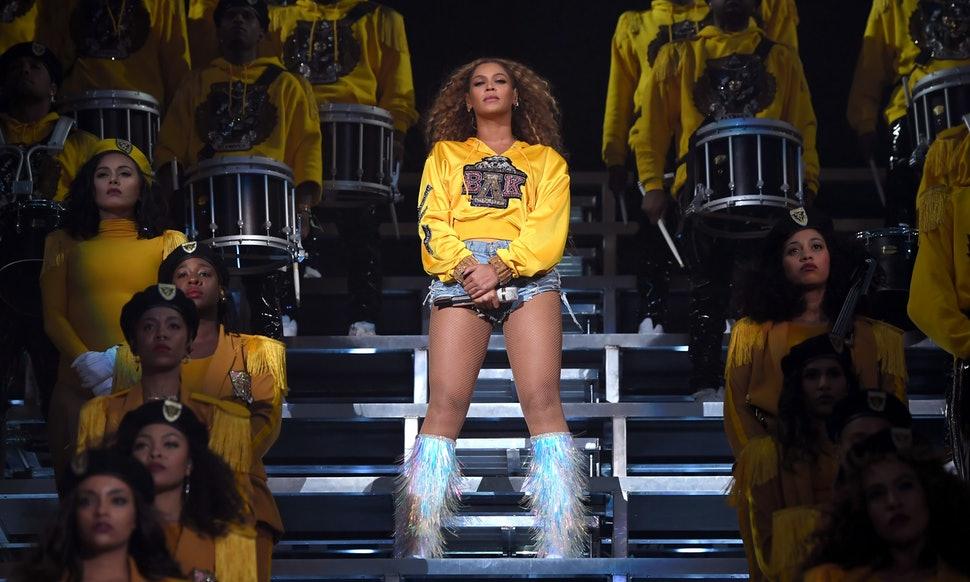 Beyoncé and Balmain's Beychella Collection is Here – and 100% of Proceeds Support Black Education
By Kaylin Young

Jul. 11 2018, Updated 4:15 p.m. ET
When Beyoncé became the first black woman to headline Coachella in April, her choreography, apparel, and set themes were just the beginning of a massive plan to elevate and celebrate the black college experience – specifically HBCU's. Her costumes were not only visually-pleasing as they shimmered with each move; the collaboration, designed by Olivier Rousteing, held deep symbolism and paid homage to the world of black education and it will soon be available for all of us. On July 13, you can join BΔK when Balmain drops a three-piece collection of the Beychella collaboration with proceeds benefitting the United Negro College Fund.
"The donation was the main goal of this collaboration," Rousteing said to Vogue. While giving back was their driving force behind this fashion moment – in addition to Beyonce's post-show donation of $100,000 to four HBCUs – there were deeper levels to the cropped hoodie she wore.
To understand Beychella, you have to first understand HBCU culture. At historically black colleges and universities, Greek life, marching bands, and community empowerment are at the top tier of importance. Black excellence is the expectation – not the rarity – and although Mrs. Carter didn't attend one of these schools, she certainly respects the greatness they have produced.
Article continues below advertisement
Let's start with the colors. Many believe Bey's fake sorority is actually a reference to a real black Greek-letter organization. The black-and-gold color scheme resembles the colors of Alpha Phi Alpha, the first black fraternity. If you're a non-believer, you can say it just represented the black and yellow of a bee… but that's boring, so back to the HBCU references.
As if the color wasn't enough, the letters and crest might convince you. In Greek, Bey's hoodie translates to Beta Delta Kappa. The crest she wore highlights Queen Nefertiti of Egypt (an icon of black beauty and female strength), a black panther, the black power fist, and a black bee.
Now, the moves. Beyoncé could have created killer choreography on her own, but she wanted to murder the game. So she hired DrumLine Live, a marching band tour composed of performers from HBCUs, for the show. The dance, the band, and the costumes brought homecoming to the stage.
Article continues below advertisement
Thankfully, you can join Beta Delta Kappa – or Beyoncé Delta Knowles Sorority, Inc. – while promoting black education. A replica of the infamous hoodie and t-shirt can all be yours for a few hundred – or thousand – dollars. The collaboration will be available on July 13 on Balmain.com and Beyonce.com.