The summers in NYC can be brutal, so why not cool off with a few scoops of the sweetest ice cream NYC has to offer? With numerous ice cream shops all around New York, finding the right spot can be difficult. Thankfully, I have put together a list (in no particular order) of 3 best known ice cream shops in the city to aid those on the quest for the best cone!
1. Wu Kong
(109B Lafayette St, New York, NY 10013)
Originating in China Town, this ice cream shop is best known for their huge cotton candy clouds that surround their cones, and also for their 'ice cream burgers.' The burgers consist of two small waffle buns with cute animal faces imprinted on them, packed with the any of the many flavors Wu Kong offers and not to mention an endless variety of toppings to add as well. If you're an Instagrammer, the ice cream creations at Wu Kong is sure to get you some likes from your peers and taste buds!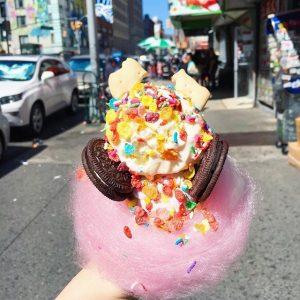 Article continues below advertisement
2. Gelarto
(145 Avenue A, New York, NY 10003)
The artistic style of Gelarto's ice cream and sorbet is unique and delicious. Fresh ingredients and a long legacy of gelato and ice cream makes Gelarto a trusted source for a bomb scoop. This summer they are infusing Japanese culture with their Italian flavors by selling their ice cream in the shape of sushi rolls! They look so close to the real thing that a pair of chopsticks is often used to eat them. With over 40 flavors of ice cream and sorbet to choose from, you can build the sweetest sushi you've ever had!
Article continues below advertisement
3. Taiyaki NYC 
(119 Baxter St, New York, NY 10013)
Inspired by Far East Asian cuisine, Taiyaki NYC is another ice cream shop located in China Town. Their signature sweets are the fish-shaped waffle cones that are crunchy on the outside and filled with red bean custard, their take on a traditional treat called taiyaki from Japanese culture. In addition, matcha cones are also available to hold your soft serve. Unicorn Floats are another popular treat they serve, which includes a lactose free, taro-flavored slush with a unicorn-shaped pool floatie surrounding it. This super cute ice cream shop is becoming even more popular on social media. Be sure to check out the hype!